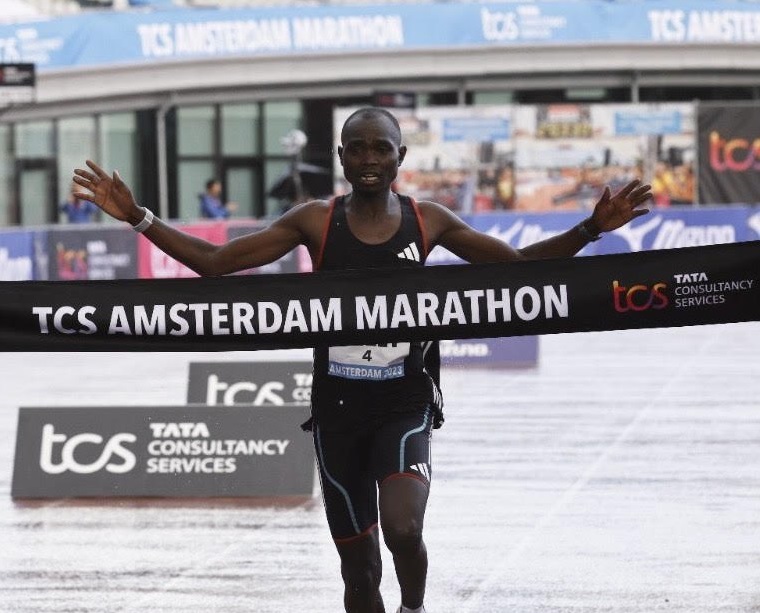 In an exhilarating display of endurance and speed, Meseret Belete from Ethiopia and Joshua Belet from Kenya clinched victory at the 2023 TCS Amsterdam Marathon, held on Sunday, October 15. They won the women's race in 2:18:21 and the men's race in 2:04:18, etching their names into marathon history with the third-fastest times ever recorded at the Amsterdam Marathon.
Meseret Belete stunned spectators and competitors alike by slashing more than two minutes off her personal best. This win marked her second triumph of the season, following her earlier victory in Doha with a time of 2:20:46 last January.
Joshua Belet, on the other hand, showcased his remarkable improvement by besting his previous personal best of 2:04:33, which he achieved while securing second place in Hamburg last April.
As the women's marathon unfolded, a formidable leading group emerged, featuring Ethiopian athletes Meseret Belete, Meseret Abebayehu, Ashete Bekere, alongside Kenya's Dorcas Tuitoek. They blazed through the 5 km mark in 16:27 and the 10 km mark in 32:45. As they reached the 21 km mark in 1:09:05, a total of nine runners remained in the lead, displaying a pace that hinted at the possibility of a 2:18 finish. Nevertheless, the course record set by Almaz Ayana the previous year remained just out of reach.
At the 30 km mark, the quartet of Belete, Abebayehu, Tuitoek, and Bekere recorded a time of 1:38:08. It was at the 33 km mark that Meseret Belete made her decisive move, pulling away from the rest of the field. She maintained her lead, eventually crossing the finish line inside the historic Amsterdam Olympic Stadium in a remarkable time of 2:18:21, securing an 89-second gap over her compatriot Abebayehu, who secured second place and improved her personal best to 2:19:50, an impressive feat following her previous wins in Riyad and Xiamen. Dorcas Tuitoek rounded out the top three, finishing in 2:20:02, ahead of Ethiopian runners Ashete Bekere (2:21:51), Tiruye Mesfin (2:22:07), Anchalem Aymanet (2:22:23), and Meseret Gola (2:22:29). Sofia Assefa, the Olympic silver medallist in the 3000 metres steeplechase at the London 2012 Olympics, made a notable debut over the marathon distance, securing eighth place in 2:23:23, ahead of Marion Kibor from Kenya (2:24:26). Anne Luijten was the first Dutch finisher in tenth place, posting a time of 2:26:36.
In the men's race, a sizeable leading pack surged through the 5 km mark in a swift 14:54. They continued to accelerate, reaching the 10 km mark in 29:28 and the 15 km mark in 44:03. Impressively, twelve athletes passed the 20 km mark in 58:48, with the halfway point reached in 1:02:01. Their pace was a mere 10 seconds faster than Tamirat Tola's record-setting pace of 2:03:39 in 2021.
As the race progressed, the leading pack gradually diminished, with Joshua Belet making his decisive move at the 30 km mark, recording a time of 1:28:28 before breaking away from his rivals. The Kenyan athlete extended his lead over the remaining competitors in the final 12 km, maintaining his dominance and eventually crossing the finish line in a sensational time of 2:04:18. This victory was a remarkable turnaround for Belet, who had finished second in the Hamburg Marathon last April and had faced disappointment at the World Championships in Budapest last August.
Kenya achieved a remarkable podium sweep, with Cybrian Kotut, the younger brother of former New York and London Marathon champion Martin Lel, securing second place just 16 seconds behind Belet, with a time of 2:04:34, followed closely by his compatriot Bethwel Chumba, who claimed third place in 2:04:37. Birhanu Legese, a two-time Tokyo Marathon winner in 2019 and 2020 and the runner-up in Berlin in 2019 with a time of 2:02:48, emerged as the top Ethiopian finisher in fourth place, clocking 2:04:44, ahead of compatriots Lemi Berhanu (2:05:48), Bazezew Asmare (2:06:34), Mulugeta Debasu (2:06:36), and Aymanot Alew (2:08:25). Khalid Choukoud from the Netherlands claimed ninth place with a time of 2:08:36, narrowly edging out Frenchman Abderrazak Charik, who finished tenth in 2:08:37.
Regrettably, Bernard Koech was unable to complete the race and was forced to withdraw at the halfway mark.
The 2023 edition of the Amsterdam Marathon drew an impressive crowd of 47,000 participants, solidifying its reputation as a premier event in the world of marathon running.
-->