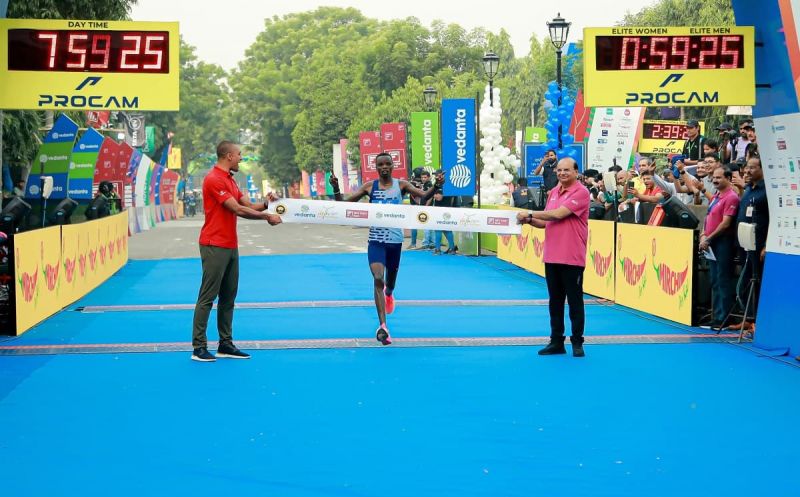 Kenya's Daniel Ebenyo and Ethiopia's Almaz Ayana demonstrated their exceptional skills by emerging as the champions of the 18th edition of the Vedanta Delhi Half Marathon, held in the nation's capital on a Sunday.
Almaz Ayana, the illustrious 2016 Rio Olympics Champion and former winner of the Delhi Half Marathon six years ago, approached her 2017 winning time in the women's race. She raced alongside her compatriots Aberash Minsewo and Dessie Anchinalu, as well as Kenya's Viola Chepngeno and Uganda's Stella Chesang. Together, they covered the initial quarter of the race in a remarkable 15:45-15:47 timeframe, while another Kenyan, Vivian Cheruiyot, the Rio Olympics 5000m victor, lagged slightly behind.
While Ayana maintained her 16-minute pace for each of the five-kilometer intervals, she gradually slowed down in the final stages of the race, as her closest rival, Stella, trailed behind and had to run her own race. Ayana ultimately secured the top position with a finishing time of 67:58. Stella Chesang of Uganda crossed the finish line 28 seconds later to claim second place, while Viola Chepngeno from Kenya completed the podium in 69:09. For Chesang, it was an improvement from her position in Delhi the previous year.
"I'm delighted to have won here. It was a challenging race, and the weather was quite hot. Nonetheless, it was a fantastic experience to compete in the Vedanta Delhi Half Marathon. I'd like to express my gratitude to the organizers for inviting me to the event, and this race has prepared me well for future competitions," stated Almaz.
In the men's race, a substantial group of around eight Kenyan runners, along with Ethiopian athlete Addisu Gobena, led the pack. They stayed closely grouped until the 13th kilometer when Daniel Ebenyo and his teammate Charles Matata began to break away from the rest. Charles, the runner-up in this year's Rock-n-Roll Half Marathon in Madrid, pushed Ebenyo for another five kilometers. However, Ebenyo, the Silver Medalist in the World Half Marathon earlier that year, timed his acceleration perfectly, opening up a lead of at least half a minute over Charles.
Daniel Ebenyo emerged triumphant with a remarkable time of 59 minutes and 27 seconds. Charles Matata secured the silver spot with a time of 60:05, while Addisu Gobena added to the Ethiopian camp's joy by finishing 46 seconds later, as his compatriot and reigning champion, Chala Regasa, withdrew from the race midway.
"It was an incredible experience to compete here, although I'm disappointed with my timing. I had aimed for the event record but fell short. Nevertheless, running in the Vedanta Delhi Half Marathon was an exceptional experience. Hopefully, I'll be able to break the event record next year. I extend my congratulations to the organizers of the Vedanta Delhi Half Marathon for hosting a splendid event," expressed Ebenyo.
-->