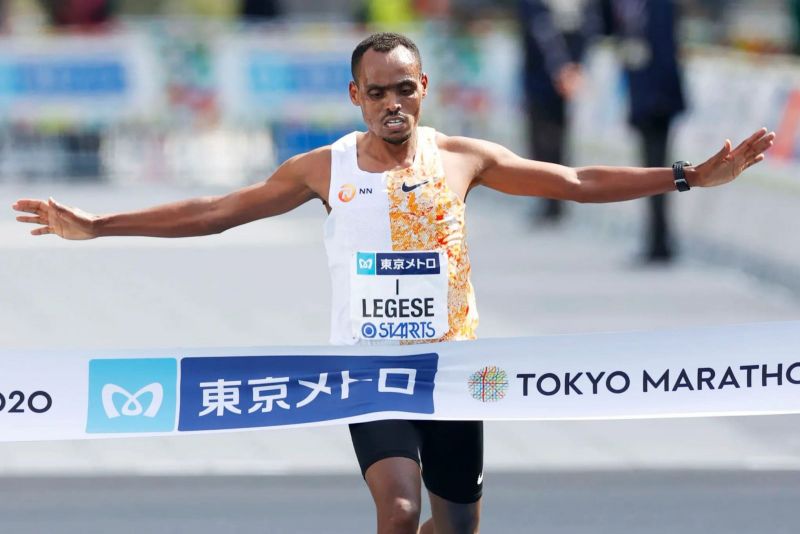 Men's Race: The TCS Amsterdam Marathon boasts an impressive roster this year, with nine elite runners having clocked under 2:05 in past marathons. Topping the list from Ethiopia are names like Birhanu Legese (2:02:48), Lemi Berhanu (2:04:33), Asrar Hiryden (2:04:43), Hailemaryam Kiros (2:04:43), and Bazezew Asmare (2:04:57). From Kenya, we have Bernard Koech (2:04:09), Joshua Belet (2:04:33), Cyprian Kotut (2:04:47), and Barselius Kipyego (2:04:48). These elites will aim to shatter Tamirat Tola's 2021 course record of 2:03:39.
A few highlights:
Legese recorded his personal best in Berlin 2019, a time only surpassed in history by Kelvin Kiptum, Eliud Kipchoge, and Kenenisa Bekele. This is Legese's fifth World Athletics Platinum race appearance.
Bernard Koech, who was the runner-up in last year's edition, matched his personal best this past April in Hamburg.
Koech's training buddy, Kennedy Kimutai, is all set for his marathon debut after recording a half marathon best in Valencia 2021.
Lemi Berhanu and Asrar Hyriden both have significant marathon wins to their names, while Bazezew Asmare showcased his prowess here in Amsterdam last year.
Joshua Belet and Cyprian Kotut have recent impressive performances, with Kotut claiming victory in both the Paris and Hamburg Marathons in recent years.
Also, watch out for Abdisa Tola, brother of champion Tamirat Tola, and Barselius Kipyego, who recorded his best in Paris.
Women's Race: The women's category is equally riveting, with three sub-2:20 marathoners headlining. Degitu Azmirew returns post-maternity, having recorded her personal best in London 2021. She's joined by Ethiopians Ashete Bekere, with her standout performance in Tokyo 2022, and Tiruye Mesfin, who showcased her skills in Valencia and Hamburg.
Other contenders include:
Kenyan Linet Masai, who has a personal best in Amsterdam and was a world 10000m champion in 2009.
Ethiopian Sofia Assefa, the former Olympic 3000m steeplechase silver medalist, is gearing up for her marathon debut.
Nienke Brinkman, the 2022 European bronze medalist, is also in top form, having improved her personal best in Rotterdam 2022.
Lastly, given that the women's course record has been broken thrice consecutively, all eyes will be on this year's edition to see if this streak continues. The record to beat is Almaz Ayana's 2:17:20 from last year.
-->