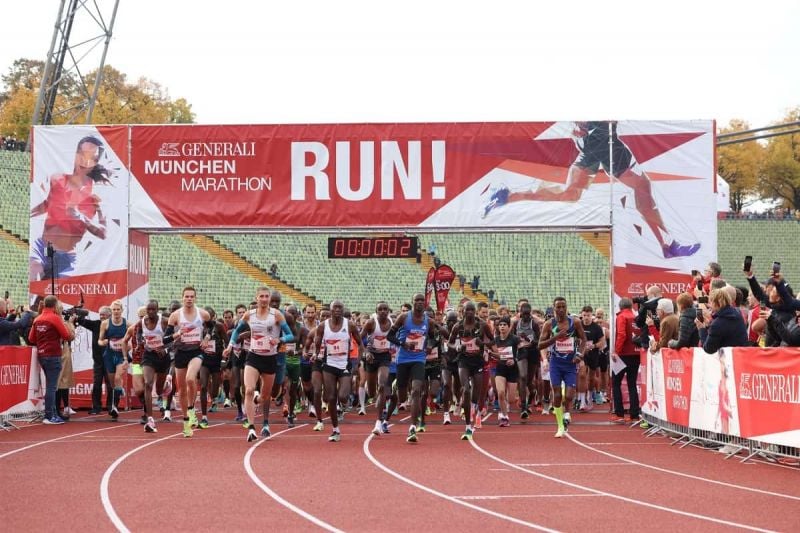 The GENERALI MUNICH MARATHON this Sunday is expected to witness a fierce contest with Kenyan participants led by Luke Kibet, and Germany's own Sebastian Hendel vying for the top spot. Hendel is on a quest to achieve the Olympic qualifying time of 2:08:10, aiming to conclude his run within Munich's iconic Olympic Stadium. On the women's side, Catherine Cherotich stands out with her impressive record of 2:26:41, also from Kenya.
The 37th iteration of the GENERALI MUNICH MARATHON has attracted a staggering 20,000-plus entrants, encompassing various race lengths. Over 5,000 runners are set to navigate Munich's scenic routes, both commencing and concluding inside the Olympic Stadium. Those interested can still register at: www.generalimuenchenmarathon.de
Race Director Gernot Weigl expressed enthusiasm, recalling the dual course records from the previous year. He also expressed optimism about Hendel potentially achieving a sub 2:10 finish. Given forecasts of warmer midday temperatures, organizers have enhanced water provisions for the participants.
Luke Kibet, boasting a personal best of 2:08:45, is anticipated to be the front-runner. Kibet, a 28-year-old Kenyan, clocked this remarkable time in Chuncheon, Korea. Ahead of the marathon, Kibet underwent rigorous training in Iten, Kenya, joining forces with Germany's marathon record holder, Amanal Petros. Among other notable contenders are Edwin Kimaiyo and Cosmas Kiplimo, holding impressive records themselves. However, Bernard Muia might spring a surprise, having previously showcased his prowess in high-altitude Nairobi.
Sebastian Hendel, who secured fourth place last year, is aiming to outdo his previous 2:10:37 record. The 27-year-old German harbors aspirations of breaking the 2:10 mark and is hopeful of being among the few Germans to surpass the Olympic qualification benchmark. Hendel commented on his improved form compared to last year and has set a strategy for achieving his goal.
On the women's front, three Kenyan elites, each with timings around 2:27:00, are expected to be in the spotlight. Catherine Cherotich leads the pack, and given her past performance at high altitudes, she might surpass her own record in Munich. Other noteworthy mentions include Caroline Chepkwony and Teclah Chebet, with the latter having an impressive marathon winning streak, including her recent victory in Linz, Austria.
Elite runners with personal bests:
MEN ELITE
Luke Kibet KEN 2:08:45
Edwin Kimaiyo KEN 2:09:12
Cosmas Kiplimo KEN 2:09:44
Sebastian Hendel GER 2:10:37
Cornelius Chepkok KEN 2:11:46
Jackson Rutto KEN 2:12:02
Merhawi Ghebreslasie FRA 2:12:34
Amos Birgen KEN 2:13:09
Bernard Muia KEN 2:13:40
Alessandro Giacobazzi ITA 2:15:25
Benson Nzioki KEN Debüt
WOMEN ELITE
Catherine Cherotich KEN 2:26:41
Caroline Chepkwony KEN 2:27:00
Teclah Chebet KEN 2:27:18
Beatrice Cheburet KEN 2:30:41
Flomens Ngurasia KEN 2:30:42
-->