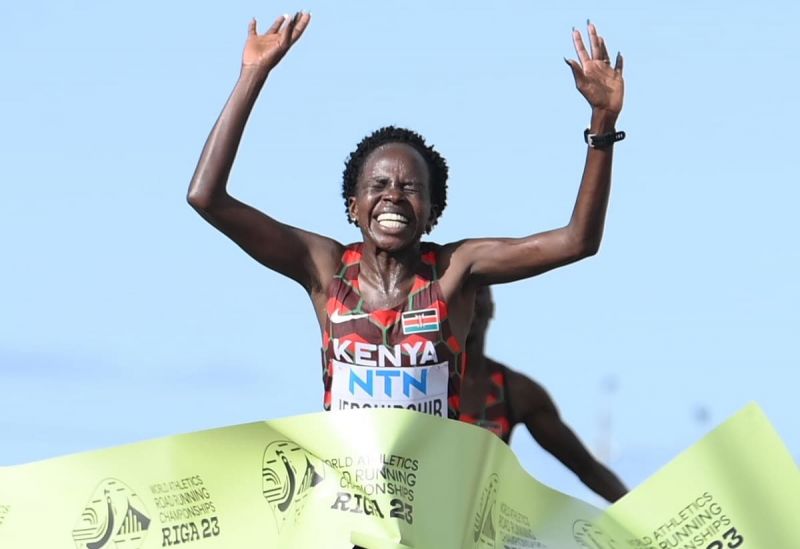 Peres Jepchirchir of Kenya affirmed her place among the all-time greats, clinching her third world half marathon title at the World Athletics Road Running Championships in Riga on Sunday. The 30-year-old leveraged her exceptional finishing speed to seize gold with a new Championships record time of 1:07:25.
She was followed closely by her fellow Kenyan, Margaret Chelimo Kipkemboi, who finished in 1:07:26, and Catherine Reline Amanang'ole, who completed the Kenyan 1-2-3 by finishing in 1:07:34.
During a cool and sunny afternoon in Latvia's capital, Jepchirchir, the Olympic marathon champion and women-only half marathon world record holder, maintained a steady pace throughout most of the race. Her confidence in her unmatched speed for the final stretch proved well-founded.
Despite a modest early pace with 22 runners closely packed at the 5km mark, the group soon thinned out. Jepchirchir, Kipkemboi, and Amanang'ole led the pack, alternating positions at the front.
As the race progressed, the Kenyan trio began to exert pressure, leaving only six athletes vying for the podium positions. Jepchirchir executed a calculated race strategy, waiting until the 20km mark to make her significant move. Her surge to the front left only the Kenyan runners in contention, with Tsigie Gebreselama of Ethiopia falling behind.
Entering the final stretch, Jepchirchir's renowned change of pace ensured her gold medal victory. "Seeing the tape, I began to celebrate," she said, expressing her pre-race concerns and sleepless night. Looking ahead, Jepchirchir aims to participate in the New York City Marathon and hopes to retain her Olympic marathon title.
Kipkemboi, the silver medalist, voiced her pride in running with Jepchirchir and for Kenya. After placing fourth at the World Championships, securing a medal at this race felt particularly special to her. She is now setting her sights on the Valencia Half Marathon.
Amanang'ole, the bronze medalist, described the race as extremely challenging but expressed her excitement for participating in this event for the first time.
-->