Gudaf Tsegay Destorys 5000m World Record with 14:00.21 in Eugene

Posted by:
Watch Athletics
Sunday, 17 September 2023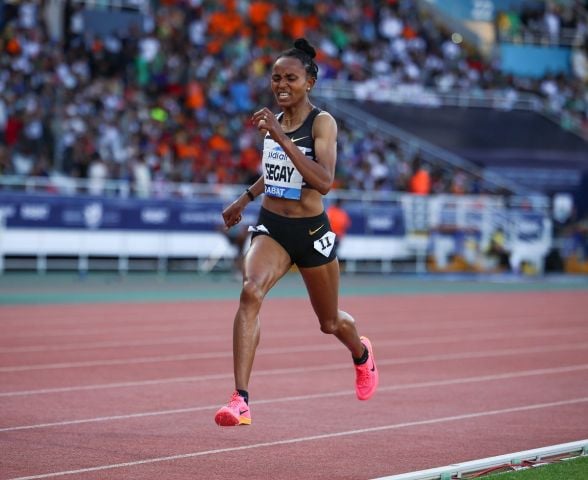 EUGENE – History was rewritten at the Eugene Diamond League final as Gudaf Tsegay smashed the women's 5000m world record during the famed Prefontaine Classic. The reigning world 10000m champion proved her mettle yet again by stopping the clock at a breathtaking 14:00.21.
In a stellar performance, Tsegay outdid the previous world record set by Faith Kipyegon by a significant 5 seconds. The crowd held its collective breath in the closing stages, as Tsegay came agonizingly close to becoming the first woman ever to dip under the 14-minute barrier for the 5000m distance.
The atmosphere was electrifying as the audience bore witness to one of the most monumental moments in athletics history. Tsegay's unparalleled speed and determination were evident from the outset, with her setting a blistering pace that left many of her competitors trailing.
"My primary aim today was the world record," confessed an elated Gudaf Tsegay after her monumental feat. "I had an intense desire to compete in the 5000m, especially after missing out at the World Championships in Budapest due to an injury in my foot. However, my mental strength has always been my backbone. Today fills me with immense joy." When probed about the tantalizing prospect of running under 14 minutes next year, she confidently asserted, "Yes, I will definitely try."
Women's 5000m
POS
NAME
NAT
RESULT
1
TSEGAY Gudaf
ETH
14:00.21 WR
2
CHEBET Beatrice
KEN
14:05.92 PB
3
TAYE Ejgayehu
ETH
14:21.52
4
RENGERUK Lilian Kasait
KEN
14:40.81
5
HAILU Lemlem
ETH
14:42.29
6
TANAKA Nozomi
JPN
14:42.38
7
MONSON Alicia
USA
14:45.98
8
KELATI FREZGHI Weini
USA
15:25.62
DNF
CRANNY Elise
1000m - 2:48.75 min.
3000m - 8:26.25 min.
USA
DNF
HAYLOM Birke
ETH
DNF
JOHNSON Sinclaire
1000m - 2:48.75 min.
3000m - 8:26.25 min.
USA
DNS
HAILU Freweyni
ETH
-->