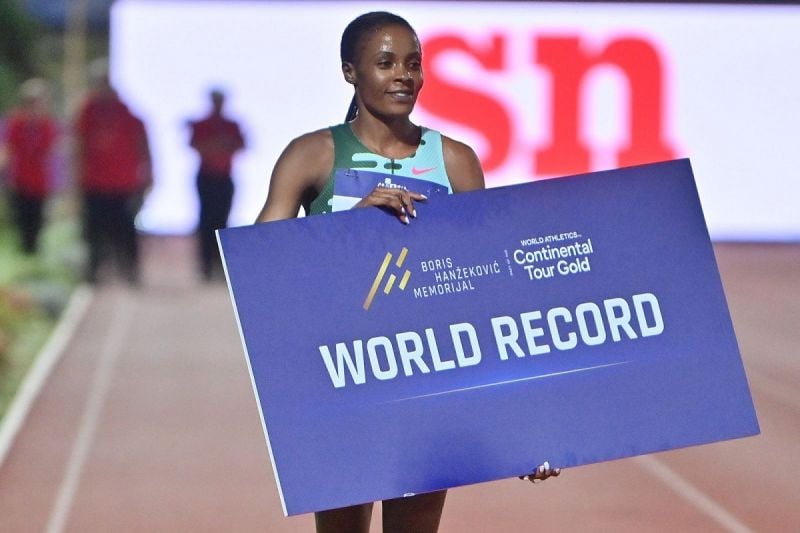 Kenya's Beatrice Chepkoech, the world silver medallist, shattered the global best time for the 2000 metres steeplechase, recording a blistering 5:47.42 during the Memorial Boris Hanzekovic's final race at Mladost Stadium in Zagreb, part of the World Athletics Continental Tour Gold meeting. At 32, the Kenyan star surged past the pacemakers, hitting the 1000 metres mark at 2:51.15.
This phenomenal run eclipsed the previous record of 5:52.80 set by Gesa Felicitas Krause. Winnie Chemutai, another talented 20-year-old from Kenya, nearly matched the prior best with a time of 5:52.92. She outpaced world finalist Marusa Mismas from Slovenia, who achieved a national record of 5:53.38, and Albania's Luiza Gega who clocked 5:56.79.
Upcoming, Chepkoech is set to compete in the mile event with Faith Kipyegon and Nelly Chepchirchir at the World Athletics Road Running Championships in Riga on 1 October.
After her record-breaking run, Chepkoech commented, "I once held a world record, now I have two. I consider myself fortunate. Remaining focused and positive is key. I'm grateful to God for giving me the strength to deliver exceptional performances this season.
Men's shot put:
The men's shot put competition known as as the Memorial Ivan Ivancic was held on Saturday evening at the Zagreb Fountains. Eight finalists and the top five finishers from the World Championships in Budapest competed in Zagreb.
Olympic bronze medallist Tom Walsh took the win with 22.46m beating two-time world gold medallist Joe Kovacs (21.72m), world silver medallist Leonardo Fabbri from Italy (21.55m), European champion Filip Mihaljevic (21.52m). Zane Weir finished ninth with 20.56m after taking two consecutive wins in Padua with 22.44m and Rovereto with 21.88m.
Walsh produced a good series of throws (21.85m, 21.84m, 21.93m, 22.46m, 21.64m, 21.34m).
Tom Walsh: "Zagreb has been good to me. I competed 10 times here and won five times. I just started to feel more comfortable with my throwing over the last two to three days. It is a good sign towards Eugene. I know I should have thrown further in Budapest. I knew it was in me, but this is an extra motivation for the Olympic Games in Paris".
Joe Kovacs: "I think I was here for the first time in 2012. I have been here many times. I have always had good time but never got the win".
Women's 100 metres hurdles:
Olympic champion Jasmine Camacho Quinn from Puerto Rico won the women's 100 metres hurdles setting a meeting record of 12.47 a few days after her win Bellinzona in 12.56. Nadine Visser from the Netherlands placed second with 12.64 ahead of European champion Pia Skrzyszowska (12.73) and Amoi Brown from Jamaica (12.78).
Men's 110 metres hurdles:
Olympic champion and world silver medallist Hansle Parchment won the men's 110 metres hurdles race dedicated to former hurdler Boris Hanzekovic in 13.14 edging world bronze medallist Daniel Roberts by one hundredth of a second. World finalist Wilhelm Belocian placed third in 13.20 ahead of Senegal's Louis Mendy (13.43).
Men's 100 metres:
African record holder Ferdinand Omanyala stormed to a win in the men's 100 metres in 9.94 into a headwind of -0.9 m/s beating Oblique Seville (10.07) and Olympic champion Marcell Jacobs (10.08).
Omanyala won for the first time in his career against Seville, who beat his Kenyan rival in their previous four head-to-head clashes at the World Championships in Eugene 2022 and Budapest 2023 and at the Continental Tour Silver meetings In Bellinzona (10.01) and Rovereto (10.00).
World 4x100 relay champion Brandon Carnes placed fourth in 10.27.
Women's discus throw:
Sandra Perkovic won the women's discus throw for the 11th time in her career at the Zagreb meeting with her seasonal best of 67.71m in front of her home fans. Italian record holder Daisy Osakue placed second with 63.68m beating Marija Toth from Croatia (63.39m) and Olympic finalist Liliana Ca from Portugal (62.60m).
Men's discus throw:
Kristjan Ceh from Slovenia, world champion in Eugene 2022, world silver medallist in Budapest 2023, won the men's discus throw coming close to the meeting record with 68.48m. Ceh also threw 67.92m and 67.34m.
Fedrick Dacres from Jamaica placed second with 66.54m ahead of Australian record holder Matthew Denny (65.24) and Lawrence Okoye (64.77m).
Men's 200 metres:
USA's Kyree King won the men's 200 metres in 20.11 holding off Brandon Carnes (20.19), Brandon Rodney (20.42) and Josephus Lyles (20.44).
Women's triple jump:
Commonwealth Games champion Shanieka Ricketts won her third consecutive competition this year with 14.53m. European indoor silver medallist Dariya Derkach from Italy finished second with 14.07m.
Men's 800 metres:
Daniel Rowden from Great Britain won the men's 800 metres for the second time in his career with 1:44.96 one day after his 26th birthday. Rowden made his breakthrough in 2020 at this meeting when he won in 1:44.09. Gabriel Tual from France finished second in 1:45.07 edging Andreas Kramer (1:45.10) and Alex Kipngetich (1:45.34).
Women's 800 metres
Anita Horvat from Slovenia, world finalist in Eugene 2022 and European Indoor silver medallist in Istanbul in 2023, won the women's 800 metres in 1:59.76 holding off Oceanian record holder Catriona Bisset from Australia (2:00.03). Rachel Pellaud finished third in 2:00.21.
Men's 3000 metres:
Dominic Lobalu from Sud Sudan claimed the win in the men's 3000 metres in a meeting record of 7:33.95- Henrik Ingebrigtsen, elder brother of Jakob Ingebrigtsen, ran the fastest time of his career with 7:34.80. Jonas Raess set the Swiss record with 7:35.12. Australia's Morgan McDonald finished third in 7:35.78. Kieran Lumb improved the Canadian record to 7:36.46. Elzan Bibic set a Serbian record of 7:37.03. The race produced 14 PBs, five national records and the South American record set by Santiago Catrofe from Uruguay with 7:37.15.
Women's 1500 metres:
Esther Guerrero from Spain won the women's 1500 metres with 4:02.88 improving the meeting record held by Linden Hall, who finished second with 4:03.83 beating Raveen Walcott Nolan by just one hundredth of a second.
Women's 400 metres:
Laviai Nielsen from Great Britain followed up her win in Rovereto with a very close victory in 50.93 beating Jamaica's Candice McLeod by just one hundredth of a second. Sharlene Mawdsley from Ireland finished third with a PB of 51.06.
Men's 3000 metres steeplechase:
Ahmed Jaziri claimed the win in the men's 3000 metres steeplechase dipping under 8:15 for the first time in 8:14.33. Ibrahim Ezzaydouni crossed the finish-line in 8:16.78 ahead of Samuel Duguna from Ethiopia (8:17.27).
Women's javelin throw:
USA's Maggie Malone won the women's javelin throw with 63.71m.
Men's long jump:
Flip Pravdica responded to world bronze medallist Tajay Gayle's fourth round mark of 8.07m with with a PB of 8.09m in the fifth attempt in the men's long jump competition held on Friday in the city centre.
Women's long jump:
Tiffany Flynn won the women's long jump with 6.59m beating European indoor champion Jasmin Sawyers (6.50m).
-->