Mo Farah Bids Farewell with a 4th Place Finish at the Great North Run

Posted by:
Watch Athletics
Sunday, 10 September 2023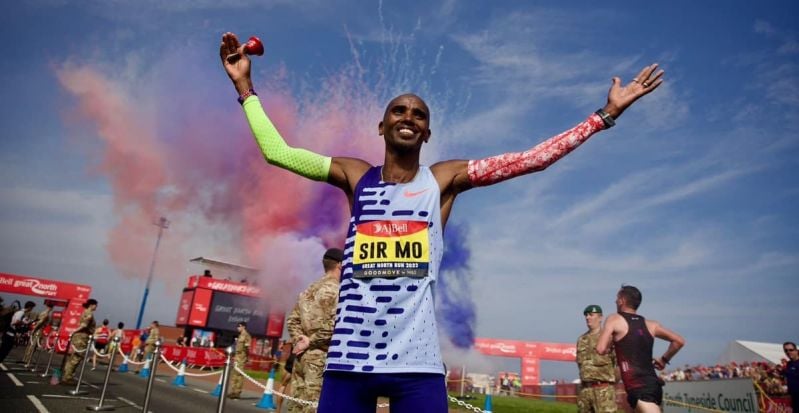 In a poignant culmination of a dazzling career, Mo Farah, often hailed as Britain's greatest track athlete, took on the iconic Great North Run for his final competitive endeavor. At 40, the celebrated four-time Olympic gold medalist faced the challenging 13.1-mile stretch from Newcastle to South Shields, ultimately finishing fourth. While the race was clinched by Ethiopia's formidable Tamirat Tola, Farah's undeniable legacy and spirit remained the focal point of the day.
Crowds cheered as Mo Farah, synonymous with British athletics, took his final strides at the Great North Run. The breeze that ruffled the Tyne Bridge, the sense of history in the making, and the palpable emotion in the air – everything stood still for a moment. The 40-year-old legend may have finished fourth, but for many, he was still at the heart of the race.
As Farah's signature "Mobot" celebration became a staple at every major athletic event, his dedication and discipline led him to triumphs, breaking records and setting new benchmarks in the world of long-distance running. Today, as he bid adieu to competitive racing, it wasn't about the position he secured; it was about celebrating an illustrious career that inspired millions.
Spectators, young and old, lined up along the route, many wearing shirts with his name or waving flags with his face on them. The heartfelt cheers resonated, a testament to Farah's place in their hearts. Their hero might have finished behind the leading pack, but to them, he was always number one.
Ethiopia's Tamirat Tola may have claimed victory that day, but Mo's reflective words captured the essence of his journey. From the streets of Mogadishu to the athletic tracks of Britain, running was more than just a sport to him – it was a lifeline, a passion, and a purpose.
As Farah reminisced about the thundering applause at London 2012, where he clinched not one but two Olympic golds in front of his compatriots, or his momentous defense of those titles in Rio 2016, it was evident that his legacy was not just about medals and records. It was about resilience, perseverance, and champion spirit.
While he may have hung up his competitive shoes, Mo Farah's story will be read, recounted, and celebrated for generations to come. He wasn't just an athlete. He was an inspiration, an icon, and a true embodiment of the phrase "dreams come true." As he stepped off the track, the world knew this wasn't the end, but the beginning of another journey for the legend.
-->