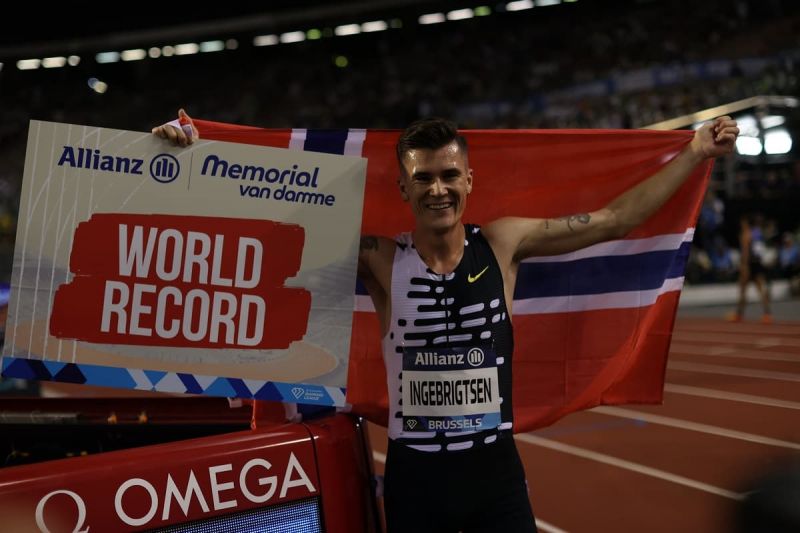 The iconic King Baudouin Stadium in Brussels, having recently undergone a significant transformation and boasting a state-of-the-art track, witnessed an evening of athletic marvels during the penultimate Wanda Diamond League meet of the season on Friday, September 8. While all eyes were on Jamaica's Shericka Jackson as she aimed to challenge the formidable women's world 200m record, she clocked an impressive Diamond League record of 21.48. However, it was the prodigious 22-year-old Norwegian, Jakob Ingebrigtsen, who stole the show. Demonstrating sheer determination in the men's 2000m, Ingebrigtsen masterfully battled against time during the intense final 600 meters, ultimately setting a groundbreaking world record of 4:43.13. It was an evening where ambition met achievement, and the stadium bore witness to the making of history.
Men's 2000m
For years, the 2000m world record stood like an unclimbed mountain, set by the legendary Hicham El Guerrouj of Morocco in 1999 with an astounding time of 4:44.79. But on this fateful evening, under the glint of the Diamond League badge, Ingebrigtsen etched his name into the annals of athletics history, finishing the race in an unimaginable 4:43.13.
Reynold Cheruiyot Kipkorir from Kenya finished second improving the national record to 4:48.14. Stewart McSweyn improved the Oceanian record to 4:48.77. European under 20 champion Niels Laros from the Netherlands and Mario Garcia from Spain improved the national records to 4;49.69 and 4:49.85.
Jakob Ingebrigtsen: It's always fun to break a world record. It wasn't difficult for me to break this one".
Women's 200 metres:
Double world champion Shericka Jackson won the women's 200 metres setting the third fastest time of her career and the Diamond League record of 21.48. Jackson ran faster only when she clocked 21.41 in Budapest and 21.45 in Eugene when she won her two gold medals. Jackson also broke the meeting record held by Merlene Ottey with 21.64 since 1991.
Shericka Jackson: "Running here today was very good. I am very happy with my race. It is just to show up especially in front of such amazing crowd. You have to put in your best and that's what I did today. It felt really good today. I definitely feel like I am getting closer to the world record. It's important to have some fun. It's amazing to run against such a strong field and everyone did good tonight but for me it's important to have fun."
Anthonique Strachan from the Bahamas took a second place in 22.31 beating USA's Jenna Prandini (22.47) and Darryl Neita from Great Britain (22.59).
Men's pole vault:
Armand Duplantis cleared all heights in his first attempt at 5.62m, 5.82m, 5.92m, 6.02m and 6.10m improving his own meeting record. Duplantis came very close to breaking his own world record in his third attempt at 6.23m.
Armand Duplantis: "I have mixed feelings after this competition. The track is really great. I would have loved to give the public the world record, but to be honest my humps were shitty today. Even that last jump at 6.23. It was close, but it was not a great jump. I really believe that I should have made it today. I wanted a mark in between with the 6.10m and that took a little bit out of me, maybe even a little bit too much. I had in me to jump the world record today and I really thought that I was going to do it".
Sam Kendricks cleared 5.92m in his first attempt before bowing out at 5.97m. Ernest John Obiena, who won in Brussels last year, jumped 5.92m in his third attempt to take third place on countback. Christopher Nilsen took fourth place with 5.82m beating KC Lightfoot, Zach McWorther and Thibaut Collet on countback.
Men's 200 metres:
Olympic silver medallist and 2021 Diamond League champion Kenny Bednarek held off Zharnell Hughes to set a seasonal best of 19.79. In a high quality race with four athletes under the 20 seconds Hughes took second place in 19.82. André De Grasse dipped under the 20 seconds barrier for the first time this season with 19.89 ahead of Aaron Brown (19.98).
Kennny Bednarek: "I am very happy with a seasonal best tonight. It felt really great, the crowd, the atmosphere, the weather. I knew that if tonight I ran a perfect race that I was able that I got the win I was not sure about the time but I am happy with my performance. Today my turn was very good but the injury messed up a few things here and there and I felt a bit rusty but what happened at the World Championships was just bad timing. I am still focused on the finals in Eugene".
Women's 400 metres hurdles:
World champion Femke Bol won her fifth Diamond League race of the season setting another meeting record with 52.11.
Janiev Russell from Jamaica took second place in 53.80 ahead of Rushell Clayton (54.10), Anna Cockrell (54.29) and Italian record holder Ayomide Folorunso (54.42).
Femke Bol: "It was my first DL in Brussels and I love it too much. The crowd was amazing. It was so loud. I was like being at home. They even gave me a Kinder Bueno, my favourite sneak cake. My time is pretty good for the end of the season, knowing that my first hurdles did not go great. It is my second best performance and my fourth fastest time. The DL final in Eugene is the most important competition outside the championships so I am excited about this one".
Women's 100 metres:
Five-time Olympic champion Elaine Thompson Herah won the women's 100 metres in a seasonal best of 10.84, but this win was not enough to guarantee her a spot in the Wanda Diamond League Final.
The Jamaican sprinter continued her good end of the season setting her third consecutive seasonal best with 11.00 in Zurich and 10.92 in Bellinzona. Olympic 4x100 silver medallist Natasha Morrison from Jamaica finished second improving her seasonal best to 10.95. Dina Asher Smith also dipped under the 11 seconds to finish third in 10.97.
Elaine Thompson: "It was a tough season, but I am glad tha t am back to my sprinting form. A couple of nights ago I ran 10.92 in Bellinzona. I am happy to improve this result tonight". I feel healthy and in tonight's race I was able to keep swinging and punching until the finish line".
Women's 1500 metres:
Laura Muir launched her kick in the ffinal lap to win the women's 1500 metres in 3:55.34 in a very fast race where nine women dipped under the 4 minutes. Muir claimed her second consecutive win in the Diamond League following her victory in the 800 metres in Zurich. The British athlete booked her spot in next week's Diamond League Finals in Eugene. Clara Mageean finished second improving her Irish record for the second consecutive edition of the Memorial Van Damme clocking 3:55.87.
Nelly Chepchirchir from Kenya finished third clocking 3:56.93 ahead of Jessica Hull from Australia (3:57.75), Katie Snowden from Great Britain (3:58.03), Hirut Meshesha from Ethiopia (3.58.06), Melissa Courtney from Great Britain (3:58.09) , US Maddison Wiley (3:59,17) and Sinclaire Johnson (3:59.19).
Laura Muir: "It was a close race with Clara Mageean. I know her very well and she always gets me in the last 100 metres. Today I kept an eye on her and I was able that extra bit of gear in the final part of the race. At the World Championships I was in great shape, but unfortunately it was not my best day at tte most important race of the day.
Women's javelin throw:
World champion Haruka Kitaguchi set a world lead and a national record of 67.38m in the sixth round in the women's javelin throw to win her third competition of the season. Victoria Hudsn from Austria finished second with 64.65m ahead of Lina Muze (63.00m).
Haruka Kitaguchi: "I could throw a new national record and I am very happy about my performance today. The crowd was very good. They pushed me to do my best. I still have some goals to chase this season. I hope to throw 68 metres".
Men's 800 metres:
Algeria's claimed his second Diamond League win of the season in the men's 800 metres clocking 1:43.60. Yanis Meziane from France smashed his pB to 1:43.94 to take second place. Tshepiso Musalela from Botswana also set his lifetime best with 1:44.03 beating Daniel Rowden (1:44.12) beating Ben Pattison (1:44.32), Bryce Hoppel (1:44.37), Wycliffe Kinyamal (1:44.38) and Saul Ordonez (1:44.84).
Women's triple jump:
Jamaica's Shanieka Ricketts improved her PB to 15.01m in the third round iin the women's triple jump.
Shanieka Ricketts: "It was amazing. I had no idea of how I was capable to jump so far this night as I competed in Rovereto two days ago. I am over the moon to jump 15 metres for the first time legally.
Women's high jump:
World and European champion Yaroslava Mahuchik cleared 2.00 metres at her first attempt to win the wonen's high jump.
European under 20 champion Angelina Topic equalled her Serbian record with 1.97m to place second. Eleanor Patterson cleared 1.94m in her second attempt and bowed out after failing to clear 1.97m.
Women's 5000 metres:
Lilian Rengeruk from Kenya won her first Diamond League competition of the season in 14:26.44. Medina Eisa from Ethiopia took second place with 14:28.94. Nozomi Tanaka improved the Japanese record with 14:29.16. Winnie Jemutai from Kenya improved her PB to 14:39.05 ahead Ayal Dagnachew from Ethiopia (14:39.11) and Merkedes Almeshete (14:45.13).
Women's 400 metres:
Chynthia Bolingo from Belgium came through in the final straight to win the women's 400 metres in 50.09 to the delight of the home fans. It looked like Shamier Little was going to take the win, but Lieke Klaver edged ahead in the final straight before Bolingo overahauled both Klaver and Little to take first place in a thrilling race. Klaver finished second in 50"16 ahead of Little (50.58)-
Men's 400 metres:
Rusheen McDonald from Jamaica won the men's 400 metres securing his qualifying spot for the Diamond League final with 44.84. Alexander Ogando from Dominican Republic also dipped under the 45 seconds with 44.94 to finish second ahead of European under 23 Havard Ingvaldsen from Norway (45.07).
Women's shot put:
The Allianz Memorial Ivo Van Damme in Brussels started on Thursday with the women's shot held as a Street Event at the Place de la Monnaie in the centre of the Belgian capital.
Chase Ealey, double world champion in Eugene 2022 and Budapest 2023, won the women's shot put with 20.05m in the sixth round.
World silver medallist Sarah Mitton from Canada took an early lead with 19.69m in the first round and extended her lead with 19.76m on the fourth attempt. Maggie Ewen and Auriol Dongmo took the second and third places with 19.64m and 19.24m in the early stages of the competition. Ealey moved into fourth place with 19.20m in the first round.
Ealey climbed to third place with 19.51m in the fifth round before overhauling Mitton with 20.05m in her sixth attempt to take the win.
Chase Ealey: "It took me a while to get going, but it only takes one throw. The beginning of the season was a little rough, then I focused on the World Championships. After that I have just found hard to find the motivation. City events are my favourites. We have all the attention. That feels good. Today it took me a little bit of time to warm up. I could not feel quite the ball. I have not trained for a while. So it took a little bit longer".
10000 metres:
Kenya's Daniel Ebenyo won the men's 10000 metres setting a PB of 26:57.60. Jimmy Gressier from France set his seasonal best of 27:28.48 to finish ahead of Stanley Waithaka Mburu from Kenya (27:30.36). Amanal Petros from Germany improved his PB to 27:42.62 to finish fourth.
Women's long jump:
World outdoor champion Ivana Vuleta from Serbia won the women's long jump with a leap to 6.74m in the fifth round beating Fleur Jong from the Netherlands on countback.
Women's 400 metres B race:
Amandine Brossier from France won the women's 400 metres B race in 51.40 ahead of Imke Vervaet from the Netherlands (52.00) and US Kaylin Whtney (52.11).
Men's 400 metres B race:
Isayah Boers from the Netherlands took a close win in the men's 400 metres in 45.47 holding off Robin Vanderbemden (45.51).
-->