Shericka Jackson Inches Closer to the Elusive 200m World Record at Brussels Diamond League

Posted by:
Watch Athletics
Friday, 08 September 2023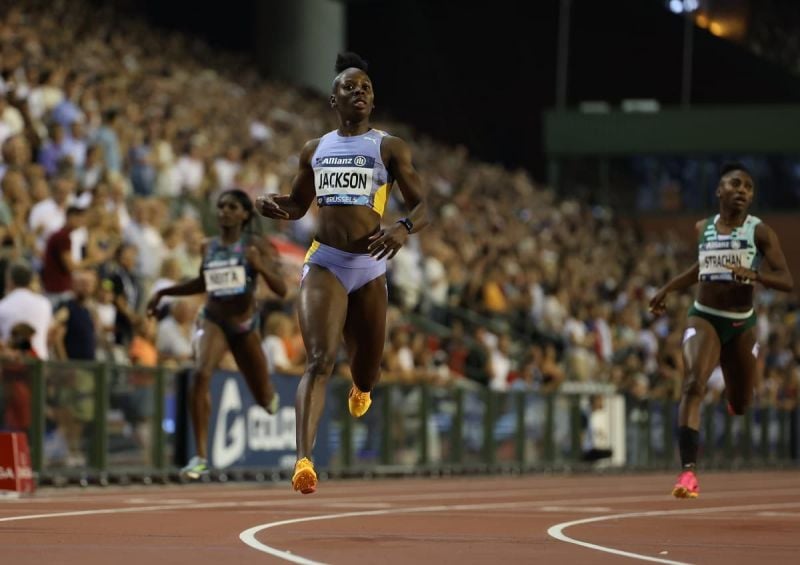 BRUSSELS, 8 September - There seems to be no stopping Shericka Jackson, the 29-year-old Jamaican sprint sensation. On a crisp Friday evening at the Brussels Diamond League meet, she displayed her unmatched prowess in the women's 200m event yet again, as she clocked a staggering 21.48, making it the fourth-fastest time in history and setting a new Diamond League record.
It's hard to fathom that just over a year ago, Jackson didn't advance beyond the heats at the Tokyo 2020 Olympics. But since that setback, she has been unstoppable. With a dominating aura and unparalleled speed, she clinched back-to-back world titles in Budapest with a personal best time of 21.41. And today, she was just a hair's breadth away from that time, proving once again that she is in a league of her own.
The elusive women's 200m world record of 21.34, set by Florence Griffith-Joyner at the 1988 Seoul Olympic Games, is tantalizingly within reach for Jackson. As she grows closer to the record with each race, the athletics world waits with bated breath, expecting her to rewrite history any day now.
Post-race, an elated Jackson shared, "Running here today was very good. I am very happy with my race. For me personally, it is just to show up and especially in front of such an amazing crowd, you just have to put in your best and that's what I did today." She added, "It felt really good tonight, I definitely feel like I'm getting there, closer to that record."
The impressive feat of Jackson now owning four of the six best times ever in the 200m women's event is a testament to her growing legacy. As we watch her career unfold, one thing is clear: Shericka Jackson is not just running races; she's running into the history of athletic greatness.
Women's 200m: wind +0.2
| POS | NAME | NAT | RESULT |
| --- | --- | --- | --- |
| 1 | JACKSON Shericka | JAM | 21.48 DLR MR |
| 2 | STRACHAN Anthonique | BAH | 22.31 |
| 3 | PRANDINI Jenna | USA | 22.47 |
| 4 | NEITA Daryll | GBR | 22.59 |
| 5 | KONÉ Maboundou | CIV | 22.79 |
| 6 | JIYA Tasa | NED | 22.96 |
| 7 | NKANSA Delphine | BEL | 23.43 |
| DNS | CAMACHO-QUINN Jasmine | PUR | |
-->