Jakob Ingebrigsten Smashes 2000m World Record with 4:43.13

Posted by:
Watch Athletics
Friday, 08 September 2023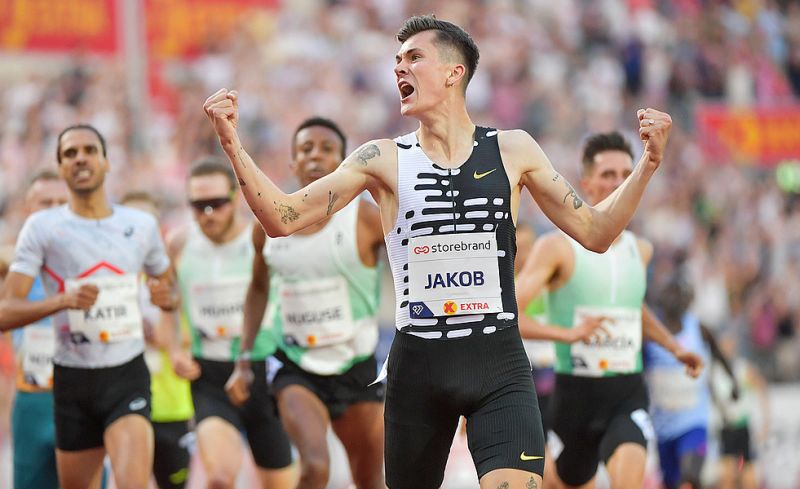 On a clear evening in Brussels, amid the echoing roar of the crowd and the powerful floodlights illuminating the King Baudouin Stadium, the athletics world witnessed history. Jakob Ingebrigtsen, the prodigious Norwegian middle-distance runner, achieved what seemed impossible, shattering the 2000m world record.
For years, the record stood like an unclimbed mountain, set by the legendary Hicham El Guerrouj of Morocco with an astounding time of 4:44.79. But on this fateful evening, under the glint of the Diamond League badge, Ingebrigtsen etched his name into the annals of athletics history, finishing the race in an unimaginable 4:43.13.
"It's always fun to break a record. This one qualifies as a world record and not as a world's best. I knew I was capable of breaking this one, but I had contracted some sort of virus ten days ago and was uncertain about how I'd feel today. However, I felt really good and executed the race well. To be honest, this record wasn't particularly challenging for me. Sure, when you have to tackle it solo, it's incredibly tough, but I received immense help from the pacemakers. They actually supported me more than I had anticipated," said Ingebrigtsen.
Men's 2000m
| POS | NAME | NAT | RESULT |
| --- | --- | --- | --- |
| 1 | INGEBRIGTSEN Jakob | NOR | 4:43.13 WR |
| 2 | CHERUIYOT Reynold Kipkorir | KEN | 4:48.14 NR SB |
| 3 | McSWEYN Stewart | AUS | 4:48.77 AR SB |
| 4 | LAROS Niels | NED | 4:49.68 NR SB |
| 5 | GARCÍA Mario | ESP | 4:49.85 NR SB |
| 6 | NORDÅS Narve Gilje | NOR | 4:50.64 PB |
| 7 | KIPSANG Abel | KEN | 4:50.68 SB |
| 8 | PHILIBERT-THIBOUTOT Charles | CAN | 4:51.54 AR PB |
| 9 | VERHEYDEN Ruben | BEL | 4:52.37 NR SB |
| 10 | TANNER Samuel | NZL | 4:53.09 SB |
| 11 | VERMEULEN Jochem | BEL | 5:03.24 SB |
| DNF | AKBACHE Mounir 800m / 1:52 min. | FRA | |
| DNF | DEBJANI Ismael | BEL | |
| DNF | KIPRUGUT Boaz 1000m / 2:21 min. | KEN | |
| DNF | TUWEI Cornelius | KEN | |
400m Splits
| LAP | TIME |
| --- | --- |
| 1 | 56.67 |
| 2 | 56.77 |
| 3 | 57.35 |
| 4 | 57.33 |
| 5 | 55.00 |
-->