5th Avenue Mile: Men's and Women's Elite Fields Announced

Posted by:
Watch Athletics
Friday, 08 September 2023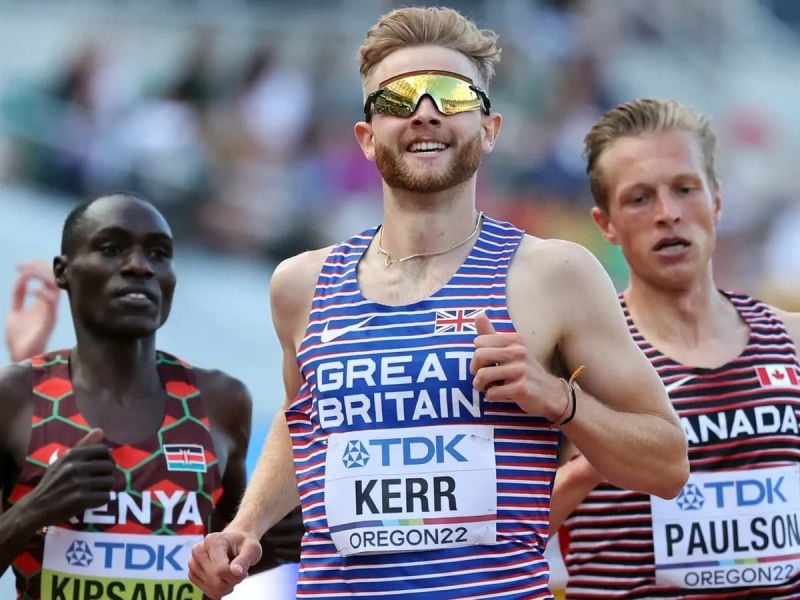 On Sunday, September 10, a prestigious roster of athletes representing 14 nations will take to the streets of Manhattan for the New Balance 5th Avenue Mile. This historic race, established in 1981, is celebrated as the preeminent road mile event globally, stretching across 20 blocks of New York's iconic 5th Avenue.
Recently crowned world champion in the 1,500 meters, Britain's Josh Kerr, is eager for his first 5th Avenue triumph on his second attempt. Recalling his Tokyo 2020 Olympic bronze feat, Kerr mentioned, "Claiming the World Championships was a monumental stride in my career. Currently, with my confidence soaring, I aim to achieve more on 5th Avenue."
Challenging Kerr will be New Zealand's 5,000-meter titan George Beamish and a strong American cohort including Johnny Gregorek, the 2023 Falmouth Mile victor, previous year's 1,500-meter national ace Cooper Teare, two-time 5th Avenue Mile top-three finisher Sam Prakel, and U.S. Olympian Woody Kincaid.
The women's division is equally star-studded. U.S. Olympian Elle St. Pierre is making her anticipated New York comeback after her 2019 second-place finish and a recent maternity break in March. "This year's 5th Avenue Mile preparation had its unique challenges with my new responsibilities," expressed St. Pierre. "Yet, I feel great and am thrilled to race this weekend."
Joining her are notables like Nikki Hiltz, Britain's 2021 5th Avenue Mile victor Jemma Reekie, UK's 1,500-meter champ Katie Snowden, and record-holders from Mexico, Australia, Japan, and Jamaica. U.S. will further be represented by Olympian Courtney Frerichs and quadruple NCAA champion Dani Jones.
Men's Elite Field
| Name | Country | 1,500m PB | Mile PB |
| --- | --- | --- | --- |
| Morgan Beadlescomb | USA | 3:37.03 | 3:52.03i |
| Geordie Beamish | NZL | 3:36.53 | 3:51.22i |
| Vincent Ciattei | USA | 3:34.57 | 3:52.56 |
| Elliot Giles | GBR | 3:30.92 | 3:52.49 |
| Johnny Gregorek | USA | 3:34.35 | 3:49.98i |
| Azeddine Habz | FRA | 3:29.26 | 3:57.76 |
| Olin Hacker | USA | 3:41.67+ | 3:56.59 |
| Eric Holt | USA | 3:35.80 | 3:52.56 |
| Drew Hunter | USA | 3:34.86 | 3:54.80 |
| Amon Kemboi | KEN | 3:34.12 | 3:55.27i |
| Josh Kerr | GBR | 3:29.05 | 3:48.87i NR |
| Woody Kincaid | GBR | 3:37.32 | 3:59.23i |
| Kasey Knevelbaard | USA | 3:34.55 | 3:53.51 |
| George Mills | GBR | 3:30.95 | 3:55.48 |
| Charles Philibert-Thiboutot | CAN | 3:32.94 | 3:52.97 |
| Sam Prakel | USA | 3:34.63 | 3:50.94i |
| Thomas Ratcliffe | USA | 3:37.56i | 3:54.29i |
| Erik Sowinski | USA | 3:44.82 | 4:01.44 |
| Cooper Teare | USA | 3:32.74 | 3:50.17i |
| James West | GBR | 3:34.07 | 3:56.79 |
| Henry Wynne | USA | 3:34.08 | 3:51.26i |
Women's Elite Field
| Name | Country | 1,500m PB | Mile PB |
| --- | --- | --- | --- |
| Melissa Courtney-Bryant | GBR | 3:58.01 | 4:16.38 |
| Kaela Edwards | USA | 4:09.08 | 4:28.75i |
| Susan Ejore | KEN | 4:02.20 | 4:31.54i |
| Courtney Frerichs | USA | 4:35.01 | N/A |
| Laura Galvan | MEX | 4:03.06 NR | 4:31.81i |
| Sarah Healy | IRL | 4:29.03 | 3:59.68 |
| Nikki Hiltz | USA | 3:59.61+ | 4:16.35 NR |
| Vera Hoffmann | LUX | 4:06.94 NR | 4:32.05i |
| Jessica Hull | AUS | 3:57.29 | 4:15.34 NR |
| Dani Jones | USA | 4:02.83 | 4:01.66 |
| Emily MacKay | USA | 3:59.99 | 4:23.79 |
| Jemma Reekie | GBR | 3:58.65 | 4:17.88i NR |
| Gaia Sabbatini | ITA | 4:01.24 | 4:31.74 |
| Helen Schlachtenhaufen | USA | 4:01.09 | 4:23.94i |
| Katie Snowden | GBR | 3:56.72 | 4:21.19i |
| Elinor St. Pierre | USA | 3:58.03 | 4:16.85i |
| Nozomi Tanaka | JPN | 3:59.19 NR | 4:28.94i |
| Adelle Tracey | JAM | 3:58.77 NR | 4:30.17i |
| Carina Viljoen | RSA | 4:07.11 | 4:29.03 |
| Regan Yee | CAN | 4:08.92 | 4:30.46i |
i = indoors
+ = 1,500 meter split of a mile race
NR = National Record
-->