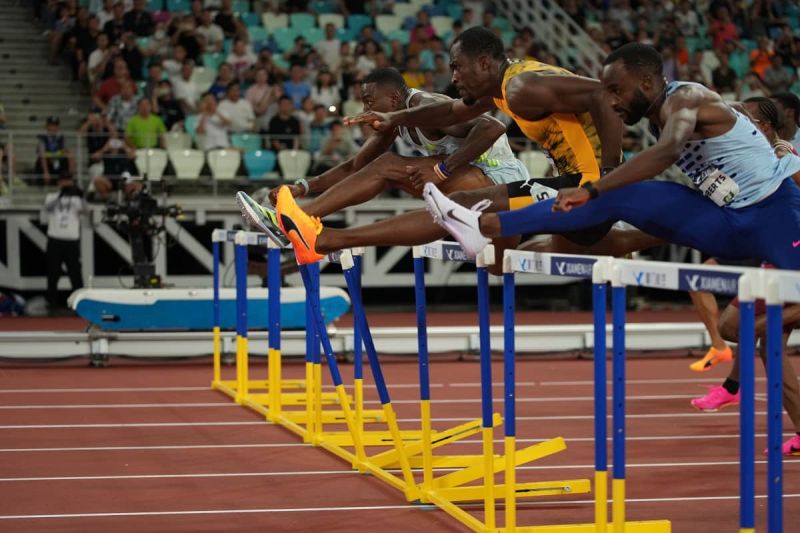 The Wanda Diamond League meeting in Xiamen unfolded as a spectacle of exhilarating rematches, replete with the intensity of championship-level competition. Fresh from their world title victories, athletes took to the track and field with fervor and drive. However, it was a day of contrasting outcomes for the reigning world champions. Standouts like Hansle Parchment, Feng Bin, and Emmanuel Wanyonyi clinched triumphant wins, epitomizing the essence of elite sportsmanship.
Parchment wins the 110 metres hurdles in Xiamen
Olympic champion Hansle Parchment set a seasonal best of 12.96 to win the men's 110 metres hurdles ahead of Daniel Roberts (13.03) and three-time world champion Grant Holloway (13.12) at the Diamond League in Xiamen. Parchment came close to his PB of 12.94 set in the Paris Diamond League meeting in 2014. Wilhelm Belocian from France was the first European in fourth place in 13.17.
Daniel Roberts: "It is a good race. I came second with a solid result. I hurt a few hurdles in the middle, that messed me up. Other than that, it was a good race. It was my best performance this year, so I am excited about it. To win my first medal in Budapest is very big. Hopefully next year in Paris I can get the gold medal. It is going to be great next year. I expect great things all year round. It is amazing to be here. The stadium is nice. All the athletes are great, the hotel is beautiful. Everything is great."
Men's 100 metres:
Christian Coleman stormed to 9.83 in the men's 100 metres equalling the world lead. Jamaica's Kishane Thompson improved his PB to 9.85 to finish second. Fred Kerley, world champion in Eugene in 2022, took third place in 9.96 beating Brandon Carnes (10.01), Marvin Bracy Williams (10.02), Yohan Blake (10.04) and Olympic champion Marcell Lamont Jacobs, who equalled his seasonal best with 10.05.
Christian Coleman: "I am so happy. In the World Championships I was sixth. It was a success, but I was not very glad, so I come here and have my seasonal best. After the World Championships everybody is tired. I feel it is sparkling in me to come here. From then I practiced everyday and I go to competitions, I feel best at the field, so I am going to compete for a long time".
Women's 400 metres:
World champion Marileidy Paulino won her third Diamond League competition of the season with 49.36, sealing her qualification for the Finals in Eugene. World finalist Candice McLeod finished second with 50.19 ahead of USA's Lynna Irby (50.45) and double bronze medallist Sada Williams from Barbados (50.95).
Women's high jump:
World champion Yaroslava Mahuchik cleared 1.95m on her first attempt to seal the win in the women's high jump. The Ukrainian jumper then jumped both 1.98m and 2.02m in her first attempt.
Lia Apostolovski from Slovenia cleared 1.92m on her second attempt beating world champion Eleanor Patterson on countback. Both Apostolovski and Patterson failed their three attempts at 1.95m.
Yaroslava Mahuchik: "I am really happy that I managed to break my seasonal best of 2.01m. I did not expect that because I felt a little bit tired. I think this result can bring happiness to all the audience. I would love to break the world record, which is my dream. I felt a bit stressed before the World Athletics Championships, but most of the time, I just enjoy all my competition and I feel relaxed. I think my results are important for my country and I will do my best".
Women's 1500 metres:
Ethiopa's Freweyni Hailu set a seasonal best of 3:56.56 to take the win in the women's 1500 metres. With this win Hailu went to the top of the standings before the Diamond League final in Eugene ahead of Faith Kipyegon. World finalist Nelly Chepchirchir from Kenya finished second with 3:56.72 beating Australia's Linden Hall (3:57.92) and Melissa Courtney Bryant from Great Britain (3:58.22).
Men's 800 metres:
Kenya's Emmanuel Wanyoni fought back on the home straight to edge past world champion Marco Arop by four hundredths of a second in a world leading time of 1:43.20. Frenchman Benjamin Robert finished third with 1:43.88 beating Wycliffe Kinyamal (1:44.04), Daniel Rowden (1:44.27) and Yanis Meziane (1:44.28).
Women's 3000 metres:
Kenya's Beatrice Chebet clocked 8:24.05 in the women's 3000 metres to set the fastest time in the world this year. Laura Galvan from Mexico broke the 8:30 barrier for the first time in her career finishing second with 8.28.05. Margaret Akidor from Kenya improved her PB to 8:29.88 in third place. Ayanis Mebratu from Ethiopia and Caroline Nyaga improved their PBs clocking 8:30.99 and 8:31.98 respectively.
Beatrice Chebet: "I am very happy to break my PB. I was the Diamond League Final winner. I still feel motivated and I believe that I can win it again. There are a lot of fans being there to support us. I think the stadium and the audience are really good. I am looking forward to the ensuing game".
Men's triple jump:
Italian record holder and reigning Diamond League champion Andy Diaz took the lead with 17.25m in the second round. Diaz extended his lead with 17.43m in the Final 3 to clinch his second win in the Diamond League this season. World champion Fabrice Zango finished second with 17.22m in the sixth round.
Women's 400 metres hurdles:
World bronze medallist Rushell Clayton from Jamaica won her first race of the season in the Diamond League with 53.56. Clayton consolidated her second place in the overall standing behind Femke Bol.
Jamaica claimed the top three spots with Andreanette Knight (53.87) and Janieve Russell (54.01). Italian record holder Ayomide Folorunso set the second fastest time of her career with 54.08 beating Anna Ryzhykova from the Ukraine (54.35) and USA's Anna Cockrell (54.56).
Men's 400 metres:
Former world and Olympic champion Kirani James won a very close men's 400 metres race in a seasonal best 44.38 in a photo-finish edging world bronze medallist Quincy Hall with the same time. James bounced back from the disappointment at the World Championships in Budapest, where he was disqualified due to a lane infringement after finishing fifth.
Kirani James: "I feel great. My execution today was good. The audience and the stadium are fantastic. It feels pretty good to set my seasonal best here. For the future, I will have just to compete at my best level. It's fun to compete with all the young athletes".
Women's discus throw:
Six-time Diamond League champion Sandra Perkovic from Croatia took the early lead with 67.32m in the first round. World bronze medallist Bin Feng threw the discus to 67.41m in the Final 3 to clinch the win. Fresh world champion Laulaga Tausaga from the USA took the third place with 64.31m.
Bin Feng: "I did not do well in the beginning but I came through in the last few throws. After Budapest, we had made a detailed plan for this Diamond League meeting, Even though I do not a systematic train recently, but I stick to the plan, and I am happy with my execution today. For the coming Asian Games, I hope to break the Asian Games record and win the gold medal".
Women's long jump:
World champion Ivana Vuleta leapt to 6.88m in the fifth round to take the win in the women's long jump. Marthe Koala from Burkina Faso placed second with 6.79m in the third round beating Nigeria's Ese Brume (6.71m).
Ivana Vuleta: "I am satisfied with my results and I think the reason why I can keep good performances is just because I really love the sport of long jump and I have a lot of fun during the whole process. This is the first time I came to Xiamen. It's a very beautiful city. I think the audience responded enthusiastically. I love that. I will continue to work hard to defend my title".
Men's 3000 metres steeplechase:
Olympic and world champion Soufiane El Bakkali from Morocco claimed his fourth win in the men's 3000 metres steeplechase with 8:10.31. Samuel Firewu from Ethiopia finished second with 8:11.29 ahead of 2021 world under 20 champion Amos Serem from Kenya (8:14.41) and world silver medallist Abraham Kibiwot (8:15.87).
Soufiane El Bakkali: "My season is good and I managed to win many competitions. I did not expect I would win here because there were so many medallists of Budapest here. Today is very hot. I am very happy to win here. I think the audience is great and I will come back here".
-->