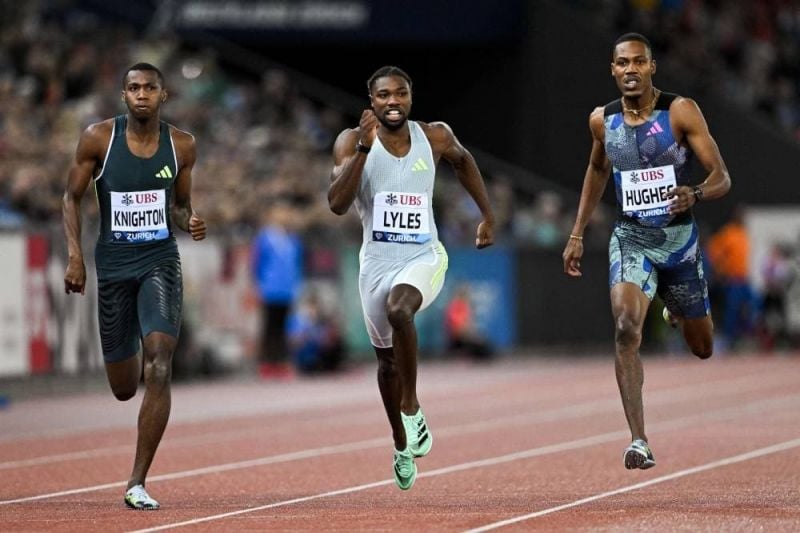 Fresh from their crowning moments at the World Championships in Budapest, 12 global titans of athletics descended upon the iconic Letzigrund Stadium for the Weltklasse Zurich Diamond League. As 25,000 ardent fans filled the stands, the electric atmosphere was palpable. Thursday's event did not disappoint, with a staggering 9 of these champions translating their recent successes into dominating victories, underlining their current supremacy in the world of track and field.
Lyles wins the 200m in 19.80 in Zurich
Noah Lyles won the 200 metres in Zurich for the third time in his career in 19.80 one week after his triple triumph in the 100m, 200m and in the 4x100 relay Three more sprinters dipped under the 20 seconds. Erriyon Knighton finished second in 19.87 ahead of Zharnel Hughes (19.94) and Kenneth Bednarek (19.98).
Noah Lyles: "It is a race. It is business as usual. Everybody wants to beat me and everybody wants the cake and the crown, but I am not giving it to them. Today we had not the perfect conditions. It was pretty cold, but a win is a win. If I will run in Eugene: we will see, we still have to make a decision. A fast time is always wanted, but it has been a great season. I am not going to lie. I am pretty tired. It was a short time after the World Championships. I definitely had fun. Walking down the backstraight, we heard the crowd".
Women's 200 metres:
Two-time world champion Shericka Jackson won the 200 metres for the second consecutive year on the track of the Letzigrund Stadium in 21.82.
World 200m finalist Daryl Neita placed second in 22.25 beating Kayla White (22.33). European champion Mujinga Kambundji finished fourth in 22.46 in her first race of the season over this distance.
Shericka Jackson: "I am OK. I have two more races. My last one will be in Eugene. This full house is wonderful. I enjoyed the atmosphere a lot. The season has not finished yet, so my focus is not yet on the Olympic Games, but on the 2023 season. I just want to finish the season well. In Budapest I was not disappointed about my time. This time right now is pretty decent"
Men's pole vault:
World and Olympic champion Armand Duplantis cleared 6.00m to win for the third consecutive year in Zurich. Duplantis started the competition with a first-time clearance at his opening height of 5.60m but he needed two attempts to clear both 5.85m and 5.95m before vaulting 6.00m at the first time of asking. Duplantis made three unsuccessful attempts at the world record of 6.23m.
Sam Kendricks had a clean sheet until 5.85m before clearing 5.95m on his third attempt. KC Lightfoot cleared 5.85m on his first attempt before failing his three attempts at 5.95m.
Armand Duplantis: "I am trying to have a good time. What the people want to see is that I jump high. At the 6.23m attempts I was not tired. It is a different sensation. The 6.23m felt surprisingly good. After the 6 m jump I wanted to wake myself up and make something crazy. My energy was low. My legs felt flat. I have two more Diamond League meetings left and I really want to jump these 6.23m".
Women's 100 metres:
Sha'Carri Richardson won her third 100 metres race in the Wanda Diamond League this year in 10.88 in her first race as world champion.
Natasha Morrison from Jamaica finished second in 11.00 beating five-time Olympic champion Elaine Thompson Herah with the same time. Mujinga Kambundji performed well finishing fourth in 11.08 in front of her home fans.
Sha'Carri Richardson: "I am feeling really good for being able to finish the season as fast as I can. I am definitely grateful. I am excited with the way the season is going. I felt like I executed and I felt good about my performance. My body felt very good afterwards. There is still room to improve. The crowd is amazing".
Women's 100 metres hurdles:
Two-time world champion Danielle Williams won her first Diamond League race of the season in the 100 metres hurdles in 12.54 holding off Alaysha Johnson (12.58) and world bronze medallist Kendra Harrison (12.59), Tia Jones (12.62) and Ditaji Kambundji (12.64).
Danielle Williams: "It is a wonderful feeling coming out a world champion. I have to give to give all the thanks for that. The race was a little bit slower than I expected, but I came out injury free and with a win, so I can't complain. I have not much time to celebrate my big win in Budapest, it will be probably the day after I finish my season. I am now onto my next meeting".
Men's high jump:
Olympic champion Mutaz Barshim cleared 2.35m in his first attempt to win the men's high jump. Barshim needed two attempts to clear 2.24m and cleared 2.28m, 2.31m, 2.33m and 2.35 on his first attempt. Barshim failed two attempts at 2.37m and one final try at 2.40m. Hamish Kerr from New Zealand improved his national record with 2.33m on his first attempt. Sanghyeok Woo from South Korea cleared 2.31 to finish third. Olympic and world champion Gianmarco Tamberi cleared 2.28m on his third attempt to finish fourth. The Italian star, who won the past two editions of the Diamond League final in Zurich in 2021 and 2022, failed two attempts at 2.31 and the final try at 2.33m.
Mutaz Barshim: "I had some solid jumps today, to jump 2.35m. I am not fresh coming from the World Championships physically and mentally a mentally a bit tired but I am proud today. It felt good and it was a good competition. Today this weather feels pretty cold. It does not mean anything, you need to prove it. I am very happy for the win today. I felt like I found I found something that was missing in my jumps. I travel a lotso whenever I can spend some time with my family and my friends. They give me an extra energy to have them here. My son is a showman He is no afraid of crowds. Whatever he wants, Eugene is probably on the schedule but us, the Asian Games is very important so I need to talk to my agent first"
Men's javelin throw:
Jakub Vadlejch from Czech Republic took the lead with 85.86m in the fourth round. World and Olympic champion Neeraj Chopra came close to the win with 85.71m in the final 3. Julian Weber from Germany finished third with 85.04m.
Women's 1500 metres:
USA's Yared Nuguse won a very close men's 1500 metres race in 3:30.49 holding off world champion Josh Kerr by just two hundredths of a second in a thrilling final sprint. Abel Kipsang from Kenya finished third in 3:30.85. George Mills dipped under 3:31 improving his PB to 3:30.95. Azeddine Habz took fifth place in 3:31.36 beating two-time European under 20 champion Niels Laros (3:31.63), Stewart McSweyn (3:31.92) and world under 20 champion Reynold Kipkorir Cheruiyot (3:31.97).
Women's triple jump:
Three-time Olympic champion Yulimar Rojas leapt to 15.15m twice in the fourth and sixth rounds in the women's triple jump to clinch her third win in the Diamond League this season. Rojas secured her qualifying spot for the Wanda Diamond League final in Eugene with this win. Shanieka Ricketts leapt to 14.78m in the third attempt to place second ahead of Liadagmis Povea (14.73m) and Layanis Perez Hernandez (14.62m).
Yulimar Rojas: "Today I wanted to enjoy and make the best of every jump. I started off with a strong jump, but the two fouls are indicative of what I can do. I am confident
Men's 400 metres hurdles:
Kyron McMaster from the British Virgin Islands, Diamond League champion in 2018, won for the third time in his career in Zurich in 47.27 holding off three-time world champion Karsten Warholm by three hundredths of a second. That's the first time since 2018 that Warholm has lost a race in the Diamond League.
Kyron McMaster: "It feels good to get the win after the World Championships last week. I executed and I did what I had to do. It feels like this about supportive and loud crowd and there are more people here than on my island. Next, I am going to Eugene".
Men's 5000 metres:
Ethiopia's Yomif Kejelcha took the win in the men's 5000 metres in 12:46.91 booking his qualifying spot for the Wanda Diamond League final in Eugene. Kejelcha's compatriot Selemon Barega finished second with 12:54.17 beating Grant Fisher (12:54.49) and Luis Grijalva from Guatemala (12:55.88).
Women's 800 metres:
Laura Muir launched her sprint in the final straight to win the women's 800 metres in 1:57.71. Oceanian record holder Catriona Bisset from Australia finished second in 1:58.77 ahead of Adelle Tracey from Jamaica (1:59.05).
Laura Muir: "I already ran the 800 metres this season, but in a mixed race so it is my first 800 metres race. I am running in Brussels and Eugene. An dI know I am in really good shape over 800 metres, so I wanted to take a time down., ran fast, and be competitive. The support is amazing and to run in front of a crowd like this is fantastic".
Women's 3000 metres steeplechase:
Winfred Yavi Mutile from Barhein won a thrilling sprint in the final straight in the women's 3000 metres steeplechase in 9:03.19 holding off world record holder Beatrice Chepkoech from Kenya (9:03.70). and Faith Cherotich from Kenya (9:07.59).
Men's long jump:
World bronze medallist Tajay Gayle from Jamaica too the lead with 8.07m in the fourth round with 8.07m, but Miltiadis Tentoglou leapt to 8.20m in the sixth round to clinch the win. Jarrion Lawson finished third with 8.0m.
Miltiadis Tentoglou: "Despite the fact that I won today, this competition was not going as I wanted. I had many technical issues in my jumping due to the cold weather. The different between the conditions we had in Budapest and today is just too big. It is just too cold. This is my the last competition of this season for me. Competing in Zurich, I knew how to speak a bit of German because half of my family lives here but I forgot a lot".
Men's 110 metres hurdles:
European indoor champion Jason Joseph won the men's 110 metres hurdles improving his Swiss record by two hundredths of a second to 13.08 to the delight of Swiss fans. Enrique Llopis placed second in 13.31.
Jason Joseph: "The atmosphere helped so much. And I am enjoying it. It is wonderful for me. Running here is so special and achieving this national record is magnificent. I cannot believe it. When I ran, I did not realize that it was fast. My race was quite hectic and I somehow made it to the finish line"
Women's 4x100 relay:
The Dutch team formed by Seedo, Van Hunenstjin, Samuel and Jiya took a close win in 42.86 over Switzerland (Kouni, Kora, Frey and Gutschmidt), who clocked 42.94.
Men's 400 metres:
Havard Bentdal Ingvaldsen from Norway won the 400 metres in 45.28 beating Italian record holder Davide Re (45.49) and Dylan Borlée from Belgium (45.67).
Women's 400 metres:
Olympic champion Shaunae Miller Uibo won a non-Diamond League race in the women's 400 metres in 51.83 ahead of Switzerland's Annine Fahr (51.97) four month giving birth to her child.
Women's 100 metres (B race):
Geraldine Frey from Switzerland won the 100m B race in 11.25 ahead of Loréne Bazolo from Portugal (11.35) and Melissa Gutschmidt from Switzerland (11.39).
-->