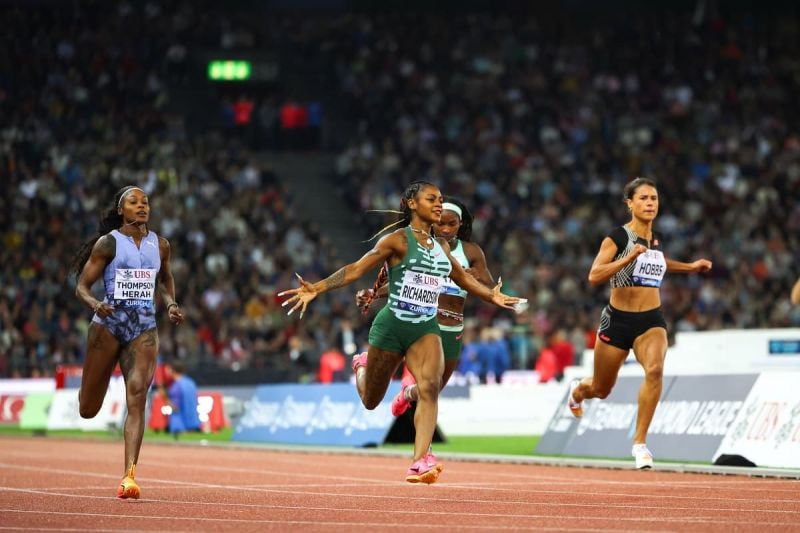 At the Weltklase Zurich Diamond League, the world champion in the women's 100m, Sha'Carri Richardson, showcased her dominance with another stellar performance, securing her win in the event.
The sensational American sprinter crossed the finish line in 10.88 seconds, which is remarkable especially when considering that just a week prior, she set a championship record with a blazing 10.65 seconds at the 2023 World Athletics Championships held in Budapest, Hungary.
Jamaican sprinter Natasha Morrison claimed the second spot with a time of 11.00 seconds. However, the story of the day was the continued struggle of Olympic champion Elaine Thompson-Herah to regain her top form. Despite being recognized as the fastest woman alive, the Jamaican could only manage a third-place finish, also clocking in at 11.00 seconds.
Switzerland's own Mujinga Kambundji trailed closely, finishing fourth in 11.08 seconds.
From the sound of the gun to the finish tape, Richardson's lead was unchallenged, and her win at the Zurich Diamond League was a foregone conclusion for many. This race further highlighted the gap Thompson-Herah needs to bridge to return to the championship form that earned her both the Olympic 100m and 200m titles.
After the race, a contented Richardson commented, "I am feeling really good for being able to finish this season as fast as I can. I am definitely grateful, and I am excited with the way this season is going. Today, I felt like I executed, and I felt good about my performance. My body felt very good afterwards, but obviously, there is still room to improve."
With such performances in the bag and the evident ambition to do even better, the world of athletics is sure to see more astonishing feats from these athletes in the future.
-->