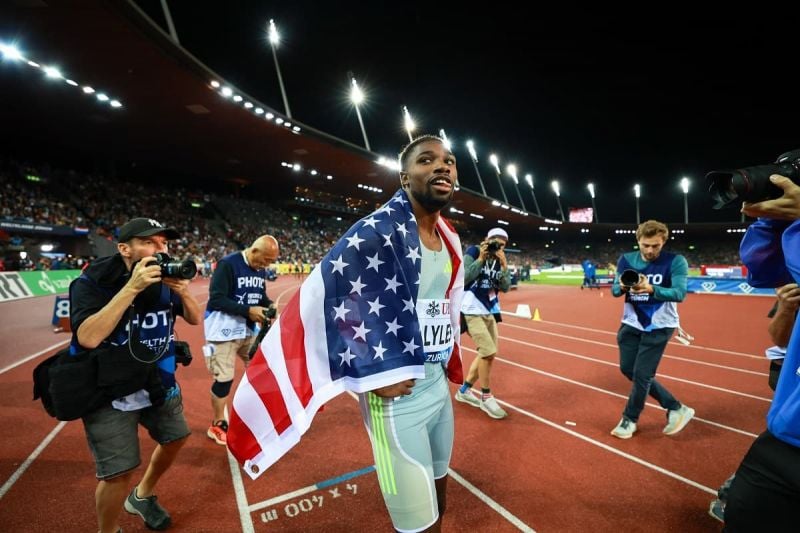 In a thrilling showdown at the Diamond League Zürich Weltkasse 2023, Noah Lyles, the reigning 100 and 200m World champion, narrowly defeated compatriot Erriyon Knighton in the men's 200m.
Lyles, who recently clinched three gold medals at the 2023 World Athletics Championships, maintained his victorious streak by clocking 19.80, a whisker ahead of Knighton's 19.87. It was a dramatic race with Lyles in lane six and Knighton adjacent in lane seven, initially with Knighton edging forward, but eventually being overtaken by Lyles in the decisive moments.
The disappointment of missing gold at Tokyo 2020 seems to have fueled Lyles. He has been the gold standard in the 200m, securing world titles consecutively in 2022 and 2023. His achievement in Budapest, capturing gold in the 100m, 200m, and the 4x100m relay, underscores his athletic prowess and dominance in the sprints.
Knighton, on the other hand, has showcased meteoric progress. Having secured a podium spot in the last two 200m World Championships and finishing an impressive fourth in Tokyo 2020 at a mere 17 years, his future in the sport looks promising.
Zharnel Hughes of Team GB took third place with a timing of 19.94, while Tokyo 2020 Olympic champion, Andre de Grasse, finished a surprising fifth, registering a 20.26.
Lyles reflected on the race and his performance: "It is just a race, it is business as usual. Everybody wants to beat me and everybody wants the cake and the crown, but I am not giving it to them. Today, we did not have perfect conditions, it was pretty cold. But a win is a win. If I will run in Eugene: we will see, we still have to make a decision. Of course, a fast time is always wanted, but it has been a great season. And I guess winning three gold medals is better than getting the American record. I am not going to lie, I am pretty tired. It was only a short time after the World Championships. Today, I definitely had fun. Walking down the backstraight, we heard the crowd. I enjoyed the people cheering so much. So, I really want to come back. Such a full house is always great."
-->