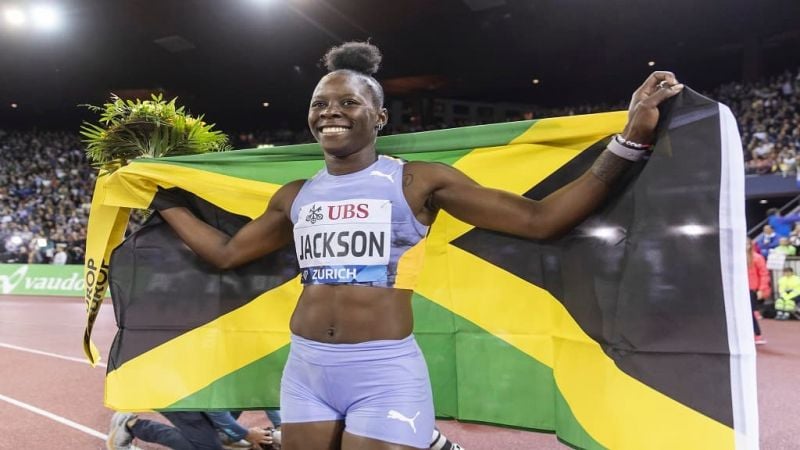 ZURICH – Shericka Jackson exhibited unparalleled prowess on the track once again, as she clinched a resounding victory in the 200m at the prestigious Weltklasse Zurich Diamond League on Thursday. Jackson's impeccable form was on full display as she glided past her competitors with ease, sealing the win in an impressive 21.82 seconds.
Having successfully defended her 200m title just a week ago in Budapest, Jackson's consistency and stellar performance remain undeniable. Great Britain's rising star, Daryll Neita, gave a commendable effort, finishing second with a time of 22.25 seconds. Not far behind, Kayla White from the USA showcased her talent, grabbing the third spot in 22.33 seconds.
For Jackson, the feeling of standing atop the world of athletics as the reigning World Champion is unmatched. Reflecting on the race, she commented, "It is a wonderful feeling coming out here as a World Champion. I have to give all the thanks for that. The race was a bit slower than I expected, but coming out injury-free and with a win is what truly matters."
Jackson's poised response to the disrupted start exemplified her focus and unwavering determination. "I just keep repeating to myself what I need to do, which is to focus on the gun," she explained. Her victory in Budapest is still fresh, and while there hasn't been much downtime for celebrations, Jackson is already eyeing her next challenge.
"I haven't had much time to celebrate my big win in Budapest," she shared. "It will probably be the day after I finish my season. For now, my eyes are set on the next meet, and I'm hoping to celebrate post the Diamond League final in Eugene."
The athletics community, along with her countless fans, will be eagerly awaiting Jackson's next performance. Given her recent triumphs, expectations will undoubtedly be high, but if history has taught us anything, it's that Shericka Jackson thrives under pressure.
-->