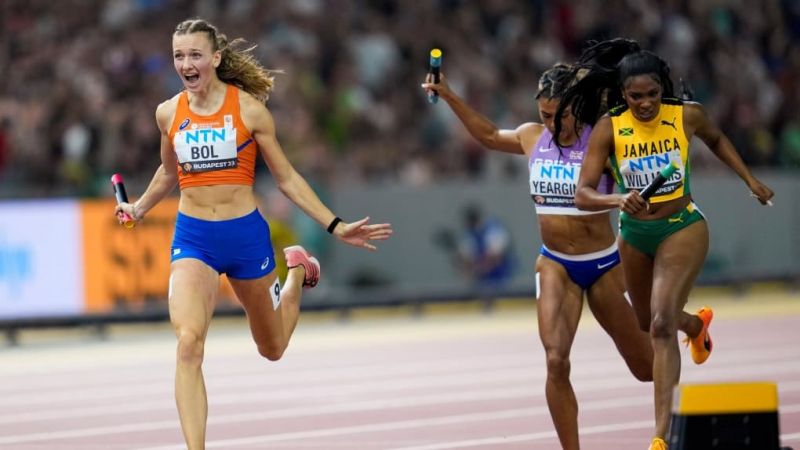 The World Athletics Championships drew to a magnificent close on Sunday, August 27, with a day that surely will go down in sports history. Seven electrifying finals unfolded, each carrying its own tale of determination, prowess, and unparalleled athleticism. Fans from all corners of the globe bore witness to performances that pushed the boundaries of human potential, encapsulating the very essence of competitive spirit and reinforcing the global appeal of track and field events. This edition of the Championships, with its crescendo of excitement, has undoubtedly set a new benchmark for future events.
Women's High Jump
Yaroslava Mahuchik from the Ukraine cleared 2.01m in her second attempt to win her first world outdoor gold medal following her two silver medals in Doha 2019 and in Eugene 2022 and the world indoor title in Belgrade 2022.
Mahuchik made three unsuccessful attempts at 2.07m.
Yaroslava Mahuchik: "I am so proud to win the gold medal for my country. Silvers from Doha and Eugene were definitely not enough for me. I have been one of the best high jumpers over the last few years and I badly wanted to become the best in the world definitely. Before every single one of my jumps tonight I said to myself that I had to win the gold for all my team that believes in me, for my family, for my father who could not come here to support me, but I felt the energy despite hundredths of kilometres between us. I had to win the gold for my country all Ukrainian people who are still fighting for peace in Ukraine and for our independance".
Reigning world champion Eleanor Patterson from Australia won the silver medal with 1.99m beating her compatriot Nicola Olyslagers on countback. Patterson came back successfully from a foot injury during a warm-up at an indoor competition last February.
Morgan Lake equalled her outdoor PB to finish fourth with 1.97m.
Olyslagers and Mahuchik cleared 1.97m on their first attempts. Patterson set her seasonal best at 1.97m on her third attempt.
Mahuchik and Patterson got a first-time clearance at 1.99m. Lake passed her final attempt at 1.99m and had a good attempt at 2.01m, but the bar fell.
Mahuchik cleared 2.01m on her second attempt. Patterson and secured the gold medal, as Patterson and Olyslagers made three unsuccessful attempts at 2.01m.
Olyslagers returned to the podium in a global championship two years after her Olympic silver medal in Tokyo 2021.
Men's javelin throw:
Neeraj Chopra won the first world gold medal in history for Indian athletics in the men's javelin throw with 88.17m in the second round. Chopra backed up this result with four more throws of 86.32m, 84.62m, 87.73m and 83.98m. His compatriotrs Kishore Jena and DP Manu finished fifth and sixth with 84.77m and 84.14 respectively.
Chopra became the only the second Indian athlete to win a medal at the World Championships after finishing second to Anderson Peters last year in Eugene.
Neeraj Chopra: "This was great. After the Olympic gold medal, I really wanted to win the World Championships. I just wanted to throw farther. This is brilliant for the national team, but it was my dream to win gold at the World Championships. This has been a great championships for India. I am proud to bring another title to my country. I wanted to throw more than 90 metres tonight but it needs all parts of the puzzle to be there. I could not put it all together this evening. Maybe next time".
Last year's Commonwealth Games champion Arshad Nadeem won the first ever medal for Pakistan with a throw of 87.82m. Nadeem, who set his PB of 90.18m, made a successful come-back following a elbow surgery last year.
Arshad Nadeem: "It's a very emotional day for me and my family and my country. I am over the moon. I hope I could make my country proud. I was in very good shape and I was confident. This silver medal means a lot to me and it motivates me to earn a better result at the Olympic Games. I will do everything I can in order to be the hero of Pakistan at the Olympic Games".
Jakub Vadlejch from Czech Republic threw the javelin to 86.67m in the fifth round to clinch the bronze medal, overtaking Julian Weber from Germany, who was in bronze medal position for three rounds with 85.30m. Weber had to settle with another fourth place repeating the same result as at last year's edition of the World Championships.
Men's 5000 metres:
Jakob Ingebrigtsen won his second consecutive world gold medal in the 5000 metres in 13:11.30 holding off Mohamed Katir from Spain (13:11.44).
Katir launched his attack with 250 metres to go, but Ingebrigtsen edged past his Spanish rival in a thrilling sprint in the final straight.
Ingebrigtsen ran the final km in 2:21 and the last lap in 52 seconds.
Ingebrigtsen bounced back from an unexpected defeat against Josh Kerr in the 1500 metres five days earlier.
Jakob Ingebrigtsen: "To win another title is great. I was very tired. I tried to save my energy to win at the end because that was the only way tonight. I knew that if my tactics were better than my competitors, I would have the chance to win. That's what happened. It worked out absolutely perfectly. This title means a lot a lot to me after losing again in the 1500m. I have not beem at my best but I had the motivation and I had great support".
Jacob Krop from Kenya took the bronze medal in 13:12.28 edging Louis Grijalva from Guatemala (13.12.50).
Women's 800 metres:
Mary Moraa won her first world gold medal in the women's 800 metres in a personal best of 1:56.03 holding off Keely Hodgkinson (1:56.34) and Olympic gold medallist Athing Mu (1'56"61). Moraa danced with joy as she celebrated the gold medal. She leapt into the air punching her fist to celebrate her second major gold medal following her win at the Commonwealth Games in Birmingham. Moraa also won the bronze medal at the World Championships in Eugene.
Mary Moraa: "I surprised myself too. I was not expected to win the gold medal. I am happy that the Kenyans are slowly coming back to reclaim our race. Maybe from next year you will see a sweep. It was a very hard, and midway through the race I was wondering what medal I will get. Mu was there, Keely, Jemma Reekie is also in good shape. There are only three medals I was like what I am getting from here ?".
Hodgkinson won her third global consecutive silver medal after finishing second at the Olympic Games in Tokyo and at the World Championships in Eugene.
Hodgkinson ran on the inside down the home straight to hold off Mu, but she was beaten by Moraa in the final metres.
Mu ran just her second 800 metres since she won the world gold medal in Eugene beating Hodgkinson.
USA's Raevyn Rogers finished fourth with 1:57.45 ahead of Jemma Reekie from Great Britain (1:57.45).
The three medallists were the same as at the previous edition of the World Championiships in Eugene but with a different order.
Women's 3000 metres steeplechase:
Wilfried Mutile Yavi from Barhein won her first world gold medal in the women's 3000 metres steeplechase in a world leading time of 8:54.29 after finishing fourth in the previous two editions of the World Championships in Doha 2019 and Eugene 2022.
Wilfried Mutle Yavi: "It was a fast race but I did not realise it was so fast. I knew I would have the power on the last lap. It was perfect. I have never felt like like this before. I worked hard and I am grateful for this amazing achievement. After finishing fourth at the past two World Championships, the gold medal gives me additional motivation to train hard".
World record holder Beatrice Chepkoech led from the start and only Yavi was able to follow her pace. Yavi went into the lead at the bell and built a decisive gap to set the fifth fastest time time in history.
Beatrice Chepkoech: "This silver feels like gold to me. The last few years have been tough due to injury. Coming back is special for me. It was has been hard. Since the Tokyo Olympics I have been struggling and I thought I might never come back but tonight proves I am still strong."
Chepkoech won the silver medal in 8:58.98. World under 20 champion Faith Cherotich claimed the bronze medal in 9:00.69.
Alice Finot finished sixth breaking the French record with 9:06.57 beating Marusa Mismas from Slovenia, who also set the national record of 9:06.37.
Women's 4x400 relay:
Femke Bol anchored the Netherlands to a world leading time of 3:20.72 in the women's 4x400 relay. The Dutch team formed by Eveline Saalberg, Lieke Klaver, Catheljn Peeters and Femke Bol took 15 hundredths off their national record set when they won the European gold medal in Munich last year. Bol won her second world title at these championships following her triumph in the 400 metres hurdles. Bol catched Jamaica's Stacey Ann Williams with just five metres to the line.
Femke Bol: "I felt like I had to finish as strongly as I could. I had to stay patient, but in the last metres I said: 'No, we have to take it' It was one one of my most important runs ever, but it is the first time we have become world champions, so It applies for all of us. Every tenth and hundredth of a second was needed."
The Jamaican team formed by Candice McLeod, Janieve Russell, Nickisha Pryce and Stacey Ann Williams won the silver medal in 3:20.88.
The British team formed by Lavian Nielsen, Amber Anning, Ama Pipi and Nicole Yeargin claimed the bronze medal in 3:21.04.
Men's 4x400 relay final:
The US team won the men's 4x400 relay gold medal in a world leading time of 2:57.31. It was the fourth US relay gold medal at these championships.
Quincy Hall, world bronze medallist in the individual 400 metres, gave the US team an early lead. Hall handed over to Vernon Norwood, who finished fourth in the 400 metres. Justin Robinson, who won the gold medal with the mixed 4x400 relay with the world record on the inaugural day of these championships, maintained the US lead in the third leg. Raj Benjamin, who won the bronze medal in the 400 metres hurdles, extended the US lead on the anchor leg and went to clinch the gold medal.
The US team earned their ninth gold medal in the 4x400 relay from the past ten editions of the World Championships.
Ludvy Vaillant,Giles Biron, David Sombe and Teo Andant earned France the silver medal in a national record of 2:58.45. French Andant held off Rio Mitchum, who brought Great Britain the bronze medal in 2:58.71. It was the first medal for the French athletics team at these Championships.
Antonio Watson, the individual world champion in the 400 metres, anchored the Jamaican ream to fourth place in 2:59.34. India finished fifth in 2:59.92 ahead of the Netherlands (3:00.40) and Italy (3:01.23).
Men's marathon:
Uganda's Victor Kiplagat won the world gold medal in the men's marathon on the final day of the World Championships in Budapest. Kiplagat broke away from Ethiopia's Leul Gebrselase with 3 km to go and crossed the finish-line in 2:08:53 beating Maru Teferi from Israel by 26 seconds.
Teferi overtook Leul Gebrselase on the finishing curve to finish second in 2:09:12. The 31-year-old Israeli runner recovered from a fall with 10 to go.
Gebrselase had to settle with bronze medal with 2:09:33. Lesotho's Tebelio Tamongoana crossed the finish-line in 2:09:57 beating Uganda's Stephen Kissa, who also recovered from a fall to finish fifth in 2:10:22.
Kiplagat has become the second Ugandan runner to win the world title, following Stephen Kiprotich's triumph in Moscow 2013. Last year Kiplagat claimed the Commonwealth Games title in Birmingham.
Victor Kiplagat: "This has been my dream and it has come true at last. Last year I was Commonwealth Games champion and made me think this year I must become world champion. Now my prayers have been anwered and hopefully next year in Paris I will become Olympic champion. It was hard today because it was so hot but I was comfortable because I prepared well for this weather. I knew it was possible because I had trained well. It was a dream and a mission and I did it today. When I reached 30 km I knew I felt strong and decided to push. I had great energy and that allowed me to go. Then at 35 km I could surge again. That was always my plan and I managed to do it. I need to thank Jacob Kiplimo. He has given me a lot of motivation and inspired me with his performances".
Ser-Od Bat Ochiri from Mongolia, who was competing for the 11th consecutive edition of the World Championships, went through the 5 km in 14:59 with a gap of 35 seconds over Tamirat Tola. The pace started to take its toll. The chasing pack led by Timothy Kiplangat reduced his gap to 15 seconds at 8 km. Bat Ochiri clutched his right harmstring after reaching the 10 km and dropped out of the race at 12 km.
Thirty runners were still in the leading pack at halfway. John Hakizimana ran at the front, going through at 21 km in 1:05:12.
Timothy Kiplangat surged the pace with a 2:54 split at 30 km. The leading pack was whittled down to six runners on the penultimate lap. Then the pack was reduced to five runners, when Kissa tripped.
Three runners Kiplangat, Tola and Gebrsesilase remained at the front. Tola started to drop at 33 km. Kiplangat and Gebresilase pulled away after a split of 2:49.
Kiplagat pushed the pace at the front closely followed by Gebrselisase.
Kiplagat launched his decisive kick opening a big gap with 3 km to go. Teferi overtook a fading Gebrsesilase in the final stages of the race to claim the silver medal.
-->