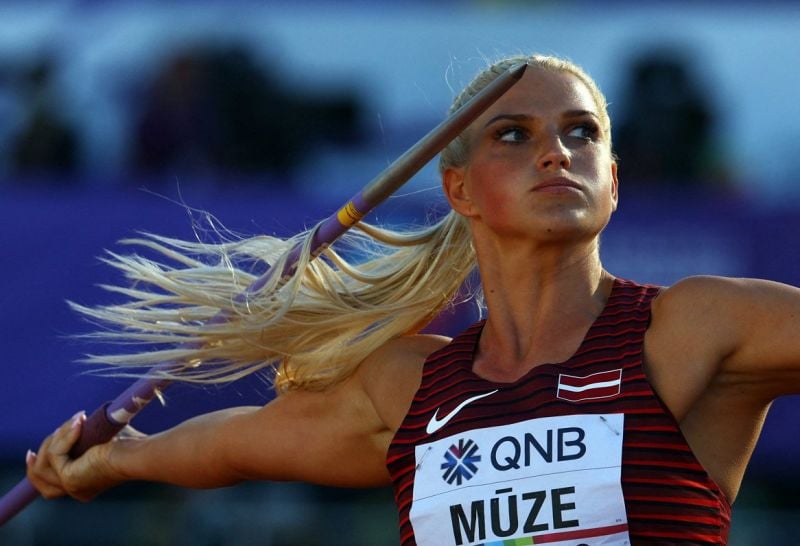 Budapest - Friday, August 25: Shericka Jackson won her second consecutive world gold medal in the 200 metres improving her national record by four hundredths seconds to 21.41, the second fastest time in history.
Jackson missed Florence Grittifth Joyner's world record by just seven hundredths of a second. Last year the 29-year-old Jamaican sprinter won the same title in Eugene in 21.45.
Shericka Jackson: "Yesterday I ran the curve a little bit conservative. I think I did pretty good tonight. I ran a good race tonight. 21.41 is a time I cannot complain about. It feels good that even though I used to run 400m I can still do a very good 100m and 200m. I feel like I am a living testimony that you can create something if you really want it and never give up. Even if I was pretty close to the world record it was not the thing on my mind when I ran. I will continue to work and I hope I can maintain at least this level and we will see if the world record will come. I wrote a time on my bib and it was a fast time - 21.2-something. Then I wrote beside it 21.40 for tonight I and I got close to that. as for the world record - I'm close, I'm close, I'm getting there."
Gabrielle Thomas came through to win the silver medal in 21.81. Sha'Carri Richardson claimed the bronze medal setting a PN of 21.92.
Men's 200 metres:
Noah Lyles claimed his third consecutive world title in the 200 metres in 19.52. Lyles has become the first sprinter to win the double 100 and 200 metres titles in the same edition of the World Championships since Usain Bolt in Beijing 2015.
Noah Lyles: "It is a great feeling to know I did something not a lot of people have done. In my documentary I talked about wanting it to be done, being different from anybody else, and winning double golds was one of the things on my list. I wanted to show I am different. Today I came out and showed it. I am double champion. My day started with a good breakfast, then I talked with my mum a bit, we always do it. There was a little bit of a hesitation but I knew I could take this. Others are just as hungry for gold as I am. Today I came with that mentality. Usain Bolt has done it, and him saying to me that he sees what I am doing and he respects it, it is amazing. We have the 4x100m final tomorrow. Team USA did a great job in the qualifications. I am hoping to join the team and grab another gold."
Erriyon Knighton clinched the silver medal in 19.75. Letsile Tebogo won his second medal at these championships, finishing third in 19.81. Zharnel Hughes finished fourth in 20.02 ahead of Kenny Bednarek (20.07) and reigning Olympic champion André De Grasee (20.14).
Erriyon Knighton: "Bronze last year and now silver, so I got a trade up. I got out and tried to run my own way as best I can. I didn't win the race but I still came home with the supper, so I cannot complain. I will gain a lot of confidence from this".
Letsile Tebogo: "This bronze medal is a bonus for me, because the main goal was to see how my body can react after so many rounds of fast running. It really shows everything is going in the right direction".
Women's triple jump:
Yulimar Rojas from Venezuela won her fourth world outdoor gold medal with 15.08m in her sixth attempt. Rojas, who was eighth after the first five attempts, leapt to over the 15 metres barrier for the first time in this competition overtaking European outdoor champion Maryna Beck Romanchuk, who was leading 15.00m in the opening round. Rojas wonq her first global outdoor title.
Yulimar Rojas: "It was very difficult. The fact that I won the competition with my last attempt makes it very special and memorable. This is my seventh world championship gold in a row (outdoors and indoors), but this is the most special of all of them. My last attempt was proof of the hard work I have done, my mental state and my self-confidence. I didn't care about the distance, the only thing I had in mind was to win the gold."
Leyanis Perez Hernandez claimed the bronze medal with 14.96m. Shanieka Ricketts leapt to 14.93m to finish fourth. Thea Lafond from Dominica improved her PB twice to 14.71m and 14.90m to finish fourth. Liadagmis Povea from Cuba placed fifth with 14.87m.
Women's javelin throw:
Haruka Kitaguchi from Japan won the gold medal in the women's javelin throw with 66.73m in the sixth attempt overtaking Flor Denis Ruiz Hurtado, who was leading until the fifth round with a South American record of 65.47m. Mackenzie Little from Australia threw the javelin to 63.38m to take the bronze medal.
Kitaguchi won the world bronze medal in Eugene eight years after the world under 18 title.
Haruka Kitaguchi: "The key thing to win this title was just to believe it. I usually do not do the big changes in my technique, just trying running a bit faster and throw a bit higher - those are the things I need to work on still. If I compare the last years and this one, my goal was just to get into the final. This time, coming to Hungary my goal was a medal and even higher. Javelin throw is not a very popular event in Japan but I think it is becoming more and more popular - before, nobody knew about this event but now when I got gold, I think it will be more popular. My coach is from the Czech Republic, I spend a lot of time training there so I hope also the Czech people were cheering for me.
Men's decathlon
This year's NCAA champion Leo Neugebauer is the overnight leader with 4640 points ahead of Pierce LePage (4610) and Damian Warner (4578).
Warner led after clocking 10.32 in the 100 metres and leaping to 7.77m in the long jump. The Canadian athlete set PBs of 15.03m in the shot put and 2.03m in the high jump. Neugebauer, who finished tenth at the World Championships in Eugene last year, overtook Warner with his PBs of 8.00m in the long jump and 17.04m in the shot put. The German athlete also clocked 10.69 in the 100m and 47.99 in the 400m and cleared 2.02m in the high jump.
Neugebauer won the NCAA outdoor title for the University of Texas in Austin last June setting the world leading mark of 8836 points. In this competition he broke a 39-year-old German record held by Jurgen Hingsen. He moved to eighth place on the all-time list.
World record holder Kevin Mayer withdrew from the competition after the long jump. The Frenchman suffered from an Achilles tendon injury two weeks ago. Nicklas Kaul injured his foot in the high jump. Ashleigh Moloney also withdrew from the competition after the shot put.
Kevin Mayer: "My feelings are mixed but I will try to manage them. Since the injury, I had eight hours of physiotherapy every day. I was not able to train at all. I was not able to train at all. I knew it was going to be difficult but I tried. When I realized my left leg was starting to hurt more and more, I decided to stop. In knew I would not finish the decathlon and I wanted to stop before it becomes a big injury".
Men's 4x100 relay heats:
The US team formed by Christian Coleman, Fred Kerley, Brandon Carnes abd JT Smith set a world leading time of 37.67 to win the first heat holding off Jamaica (Ackeem Blake, Oblique Seville, Ryiem Forde and Rohan Watson) by one hundredths of a second. Japan finished third in 37.71 France advanced on time with 37.98.
The Italian team formed by Roberto Rigali, Marcell Lamont Jacobs, Lorenzo Patta and Filippo Tortu won the second heat with the world leading time to 37.65, just 0.15 off the national record they set to win the Olympic title in Tokyo.
South Africa (Masangwani, Richardson, Munyai and Simbine) took second place in 37.72 ahead of Great Britain (Azu, Gemili, Efoloko, Amo Dadzie), who finished third in 38.01.
Canada did not get through to the final.
Women's 4x100 relay:
A strong Jamaican team formed by Briana Williams, Elaine Thompson Herah, Shashalee Forbes and Shelly Ann Fraser Pryce won the first heat in the women's 4x100 relay heats with 41.70. Great Britain (Asha Philip, Imani Lansiquot, Bianca Williams and Annie Tagoe) finished second in 42.33 ahead of Switzerland (Natasha Kouni, Salomé Kone, Geraldine Frey and Melissa Gutschmidt), third in 42.64.
The US team (Tamari Davis, Twanisha Terry, Tamara Clark and Melissa Jefferson) clocked the fastest overall time with 41.59 to win the second heat. Ivory Coast (Murielle Ahouré Demps, Jessika Gbai, Marie Josée Ta Lou and Maboundou Koné) improved the African record to 41.90. The Italian team forned by Zaynab Dosso, Dalia Kaddari, Anna Bongiorni and Alessia Pavese qualified for the final smashing the national record by 57 hundredths of a second.
Women's 800 metres semifinal:
European indoor and outdoor champion Keely Hodgkinson won the first semifinal in 1:58.48. Nia Akins improved her PB to finish second in 1:58.61.
Jemma Reekie won the slowest semifinal in 2:00.28 ahead of Raevyn Rogers (2:00.47). Jamaica's Natoya Goule Toppin did not reach the final in 2:00,78.
World bronze medallist Mary Moraa took the win in 1:58:48 beating Olympic champion Athing Mu (1:58.78).
Men's javelin throw qualifying round:
Olympic champion Neeraj Chopra led the qualifying round with his seasonal best of 88.77m. Last year's Commonwealth Games Arshed Naadem from Pakistan qualified with his seasonal best of 86.79m. Jakub Vadlejch and Julian Weber qualified with 83.50m and 82.39m respectively. Julius Yego and Anderson Peters did not get through the qualifying round.
Women's high jump qualifying round:
Yaroslava Mahuchik and Eleanor Patterson were the only jumpers to qualify for the final with a clean sheet until 1.92m. Nicola Olyslagers also advanced easily. Yuliya Levchenko did not reach the final, as she was edged on countback for the final qualifying spot at 1.89m.
-->