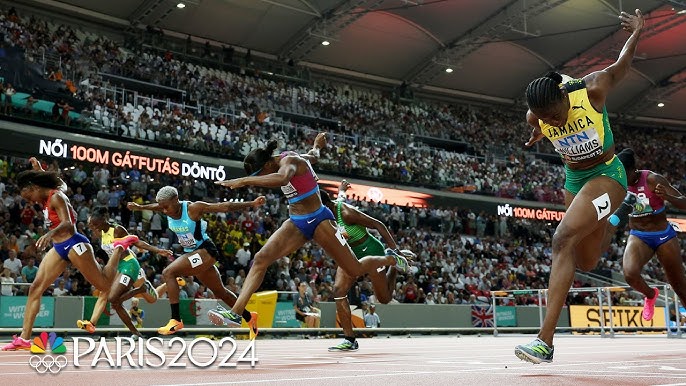 Femke Bol won the world gold medal clocking the second fastest time of her career with 51.70. Bol added this title to the three European gold medals in the 400m, 400 metres hurdles and the 4x400 relay at the European Championships in Munich, the Olympic bronze medal in Tokyo and the world silver medal in Eugene. Bol improved the world indoor record to 49.26 at the Dutch Indoor Championships in Apeldoorn and the European record to 51.45 at the Diamond League meeting in London.
Bol bounced back from the disappointment in the 4x400 mixed relay final, where she fell five metres short of earning the gold medal for the Dutch team.
Femke Bol: "It wasn't easy to forget what happened in the final metres of the mixed relay but my team was around me and they put me at my ease. I knew that 400m hurdles would be a chance to show up and I was confident. I felt the strength to do it. I really enjoy competing here in Budapest and that also helped me to get my focus back. I took the first few hurdles fast and then I could run my rhythm. I think I have just had the best first 200 metres ever. Then I just needed to finish the race which I could do easily."
Shamier Little won her second silver world medal in 52.80 eight years after finishing second in Beijing 2015.
Rushell Clayton from Jamaica improved her PB to 52.81 to win her second world bronze medal repeating the same result at the 2019 World Championships.
Rushell Clayton: "It was the best run of my life. When I won the bronze medal in Doha, that was easier. Now all the girls were on fire. I was able to improve my PB twice in Budapest, so I cannot be happier. I knew Femke would be in front of us but the others would be close to each other, so I just focused on myself. I told to myself during the race that I needed to push harder because I needed that medal".
Kemi Adekoya from Barhein improved the Asian record for the third consecutive time at these championships with 53.09.
US Anna Cockrell finished fifth improving her PB to 53.54. Ayomide Folorunso from Italy placed sixth with the second fastest time of her career 54.19 after improving her national record to 53.89 in the semifinal.
Men's long jump final
Miltiadis Tentoglou won his first world outdoor gold medal with 8.52m adding this title to his collection that includes the Olympic gold medal in Tokyo 2021 and two European outdoor titles in Berlin 2018 and Munich 2022. Tentoglou beat Jamaica's Wayde Pinnock by just two centimetres in a very close competition. Tajay Gayle from Jamaica won the bronze with 8.27m four years after his world gold medal in Doha 2019 with 8.69m.
Tentoglou started the competition with 8.50m in the opening round. Pinnock responded with a jump of 8.40m in his first attempt.
Pinnock, who won the NCAA title in 2022, leapt to 8.50m to take the provisional lead on countback. Gayle jumped 8.17m, but McLeod moved up to third place with 8.27m.
Gayle leapt to 8.27m in the fifth round to take the third place on countback.
Tentoglou sailed out to a seasonal best of 8.52m in the sixth round to clinch the gold medal.
Miltiadis Tentoglou: "The only gold medal I was missing is now mine. I stayed calm after my my first attempt of 8.50. I was sure that Pinnock had a lot to add. He is very strong and will give much more next year. I wanted to jump more than 8.50m and I managed to do that in the last round. But I left my foot in the sand and lost an even bigger jump. It was a great competition, a great battle, better than last year. Now I am going to defend all my titles".
Pinnock ended the competition with a jump of 8.38m. farther than his pre-championships PB.
Wayne Pinnock: "When he pulled that off, I could not believe it., but I know what he is capable of. I just knew he had it, but I just did not know he would do it, that he would pull it off at that moment, but this is still a silver medal. It's really a dream come true. Watching people like Tentoglou gave me the motivation as a youngster to reach the top. Now I am there".
Women's 100 metres hurdles:
Jamaica's Danielle Williams won her second world title in 12.43 eight years after her triumph in Beijing 2015. Williams held off Olympic champion Jasmine Camacho Quinn by one hundredth of a second. Kendra Harrison won the bronze medal in 12.46 holding off Devynne Charlton (12.52), this year's NCAA champion Ackera Nugent (12.61), world record Tobi Amusan (12.62), European under 23 champion Ditaji Kambundji (12.7) and Nia Ali (12.76).
Williams clocked the fifth fastest time of her career behind her lifetime bes of 12.32 set at the Diamond League meeting in London 2019.
Danielle Williams: "I knew it was going to be tough. I came out here knowing that I could win, but I would have to give everything I had. I still don't believe I won against such a stellar field. My starts have always been good. The finish is always my problem, but I spoke with my sister yesterday, and she said I need to make sure to race over the hurdles because I was not going flat out through all of them. Today I was determined to take it all the way".
Camacho Quinn followed up her bronze medal with a silver medal in 12.44
Jasmine Camacho Quinn: "I am an upset at all. After I won a bronze medal at the last World Championships, now I have a silver. If I add my Olympic gold medal, I have the whole collection to be proud of".
Men's 400 metres final:
Twenty-one Jamaican rising star Antonio Watson came from behind to win the world gold medal in 44.24, setting the second fastest time of his career. Watson won the second gold medal for Jamaica at these championships 15 minutes after Danielle Williams' triumph in the 100 metres hurdles.
Watson becomes the first Jamaican gold medallist in the men's 400 metres since Bert Cameron won the title at the inaugural edition in Helsinki.
Watson won the world under 18 gold medal in Nairobi 2021 and the silver medal at the Youth Olympic Games in Buenos Aires 2018. He is coached by Glen Mills, who guided Usain Bolt and Yohan Blake in the past. Watson entered the World Championships with a previous PB of 44.54. He finished second to Sean Bailey at the Jamaican Trials in Kingston. Watson impressed in the semifinal of the World Championships in Budapest with a PB of 44.13, becoming the third fastest Jamaican 400m specialist in history after Rusheen McDonald (43.93) and Ackeem Blomfield (43.94).
Matthew Hudson Smith won the silver medal in 44.31 after improving Thomas Schoenlebe's European record to 44.26 in the semifinal.
Quincy Hall, 2019 NCAA champion, held off Vernon Norwood by two hundredths of a second in the final straight to win the bronze medal in 44.37.
Kirani James finished fifth, but he was later disqualified due to lane violation.
Sean Bailey finished fifth in 44.96. European under 23 gold medallist Harvard Bentdal Ingvaldsen from Norway took sixth place in 45.08 after improving the national record to 44.39 in the heats.
Women's hammer throw:
Camryn Rogers won the first ever world gold medal for Canada in the women's hammer throw. Canada scored a double win in this discipline four days after Ethan Katzberg's gold medal in the men's hammer throw.
Rogers, Commonwealth Games champion in Birmingham and world silver medallist in Eugene last year, opened the competition with 77.22m and followed up with throws of 77.07m, 76.75m, 75.68m, 76.22m and 74.92m.
Janee Kassanavoid moved into second place with 76.00m in the second round and improved to 76.38m in her third attempt.
DeAnna Price, world champion in Doha 2019 and third on the world all-time list with 80.31m, started the competition with two fouls and produced a best throw of 75.41m in the fifth round.
Hanna Skydan from Azerbajan, who set a national record of 77.10m in the qualifying round, finished fourth with 74.18m ahead of world under 20 champion Silja Kosonen from Finland (fifth with 73.89m) and Sara Fantini from Italy (sixth with a seasonal best of 73.85m).
Camryn Rogers: "Ethan Katzberg really set the stage out there. I feel Canada is making its presence known all across the world. Being able to win this medal for Canada means the world to me. I am so proud to represent my country on the world stage. You never know what can happen on the day of the finals. Everything is possible and that is what makes championships so exciting. On the day you need to be ready to throw your best. With all the training I have done, being able to come here, throw consistently, and have one of the best series in my career to get a medal, it shows I am doing something right I cannot be happier".
Women's 35 km walking race:
Maria Perez from Spain completed the double winning the 35 km walking race at the World Athletics Championships adding to the 20 km title she won last Sunday. Perez broke the championships record with 2:38:40 beating defending champion Kimberly Garcia (2:40:52) by more than two minutes. Garcia won the world title in Eugene in the 35 km with a South American record of 2:39:16 and improved this time when she broke the world record with 2:37:44 last March. Perez smashed Garcia's world record by 29 seconds with 2:37:15 at the European Team Walking Championships in Podebrady with 2:37.15 last May.
Maria Perez: "I never could have thought it was possible to win two gold medals. It was just too hard, but the hard work and pain paid off. I had a problem with my harmstring after the 20 km and I was still considering whether to start at the 35 km but I managed to get through. I felt confident about my technique today and wanted to maintain a normal rhythm throughout the race and not to damage my harmstring any more, so I really did the last 4-5 km easy. This is a huge achievement, not only for me but also for the whole Spanish team. I want to enjoy the team. I could hear the people around the course screaming my name, cheering for me"
Last year's European 20 km and 35 km champion Antigoni Ntrismpioti from Greece claimed the bronze medal in 2:43.22 ahead of Viviane Lyra, who improved the national record to 2:44:40.
Men's 20 km walking race:
Alvaro Martin completed the golden double by winning the 35 km in a national record of 2:24:30. Martin moved past Ecuador's Brian Pintado in the final km.
Martin and Perez won both the 20 and 35 km achieving the Spanish "double-double".
Pintado won the silver medal in a South American record of 2:24:34. Masatora Kawano finished third in 2:25:12 one after winning the silver medal in Eugene. Canada's Evan Dunfee placed fourth in 2:25:28 repeating the same placing that he achieved in the 20 km a few days ago.
Christopher Linke crossed the finish-line in a national record of 2:25:35 beating Japan's Tomohiro Noda, sixth in 2:25:50, Olympic 20 km champion Massimo Stano from Italy, seventh in 2h25'59", and Perseus Karlstrom from Sweden, eighth in 2:27:03.
France's Aurelian Quinon increased his lead to 37 seconds at 23 km. His lead at the 29 km as he received a third red card. The Frenchman picked red cards before making a penalty pit stop.
Marin took a seven-second lead at 31 km ahead of Dunfee. Pintado moved back into the lead at 31 km ahead of Martin and Noda, as Dunfee dropped back into fourth place.
Martin made his decisive move with 1 km to go.
"In the last kilometre I had to push hard because I was so tired and Pintado was so close. It was a tougher race today than on Saturday. This medal was more difficult to win. It is an amazing day for Spanish sport because we made history with for gold medals", said Alvaro Martin.
Men's 5000 metres heats:
Mohamed Katir from Spain, who did not reach the 1500m final, bounced back by winning the first 5000m heat in 13:35.90 ahead Hagos Gebrhiwet (13:36.15) and reigning world champion Jakob Ingebrigtsen (13:36.21).
Men's 200 metres semifinals:
Olympic silver medallist Kenny Bednarek won the first 200m semifinal in 19.96 edging Letsile Tebogo by one hundredth of a second.
Erryion Knighton clinched the win in the second heat in 19.98 beating European champion Zharnel Huges (20.02).
Double 200 metres world champion Noah Lyles ran the fastest overall time of the three semifinals with 19.75.
Men's 800 metres semifinals:
Slimane Moula from Algeria came through in the final straight to win the first 800 metres semifinal in 1:43.93 ahead of Tsepiso Maselela (1:44.14)
World bronze medallist Marco Arop won the second semifinal in 1:44.02
Women's 200 metres semifinals:
US champion Gabrielle Thomas ran the fastest time of the three semifinals with 21.97 beating 2019 world champion Dina Asher Smith (22.98).
Double NCAA champion Julien Alfred claimed the win in the semifinal with 22.17 ahead of Daryll Neita.
Reigning world champion Shericka Jackson won the third semifinal with 22.00 beating world 100m champion Sha'Carri Richardson (22"20) and Marie Josée Ta Lou (22.26).
-->