Nina Kennedy and Katie Moon Share World Championships Pole Vault Gold

Posted by:
Watch Athletics
Wednesday, 23 August 2023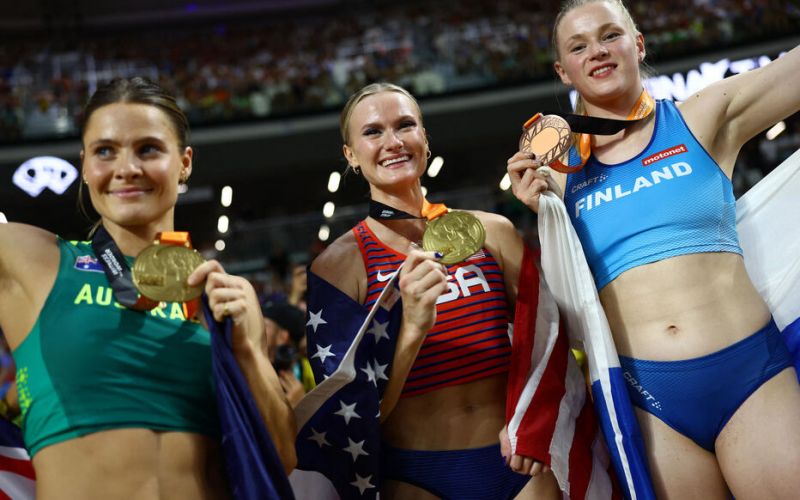 The World Athletics Championships in Budapest delivered a riveting finale in the realm of pole vaulting, leaving spectators in awe as the event concluded with an unexpected and exhilarating twist. The gold medal, the ultimate symbol of triumph, found itself evenly divided between two exceptional athletes who soared to new heights – Nina Kennedy from Australia and Katie Moon representing the United States.
In a spellbinding showcase of skill and tenacity, the dynamic duo of Nina Kennedy from Australia and Katie Moon of the USA left spectators on the edge of their seats as they conquered the heights of the pole vaulting world. With an impeccable synchronization, both athletes masterfully cleared the bar at 4.90 meters, a height that marked not only their shared prowess but also the world lead. The tension escalated as their third attempts at 4.95 meters resulted in valiant failures, a reminder of the formidable challenge that stood before them. However, the battle for gold had commenced earlier, with each athlete accruing a solitary failed attempt at the preceding heights, further cementing their unbreakable deadlock at the top of the leaderboard.
In a testament to the camaraderie and sportsmanship that make athletics truly inspiring, Nina Kennedy and Katie Moon swiftly engaged in a conversation that would shape the destiny of their championship moment. Echoing the heartwarming gesture witnessed in Tokyo between Mutaz Essa Barshim and Gianmarco Tamberi, the athletes decided to transcend competition and share the coveted gold medal.
Adding to the constellation of remarkable achievements, European champion Wilma Murto secured the bronze medal with an exceptional performance, propelling herself over the bar at 4.80 meters.
Women's Pole Vault Final Results
-->