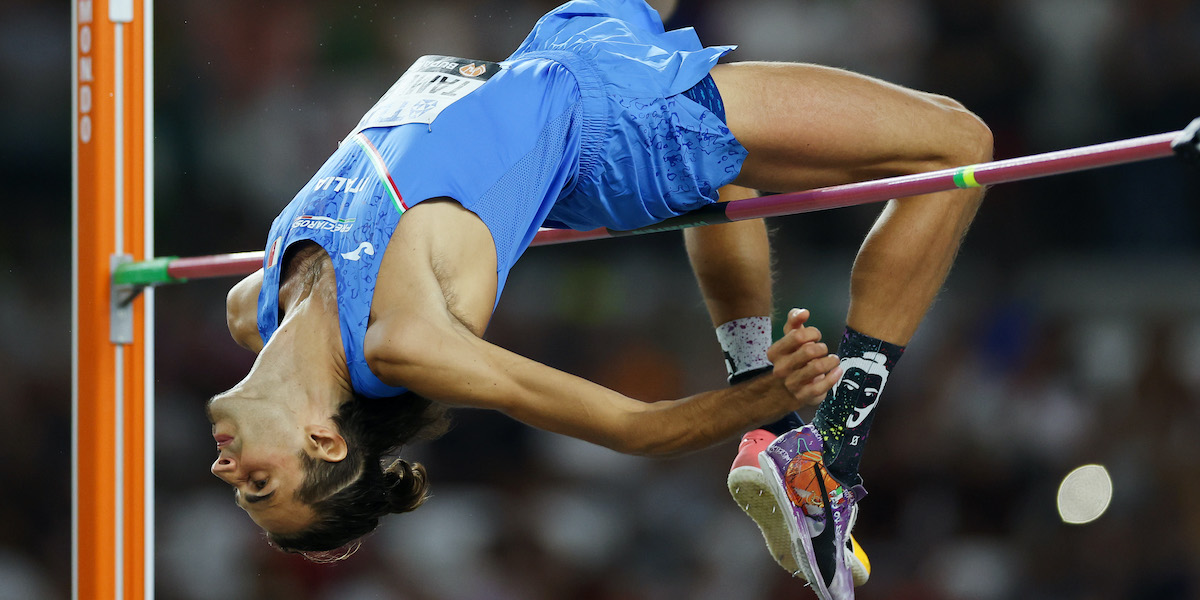 As the World Championships in Budapest continue to unfold, each day brings its own share of astonishing performances and unexpected victories. Tuesday was no exception, with athletes from various corners of the globe leaving an indelible mark on the competition.
Women's 1500m Final:
Faith Kipyegon won her third world gold medal in the 1500 meters in 3:54.87 crowning a dream season in which she broke three world records in the 1500 metres, in the 5000 metres and in the mile. Eight women dipped under the 4 minutes barrier.
Faith Kipyegon: "This is a great season for me. To break the world records and become a world champion here, to defend my title. I told myself, 'You are the strongest and just keep going'. I was chasing a history today and I was chasing this title. I have done it. I was just running my race. We are all strong runners. I knew the ladies were strong and I thank them for pushing me today. I wish everyone the best, we have to help each other in any way. That was my plan to get to the front and to go faster because I know these races can be up and down. I just got myself in front after 300m and nobody was coming."
Diribe Welteji from Ethiopia took the silver medal in 3:55.69 ahead of Sifan Hassan, who finished third in 3:56.00 four months after winning the London Marathon. Clara Mageean placed fourth setting a national record of 3:56.61. Nelly Chepchirchir from Kenya improved her PB to 3:57.90 beating Laura Muir (3:58.58), Jessica Hull (3:59.54) and Katie Snowden (3:59.65).
Men's high jump final:
Gianmarco Tamberi cleared a world seasonal lead of 2.36m on his first attempt to win the world gold medal in the men's high jump, the only major title that was missing in his collection. Tamberi has completed the full set of titles following his wins at the Olympic Games in Tokyo 2021 and at the European Championships in Amsterdam 2016 and Munich 2022, the world indoor gold medal in Portland 2016 and at the European Indoor Championships in Glasgow 2019 and two Diamond League in Zurich in 2021 and 2022. Tamberi had got through to the final with a third-time clearance with 2.28m.
Tamberi needed two attempts to clear 2.25m before jumping 2.29m, 2.33m and 2.36m at the first time of asking. He made two unsuccessful attempts at 2.38m and one at 2.40m Harrison had a clean sheet at 2.25m, 2.29m and 2.33m before clearing 2.36on his second attempt. The US jumper failed three attempts at 2.38m. Tamberi sported his trademark half-shave look and the Italian flag on his upper left arm.
Gianmarco Tamberi: "I just went for it. I wanted to write history by winning gold medal at all the major competitions. The feeling is amazing. It is worth all the sacrificies over the years. After the qualifications I was a little bit scared because I did not feel as good as I wanted, but I knew I always change in the final. I am looking forward to the European Athletics Championships in Rome, my home country, next year. I have never in Italy as at such a level wearing the Italian uniform. Of course, I will be looking forward to competing at the Olympic Games. There is no high jumper who won two Olympic golds so making history in Paris would be amazing. But first, the party tonight. I need to celebrate this medal because after one year of sacrifices and diet, I deserve it."
Ju'Vaughn Harrison placed second with 2.36m on countback, as he cleared this height on his second attempt. Mutaz Barshim took the bronze medal with 2.33m on his first attempt beating Cuba's Luis Enrique and Germany's Tobias Potye on countback.
Mutaz Barshim: "I came here with three world gold medals and one silver and managed to add a bronze medal tonight Look at my career . It is really amazing. Today I look at my CV and I am the only high jumperwith such a medal count. This almost brings tears to my eyes. I just need to give myself credit. Having my son only makes it more memorable. It is very emotional to have all my family and friends out here. The atmosphere on the field was electric. The rivalry between all the jumpers was incredible. I enjoyed every moment of it. I am happy that Tamberi won the gold medal. It was a medal that he was missing from his CV, and he added it tonight".
Sanghyeok Woo finished sixth with 2.29m beating Shelby McEwen on countback.
Women's discus throw:
Laulaga Tausaga from the United States took a surprising win in the women's discus throw with a lifetime best of 69.49m In the fifth round overtaking Valarie Allman, who went to the lead with a throw of 69.23m in the fourth round.
Laulaga Tausaga: "I don't know if I have a fairy godmother or something, or my ancestors had some say in it, but I was able to do something tonight that I didn't think was possible yet. I was confident if I was on my A game I could sneak through into a medal place and not be 12th like I was in the last two world championships. I'm just so happy. It's unbelievable to go from 12th to first. No one was expecting me and I just showed up. I was desperate, very scared because I couldn't be 12th again. I just said to myself, 'You need to let it out and it fouls, then so be it'. But it sailed out to that big throw. And here I am. I have a gold medal, I can't believe it. It's so unreal. When I saw my distance I just couldn't get to my coach fast enough to give him the strongest hug of my life. I'm so happy he made me a world champion. I guess I'll have a big target on my back when I get to Paris (for the Olympics). There was an Olympic champion and a world champion in that final so I had to fight for this gold medal. It's going to be hard next year but it's going to be unbelievable."
Defending world champion Bin Feng from China took third place with a seasonal best of 68.20m. This year's NCAA champion Jorinde Van Klinken from the Netherlands finished fourth with a seasonal best of 67.20m.
Men's 3000 metres steeplechase:
Olympic champion Soufiane El Bakkali won his third consecutive global gold medal in 8:03.53 following his triumphs at the Olympic Games in Tokyo 2021 and at the World Championships in Eugene 2022.
Soufiane El Bakkali: "After winning in Eugene last year I am really proud to bring home another gold. I had great preparations for these championships but today's field was very strong with athletes like Lamecha. I came ready and prepared and believed I could win. This medal gives me additional motivation for the Olympic Games in Paris. I want to win there too".
World record holder Lamecha Girma had to settle for his fourth global silver medal with 8:05.44. Girma broke two world records in the indoor 3000 metres in Liévin with 7:23.81 and in the 3000 metres steeplechase in Paris Charlety with 7:52.11. Abraham Kibiwot from Kenya won the bronze medal in 8:11.98 outsprinting his compatriot Leonard Kipkkemboi Bett (8:12.26). George Beamish from New Zealand crossed the finish-line with 8:13.46 ahead of Ryuji Miura from Japan (8:13.70).
Lamecha Girma: "This is my fourth global silver medal but I am satisfied by every single race against El Bakkali. The weather today was a bit hot, but the final was pretty good. I still aim to win gold at the World Championships or Olympic Games. Nothing has changed in my goals. Maybe, I became more motivated for next year".
Men's 400 metres semifinals:
Twenty-one year-old Antonio Watson from Jamaica smashed his PB by four tenths of a second to 44.13 to win the first semifinal ahead of Vernon Norwood (44.26) and Wayde Van Niekerk (44.65).
World bronze medallist Matthew Hudson Smith won the second semifinal with 44.26 breaking Thomas Schoenlebe's European record. Three-time world medallist Kirani James from Grenada took second place with 44.58. Havard Bentdal Ingvaldsen from Norway dipped again under 45 seconds with 44.70 two days after improving his PB to 44.39 in the heats.
Quincy Hall took the win in the third semifinal with 44.43 beating Sean Bailey from Jamaica (44.94m). Yuki Joseph Nakajima improved his PB to 45.04 to take third place ahead of Davide Re from Italy (45.29). Olympic champion Steven Gardiner from Bahamas did not finish the race due to an injury on his harmstring.
Women's 400 metres hurdles semifinals:
Shamier Little clocked the fastest time in the semifinals of the women's 400 metres hurdles with 52.81. Kemi Adekoya from Barhein improved her Asian record with 53.30. Janieve Russell from Jamaica qualified as the fastest non automatic qualifier with 53.69. Ayomide Folorunso from Italy also reached her first world final improving the national record to 53.89.
European record holder Femke Bol clocked 52.96 to win the second semifinal. Andreanette Knight from Jamaica took second place with 53.72 beating Olympic silver medallist Dalilah Muhammad, who did not get through to the final with her third place in 54.19.
Rushell Clayton from Jamaica, world bronze medallist in Doha, won the first semifinal in the women's 400 metres hurdles with 53.30. Anna Cockrell took second place in 53.63.
Women's 100 metres hurdles:
Ackera Nugent from Jamaica edged USA's Masai Russell in the first heat with the same time of 12.60. Sarah Lavin from Ireland finished third in 12.69 ahead of Cyrena Samba (12.71)
Former world champion Nia Ali clocked 12.55 to win the second heat ahead of European gold medallist Pia Skrzyszowska from Poland (12.65).
Former world record holder Kendra Harrison set the fastest time in the women's 100 metres hurdles in 12.21, missing her lifetime best by just one hundredth of a second. World indoor silver medallist Devynne Charlton from the Bahamas improved the national record to 12.44 beating Danielle Williams (12.51).
Olympic champion Jasmine Camacho Quinn from Puerto Rico claimed the win the fourth heat in 12.50 ahead of Nadine Visser from the Netherlands (12.65) and European under 23 champion Ditaji Kambundji from Switzerland (12.71).
Reigning world champion and world record holder Tobi Amusan claimed the win in the fifth heat with 12.48 edging Olympic bronze medallist Megan Tapper from Jamaica (12.51) and Michelle Jennecke from Australia (12.71).
Men's 800 metres heats:
Emmanuel Wanyonyi set the fastest time in the women's 800 metres in 1:44.92 ahead of France's Gabriel Tual (1:45.10) and Italy's Catalin Tecuceanu (1:45.31).
Mateusz Borkowski from Poland took the win the second heat in 1:45.40 edging Max Burgin (1:45.43).
Kenya's Alex Ngeno Kipngetich won a slow heat in 1:47.63 holding Djamel Sedjati from Algeria (1:47.87) and Saul Ordonez from Spain (1:47.87).
Adrian Ben from Spain launched his kick in the final straight to win the fourth heat in 1:45.37 ahead of Bryce Hoppel.
Marco Arop from Canada won the seventh heat in 1:45.05 beating Italy's Simone Barontini (1:45.21).
-->