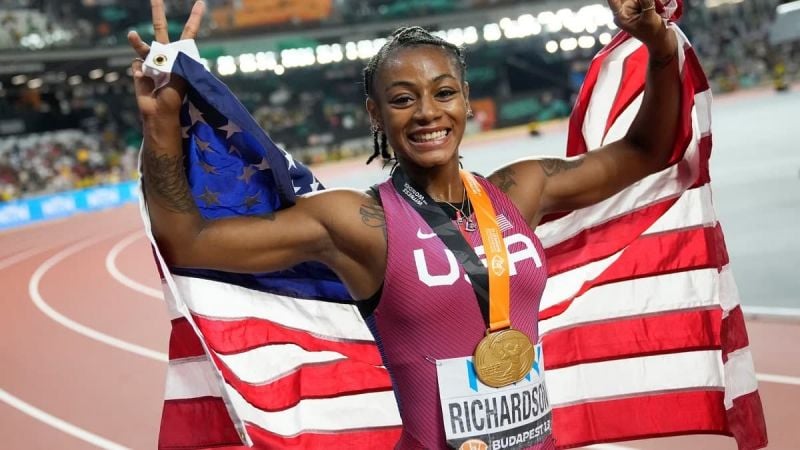 In a triumphant display of speed and determination, USA's Sha'Carri Richardson seized the spotlight at the World Championships in Budapest, claiming the coveted women's 100m title on Monday, August 21. Taking to the track from the challenging outside lane 9, Richardson unleashed an awe-inspiring performance that etched her name into the history of World Athletics.
Sha'Carri Richardson claimed the world gold medal in a world leading time and a PB of 10.65. Sherika Jackson came through to win the silver medal in 10.72. Five-time world champion Shelly Ann Fraser Pryce took the bronze medal in 10.77 in a great final with four of the eight fastest women of all time. Richardson reached the final with one of the non-automatic spots.
Sha'Carri Richardson: "I am here. I am the champion. I told you all. I am not back. I am better".
Jamaican sprinters have won four 100 metres in the past six editions of the World Championships, including a podium sweep at last year's edition in Eugene.
Marie Josée Ta Lou from Ivory Coast, who was unbeaten in all of her 10 races this season before the World Championships, finished fourth in 10.81.
Six of the nine finalists dipped under the 11 seconds barrier. Double NCAA champion Julien Alfred placed fifth in 10.93. Ewa Swoboda improved her PB to 10.97 to finish sixth beating Britany Brown (10.97), Dina Asher Smith (11.00) and Tamari Davis (11.03).
Semifinals women's 100 metres:
Shelly Ann Fraser Pryce stormed to a win in the first semifinal in 10.89. Tamari Davis secured the second automatic qualifying spot with 10.98.
Shericka Jackson edged out Marie Josée Ta Lou in 10.79 in the second semifinal. Sha'Carri Richardson finished third in 10.94 to reach the final as non-automatic qualifier. Zoe Hobbs took fourth place in 11.02 beating Swiss record holder Mujinga Kambundji, who improved her seasonal best to 11.04.
This year's NCAA champion Julien Alfred from Santa Lucia came from behind to claim the win in the 100 metres in 10.92. Britany Brown also dipped under the 11 seconds barrier to secure the second automatic qualifying spot with 10.97. Dina Asher Smith and Ewa Swoboda finished third in their semifinals with the same time of 11.01 and reached the final as the fastest non automatic qualifiers.
Women's 100m Final Results
| POS | ATHLETE | NAT | MARK |
| --- | --- | --- | --- |
| 1 | Sha'Carri RICHARDSON | USA | 10.65 CR |
| 2 | Shericka JACKSON | JAM | 10.72 |
| 3 | Shelly-Ann FRASER-PRYCE | JAM | 10.77 SB |
| 4 | Marie-Josée TA LOU | CIV | 10.81 |
| 5 | Julien ALFRED | LCA | 10.93 |
| 6 | Ewa SWOBODA | POL | 10.97 PB |
| 7 | Brittany BROWN | USA | 10.97 |
| 8 | Dina ASHER-SMITH | GBR | 11.00 |
| 9 | Tamari DAVIS | USA | 11.03 |
Men's discus throw final:
For the first time in the history of the World Championships two discus throwers have surpassed the 70 metres barrier in the same competition.
Kristjan Ceh took the early lead with 68.31m in the opening round and improved to 69.27m in the second round. Mykolas Alekna moved into second place. Daniel Stahl threw 66.58m to take third place.
Stahl led the competition into the final round with a throw of 69.37m in the fourth round. Ceh took the lead with 70.02m in the sixth round. Stahl responded immediately with a throw of 71.46m in the final throw of a thrilling final. The Swede added 33 cm to the previous championships record set by Ceh at last year's edition in Eugene. Stahl regained the world title he first won four years ago in Doha 2019.
Mykolas Alekna, son of two-time world champion Virgilius Alekna, won the bronze medal with 68.85m one year after winning the silver in Eugene. Matthew Denny from Australia finished fourth setting a national record of 68.24m, the best ever result for that position at a major global championship. Fedrick Dacres from Jamaica finished fifth with 66.72m ahead of 2017 world champion Andrius Gudzius (66.16m).
Stahl now leads 17-14 in his 31 head-to-head clashes against Ceh.
Daniel Stahl: "This was my best performance ever. I had so much focus. I would say 1000% on the last throw after I saw Kristjan throw 70.02m. The competition was so strong. We have five guys with a PB over 70 metres and eight over 68 metres, so you could never have predicted it. It was an amazing final and I am really proud of the championships record".
Ceh was happy with his performance despite the despite the defeat
Kristjan Ceh: "My expectations were really high. I knew I was physically prepared, even though one month before the World Championships I was struggling with technique. In the end, everything came together and I knew that I had 70 metres in me, which I showed on the last throw".
Men's 110 metres hurdles:
Grant Holloway won his third consecutive world title in the men's 110 metres hurdles in 12.98 equalling late hurdler Greg Foster, who took three gold medals in a row in Helsinki 1983, Rome 1987 and Tokyo 1991. Allen Johnson won four world titles in Gothenburg 1995, Athens 1997, Edmonton 2001.
Grant Holloway: "Three in a row. The main thing was really just come through here and defend my title. I have been really consistent this year and the aim was just to defend to continue that through the rounds. I felt no pressure at all, just wanted to run cleanly and stay calm at the finish line. I got a a little sloppy at the end, but that was just tiredness like everybody has in the hurdles. Overall it was good though. I have to be happy with sub-13 in the final. I managed to put everyone else ito office mode, to put them on defense. My main goal was to keep smooth to the line. I just want to enjoy this while I can and and keep going".
Reigning Olympic champion Hansle Parchment won the silver medal in a seasonal best of 13.07 one year after suffering a harmstring injury during the warm-up at the 2022 World Championships in Eugene.
Three US athletes finished in the top four. Daniel Roberts finished third in 13.09 bouncing back from the disappointment at last year's edition of the World Championships in Eugene, where he crashed out in the first round. This year's US Freddie Crittenden took fourth place in 13.11. Shunssuke Izumya from Japan finished fifth in 13.19 ahead of Sasha Zhoya from France (13.26), Jason Joseph from Switzerland (13.28) and Wilhelm Belocian (13.32).
Holloway entered the World Championships as the third on the world seasonal list with 12.98m behind Rasheed Broadbell (12.94) and Cordell Tinch (12.96). Broadbell crashed out in the first round. Tinch, who broke Holloway's NCAA record of 12.96 earlier this year at the Arkansas Grand Prix, did not reach the reach after finishing third in the semifinal in 13.31.
Semifinals 110 metres hurdles:
Japanese record holder Shunsuke Izumiya won the first semifinal in 13.16 holding off Daniel Roberts (13.19).
Grant Holloway won the second semifinal in 13.03. European under 23 champion Sasha Zhoya finished second improving his PB to 13.15. Enrique Llopis equalled his lifetime best in third pakce with 13.30.
US indoor Freddie Crittenden claimed the win in the third semifinal with 13.17 edging Hansle Parchment by one hundredth of a second. Wilhelm Belocian from France and Swiss record holder Jason Joseph were the fastest non-automatic qualifiers with 13.23 and 13.25.
Men's triple jump final:
Fabrice Hugues Zango from Burkina Faso won his first world gold medal with 17.64m in the fifth round adding this title to his cabinet, which include the bronze medal in Doha 2019, the silver in Eugene 2022 and the Olympic bronze in Tokyo 2021.
Lazaro Martinez from Cuba won the silver medal with 17.41m beating his compatriot Cristian Napoles, who finished with 17.40m.
World under 20 champion Jaydon Hibbert dropped out the competition after the first round due to a harmstring injury.
Zango opened with 17.37m in the first round, but he was overtaken by Martinez, who leapt to 17.41m in the second round. Zhu Yaing from China moved into third place with 17.12m.
Napoles climbed into third place with 17.40m in the fourth round.
Fabrice Zango: "I promised to make history and I did it tonight. That is the first gold medal not only for my country, but for Africa as well. I cannot imagine the level of celebration in my country when I go back home, but I am going to start the celebrations in Budapest".
Men's 400 metres hurdles semifinal:
Karsten Warholm cruised through to a comfortable win in the men's 400 men's 400 metres hurdles in 47.09. Roshawn Clarke from Jamaica improved his own world under 20 record to 47.34.
Kyron McMaster from British Virgin Island won the men's 400 metres hurdles with 47.72 beating Estonia's Rasmus Magi (48.30). CJ Allen finished third with 48.44.
Olympic and world silver medallist Raj Benjamin claimed the win in the second semifinal with 47.24 holding off reigning world champion Alison Dos Santos, who improved his seasonal best to 47.39.
Semifinal women's 400 metres:
Natalia Kaczmarek qualified for the final with the fastest time of 49.50 in the women's semifinals. Sada Williams from Barbados improved her national record with 49.58 in second place.
Marileidy Paulino from Dominican Republic cruised through to a win in hersemifinal in 49.54. Rasidat Adeleke from Ireland finished second with 49.87. Cynthia Bolingo qualified as the fastest non automatic qualifier with a national record of 49.96.
Lieke Klaver from the Netherlands won the second semifinal with 49.87m beating Talitha Diggs (50.86).
Women's pole vault:
Olympic and world champion Katie Moon and Robeilys Peinado from Venezuela, European cahmpion Wilma Murto from Finland and Nina Kennedy from from Australia topped the women's pole vault qualifying round with a clean sheet until 4.65m. Elisa Molinarolo from Italy improved her PB from 4.52m to 4.65m to reach her first world outdoor final.
Holly Bradshaw, Katerini Stefanidi and Eliza McCartney did not get through the qualifying round.
Women's 400 metres hurdles heats:
European record holder Femke Bol clocked the fastest time of the women's 400 metres hurdles heats with 53.39.
Jamaica's Rushell Clayton won the first heat in the women's 400 metres hurdles in 53.97 ahead of former world record holder Dalilah Muhammad (54.23).
This year's Jamaican champion Janieve Russell from Jamaica took the win in the second heat in 54.23 beating Anna Cockrell (54.68).
Kemi Adekoya broke the Asian record to 53.56 beating Jamaica's Andreanette Knight. Ayomide Flolorunso ran the second fastest time of her career in 54.30 missing her own Italian record by eight hundredths of a second.
World Athletics Championships Budapest 2023 Results
-->