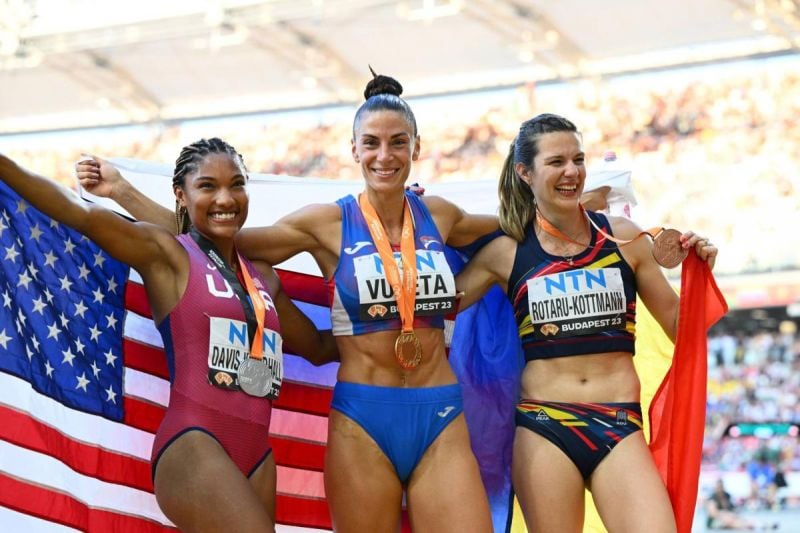 The World Athletics Championships in Budapest reached fever pitch on its second day on Sunday (20), with a lineup of events that had the audience on the edge of their seats. Fans were treated to the raw power and speed of the men's 100m, the endurance and tactics of the 10000m, and the immense strength showcased in the hammer throw. On the women's side, the long jump brought a mix of grace and power, while the heptathlon – a demanding seven-event challenge – showcased a blend of skill, versatility, and sheer determination. It was a day that encapsulated the very essence of world-class athletics, providing memorable moments for all in attendance.
Men's 100m Final:
Noah Lyles won the 100 metres world gold medal in 9.83 beating Letsile Tebogo, Zharnel Hughes and Obliuque Seville, who finished second, third and fourth respectively with the same time of 9.88 in a very close close finish in which they were separated by just four thousandths of a second.
Lyles equalled the world seasonal lead set by Hughes in New York last June.
Lyles won his third world title after two gold medals in the 200 metres in Doha 2019 and Eugene 2022. The US sprinter will seek his third consecutive 200m world title.
He will be aiming to become the first sprinter to win two titles in the 100 and 200 metres In the same edition of the World Championships since Usain Bolt in Beijing 2015.
Noah Lyles: "I knew what I had to do. I came here for three gold medals, ticked off one. Others are coming. The 100 metres was the hardest one. It is out of the books. I will have fun with the event I love now. My documentary series will come out soon. I talked there about doing the individual double. The reason I really wanted to do it is because nobody else deserves it more than me".
Tebogo won his first senior world medal after his world under 20 gold medals in the 100m in Nairobi 2021 and Cali 2022.
Hughes has won Great Britain's first medal at the World Championships in 2003 since Darren Campbell in Paris 2003.
Zharnel Hughes: "I wanted the gold medal, but leaving with a medal around my neck I am grateful for it. I am a bronze medallist. The chat and noise is part of the game. You have to have a strong mindset and trust in the work you have put in leading up to this point and it finally worked for me. I am grateful fort this but it inspires me to go back and see what else I can achieve".
Christian Coleman finished fifth in 9.92 ahead of Abdul Hakim Sani Brown from Japan (10.04), Ferdinand Omanyala (10.07) and Ryiem Forde (10.08).
Semifinals men's 100 metres:
Noah Lyles won the first 100 metres semifinal in 9.87 beating Hakim Sani Brown, who equalled his PB with 9.97, and Ferdinand Omanyala, who clocked the second non-automatic qualifying time for the final.
Christian Coleman claimed the win in the second semifinal with 9.88 ahead of British record holder Zharnel Hughes (9.93).
Oblique Seville from Jamaica, who finished fourth at the World Championships in Eugene, impressed with a win in the third semifinal in 9.90 ahead of Letsile Tebogo (9.98). Last year's world champion Fred Kerley did not get through to the final
Marcell Jacobs improved his seasonal best to 10.05 in the semifinal, but it was not enough to reach the final
Marcell Jacobs: "I have not competed much this year. It was a very difficult season for me, too many injuries, too many problems, but I wanted to put my face out here because a lot of people were talking about me like I am scared of competing, scared of running with serious opponents. I am not scared of anybody"
Women's long jump:
Ivana Vuleta won her first world outdoor gold medal with her outdoor PB and a world leading mark of 7.14m in her fifth attempt one year after her triumph at the European Championships in Munich. Vuleta produced three more valid jumps of 7.05m, 6.91m and 6.78m. The Serbian athlete also won two world indoor gold medals in 2018 and 2022, two world outdoor bronze medals in Moscow 2013 and Beijing 2015, the Olympic bronze medal in Rio de Janeiro 2016 and fiv Diamond League titles.
Ivana Vuleta: "It has been a long ride. Every medal is really specialbyt at this age it is really hard to keep everything together. I am glad that I have used all experience I have. It was my greatest ally. I knew I I was ready to deliver in the right moment. I did something I was dreaming of for so long".
Vuleta recorded a jump of 6.82m on her second attempt after a foul to get through the qualifying round on Saturday.
Tara Davis Woodhall took the early lead with 6.91m in the first round, but Vuleta moved into first place with a leap of 7.05m in the second round.
Ese Brume from Nigeria took the third place with 6.84m in the second round and held on the podium position until the sixth round when Alina Rotaru Kottmann from Romania leapt to 6.88m to clinch the third place.
Larissa Iapichino, who won three Diamond League competitions in Florence, Stockolm and Monaco earlier this summer, placed fifth with 6.82m in the sixth attempt beating Fatima Diame from Spain on countback. Diame equalled her PB of 6.82m in the first round.
Women's heptathlon:
Katarina Johnson Thompson won her second world outdoor title in the women's heptathlon with 6740 points.
Anna Hall finished second with 12.97 in the 100 metres hurdles, while Johnson Thompson clocked 13.50. Johnson Thompson cleared 1.86m in the high jump, three cm higher than Hall's best jumpof 1.83m.
Hall extended her lead with her lifetime best of 14.54m in the shot put. Johnson Thompson recorded a good 13.64m. Anouk Vetter opened with a solid 13.42 in the 100 metres hurldes and continued with a throw of 15.72m in the shot put.
Johnson Thompson clocked the fastest time of the day with 23.48 beating Hall by 0.08. Hall was the overnight leader with 3998 points. Johnson Thompson was in second place with 3905, five points ahead of Chari Hawkins. Vetter was ranked in seventh place with 3792 points.
Johnson Thomson recorded the best mark of the field in the long jump with 6.54m to take the overall lead for the first time in the competition. The British athlete had a lead of 19 points over Hall, who jumped 6.19m competing with strapping on her leg.
Vetter set the championship record in the javelin throw with 59.57m to move into second in the overall standing.
Johnson Thompson improved her PB to 46.41m in the javelin to maintain her lead in the overall standing. Hall set her seasonal best with 44.88m to remain in contention.
Johnson Thompson had a small margin of 43 points over Hall before the 800 metres. This translated to a margin of 2.8 seconds in the 800 metres.
Hall started very fast going through 58.59 in the first 400 metres. Johnson Thompson was two seconds behind her US rival.
Johnson Thompson held off Anna Hall by improving her PB in the 800 metres to 2:05.63 to finish within 1.54 seconds of Hall, who set a championship record of 2:04.09.
Johnson Thompson won the gold medal with 6740 points. Hall took the second place with 6720 points. Vetter clocked 2:20.49 in the 800 metres to claim the bronze medal with 6501 points. Xenia Krizsan from Hungary finished fourth with 6479 points. Just 51 points separated third from sixth place. Emma Oosterwegel from the Netherlands placed fifth with 6464 ahead of Noor Vidts (6450).
Johnson Thompson made a remarkable comeback after suffering a serious Achilles tendon injury in December 2020. She recovered in time to take part at the Olympic Games in Tokyo 2021 and was fifth before the 200 metres, but she injured her right calf.
Katarina Johnson Thompson: "This has been one of the most grueling heptathlons I have ever done, the delayed start yesterday, the long day, then I got about three hours sleep last night. I just knew I could prove to myself and to all everyone else, that I could still do it. This is the culmination of so much hard work. I am happy. I am crying. I can't help it. I knew that if I believed in myself, I could do it, but it was not easy. In the 800 metres I was not thinking anything at all. I was just staring at the back of Anna Hall. I don't let her get get away. I was completely calm on the starting line. I knew if I believed I could do it, I would. The last lap was amazing. I can't take it in. It's making me so emotional. The past few years have been so hard, but now it seems like it was all worth it. I have won medals but this means son much".
Anna Hall, world bronze medallist in Eugene and winner at the Hypo meeting in Goetzis, won the silver medal with 6720 points. Hall was not in her best shape due to a knee injury. Anouk Vetter clinched the bronze medal with 6501 points.
Last May Hall beat Johnson Thompson in Goetzis with 6988 points moving to fifth on the world all-time list. Johnson finished second in the Austrian meeting with 6556 points, her best score since October 2019, when she won her first world title with the British record of 6981 points.
Men's 10000 metres:
World record holder Joshua Cheptegei from Uganda won his thirdconsecutive world title in the 10000 metres in 27:51.42. Cheptegei launched his final kick with 600 metres to go and clocked 53.42 in the final 400 metres. Daniel Ebenyo from Kenya won the silver medal in 27:52.60 one year finishing second at the 2022 Commonwealth Games in Birmingham.
Selemon Barega won the bronze medal in 27:52.72 ahead of Berihu Aregawi from Ethiopia (27:55.71) and Benard Kibet from Kenya (27:56.27).
Cheptegei becomes the fourth athlete in history to win three world 10000m titles following in the footsteps of Kenenisa Bekele, Haile Gebrselassie and Mo Farah.
Joshua Cheptegei: "I am very excited and proud that I have succeeded in winning my third world title in a row. This was the best possible way to end the season. This might be my last championships on the track. That's why this gold medal means even more. I will make my debut in the marathon in Valencia next December".
Men's hammer throw:
Ethan Katzberg from Canada won the gold medal in men's hammer throw setting the national record for the second time at these championships with 81.25m. The 21.year-old Canadian ahlete threw over the 80 metres barrier two more times with 80.18m and 80.02m. Olympic champion Wojchech Nowicki also threw beyond the 81m barrier with 81.02m to finish second. Bence Halasz won the first medal for Hungary at these championships with 80.82m.
Earlier this year Katzberg improved his PB three times and finished in the top three in all of his competitions this year. He won the Canadian title with his previous lifetime best of 78.73m in his finals competition before the World Championships in Budapest.
He improved his national record to 81.18m in the qualifying round.
Katzberg ended the reign of Pawel Fajdek, who won five consecutive world titles.
Fajdek opened the competition with 80.00m, but he was overtaken by Halasz, who threw 80.82m. Katzberg moved into second place with 80.18m in the opening round. Nowicki threw 80.70m in the second round to move into second place.
Nowicki took the lead briefly with 81.02m in the fifth round. Katzberg responded by improving the Canadian record to 81.25m in the penultimate round. Katzberg threw again beyond the 81 metres barrier with 81.11m. Nowicki ended the competitionwith 80.36m.
Katzberg has become the youngest ever world champion in the history of this event.
Ethan Katzberg: "To set a PB and become a world champion, that is absolutely a great feeling. It hasn't hit me yet".
Women's 20 km walking race:
Spain won the second gold medal with Maria Perez, who completed the double in the 20 km walking race one day after the triumph of Alvaro Martin in the inaugural day.
Perez broke away from the rest of the field at 15 km with consecutive splits of 4:06, 4:09, 4:05, 4:06 and 4:21.
Perez bounced back from the disappointment at last year's edition of the World Championships In Eugene, where she was disqualified.
Marta Perez: "I cannot put into the words it is important to me to win first gold medal, especially at the 20 km. Victory at this distance was my main goal for Budapest. Last night I felt so nervous I could not sleep. I got a harmstring cramp, but I continued to work at 100%. Now I need a medical examination from our doctors to see whether it will be possible to compete in the 35 km on Thursday".
Two-time Commonwealth Games champion Jennifer Montag continued the strong Australian tradition by winning the silver medal with an Oceanian record of 1:27.16. Montag became the first Australian medallist in this discipline since Kerry Saxby Juna in Seville 1999. Montag became the fourth Australian walker to reach the world championships podium after Saxby Juna, Nathan Deakes, 50 km champion in Osaka 2007, and three-time 50 km silver medallist Jarred Talent.
Jennifer Montag: "It's unreal. This was like a celebration with my family who came along and I am happy to see all of my training partners".
Olympic champion Antonella Palmisano made her come-back from injury by winning the second bronze medal of her career at the World Championships in 1:27:26 despite a fall at 11 km.
Antonella Palmisano: "This was a very difficult fast race. I came here to a good performance and I was ready for a fast race, but it it was just not in me today. I did not have it in my legs. I had some injuries. I had to fight but the most important thing was just to finish this race with a medal. This is a very important result for me".
Men's 400 metres hurdles heats:
Olympic champion Karsten Warholm cruised through to Monday's semifinals by finishing second in the men's 400 metres hurdles heats in 48.76 behind European silver medallist Wilfried Happio, who clocked 48.63.
Defending champion Alison Dos Santos from Brazil clocked th fastest time in the first round with 48.12 beating Ludvy Vaillant (48.27).
Women's 100 metres heats:
US champion Sha'Carri Richardson clocked the fastest time in the women's 100 metres heats with 10.92 on a hot day in the Hungarian capital after her race was delayed by a false start.
Julien Alfred from Santa Lucia won the opening heat in 10.99. Ewa Swoboda from Poland broke the 11 seconds barrier for the second time this season with 10.98 in the third heat.
Five-time 100m world champion Shelly Fraser Pryce won the seventh heat easily in 11.01. Reigning world 200 metres champion Shericka Jackson took the win in the fourth heat in 11.06.
Shelly Ann Fraser Pryce; "I am feeling good after getting the first round out of the way. The first round is usually a little bit mix and match, but I think I was able to have a good one. I felt good. It has been a challenging season, but nothing that I am not used to. I guess I am a warrior. I love the challenges".
Women's 1500 metres semifinal:
Nelly Chepchirchir from Kenya won the first semifinal in 4:02.14 beating Birke Haylom (4:02.49) and Clara Magean (4:02.70).
World record holder Faith Kipyegon won the men's 1500 metres in 3:55.14 holding off Diribe Welteji by four hundredths of a second in the second semifinal which produced a great depth of results with nine athletes under the 4 minutes barrier. Sifan Hassan finished third with 3:55.48 beating Laura Muir (3:56.36), Katie Snowden (3:56.72).
Men's 1500 metres:
Yared Nuguse claimed the win in the first 1500 metres semifinal with 3:32.69 edging Abel Kipsang (3:32.72). Fresh 3000m and 5000m European Under 20 champion Niels Laros improved the national record to 3:32.74 beating Azzedine Habz (3:32.79) and Narve Gilje Nordas from Norway (3:32.81).
Jakob Ingebrigtsen took the win in the second semifinal in 3:34.98 beating Josh Kerr (3:35.14).
Men's 110 metres hurdles heats:
Double world champion Grant Holloway ran the fastest time in the 110 metres heats with 13.18.
Frenchman Wilhelm Belocian won the second heat in 13.31 holding off Japanese record holder Shunsuke Izumya (13.33).
Olympic champion Hansle Parchment claimed the win in the first heat in 13.30.
Men's high jump qualifying round:
Olympic champion Mutaz Barshim, Ju'Vaugh Harrison and Ryochi Akamatsu had were the only three jumpers to qualify for the final with a clean sheet until 2.28m. Gianmarco Tamberi got through to the final with 2.28m in the third attempt.
-->