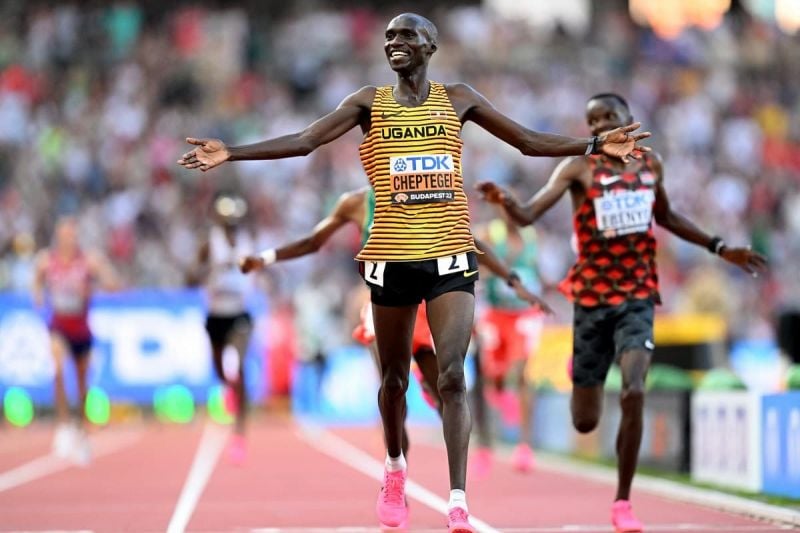 August 20, Budapest: Joshua Cheptegei, the world record holder for both 5,000m and 10,000m, added another feather to his illustrious cap by clinching his third straight World 10,000m title on Sunday in Budapest. The electrifying race saw Cheptegei defending his title against some of the world's best distance runners, providing fans with a spectacle worthy of a world championship final.
Cheptegei, the two-time defending 10,000m World Champion, was as poised and strategic as ever. As the pack of elite runners approached the final stretch, the tension among spectators was palpable. Recognizing the crucial moment, Cheptegei surged forward just before the bell, marking the last lap and placing himself firmly in the lead.
However, the final lap wasn't going to be easy. The Olympic champion, Selemon Barega of Ethiopia, known for his explosive speed and endurance, was hot on Cheptegei's heels. As they approached the final turn, Barega made his move, attempting to dethrone the champion. The duo entered a thrilling head-to-head battle, with Cheptegei showcasing his trademark resilience and determination.
In the end, Cheptegei's experience and strength shone through. He powered away from Barega, sealing his victory with a time of 27:51.42. Barega, in a surprising twist, seemed to run out of energy in the dying moments of the race. This momentary lapse allowed Kenya's Daniel Ebenyo to overtake him in a dramatic finish, claiming the silver with a time of 27:52.60. Barega had to settle for bronze, an unexpected outcome for the Olympic champion.
This victory further cements Joshua Cheptegei's status as one of the greatest distance runners of his generation. His ability to consistently perform at the highest level, combined with his tactical prowess, sets him apart in the world of athletics.
-->