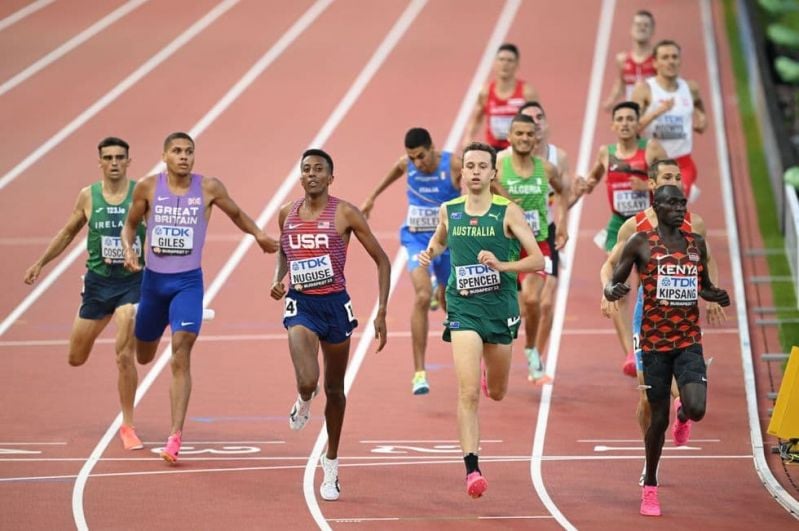 The 2023 World Athletics Championships began on Saturday (19) on an electrifying note with intense competitions and unexpected outcomes. The women's 10,000m final served up a dose of drama, captivating fans and athletes alike. The fervor did not end there, as the 4x400m mixed relay equally offered edge-of-the-seat excitement. Adding to the medal tally, Ryan Crouser displayed unmatched prowess in the shot put event, clinching the top spot with his remarkable performance. Not to be outdone, Alvaro Martin triumphed in the men's 20km race walk, showcasing his elite stamina and technique. This year's championships, right from the outset, promise unparalleled athletic feats and stories of determination.
Men's Shot Put
Double Olympic champion Ryan Crouser won his second consecutive world gold medal in the men's shot put with 23.51m in the sixth round. Crouser missed his world record by just five cm, but he smashed his own championships record. The US shot put star improved his championships record to 22.98m in the second round and 23.51m in the sixth round. He also produced two more throws beyond the 22 metres barrier of 22.63m and 22.28m.
Crouser has become the first athlete to win double world and Olympic shot put titles. He is unbeaten in nine indoor and outdoor competitions this year.
Crouser was diagnosed with blood clots in his lower leg in his lower leg which affected not only his training but also his travel to Budapest.
Ryan Crouser: " The last throw was testament to all the hard work and dedication over the last year. The last few days have been hard. With all that happened, it was a phenomenal throw".
Leonardo Fabbri from Italy moved from ninth to second place improving from 21.26m to a lifetime best of 22.34m in the third round to win the silver medal in the first world senior final of his career overtaking Tom Walsh, who ranked in second place with a throw of 21.93m in the third round. Fabbri also produced a very long foul near the 23 metres mark. The Italian shot putter climbed to fifth in the European all-time list behind Ulf Timmermann (23.06m), Alessandro Andrei (22.91m), Werner Gunthor (22.75m) and Udo Beyer (22.64m).
Leonardo Fabbri: "I have been dreamt this medal since I was child. I have always watched the Olympic Games and the World Championships on television with my family. I knew I had the potential to throw over the 22 metres. I had some problems during the qualifying round. I did not warm up well this morning. In the evening I was very confident. I did not thnk about the medal, but I wanted to throw over the 22 metres. This was my goal"
The top four athletes smashed the 22 metres barrier.
Joe Kovacs moved past Walsh with a throw of 22.12m in the fifth round to win the bronze medal in his family's homeland. His grandfather migrated from Hungary to the United States. Kovacs finished fourth at the US Championships and made the team because of Crouser's wild card.
Walsh produced the best throw of the night with 22.05m to finish the competition in fourth place.
Payton Otterdahl placed fifth with 21.88m in the penultimate round. Jacko Gill from New Zealand took sixth place with 21.76m ahead of Filip Mihaljevic from Croatia (21.57m). Darlan Romani from Brazil, who led the qualifying round in the morning, managed 21.41m in the final round to finish eighth.
Women's 10000 metres:
Gudaf Tsegay added the world gold medal in the 10000 metres in 31:27.18 to her title in the 5000 metres in Eugene last year. Tsegay led an Ethiopian podium sweep beating Letesenbet Gidey (31:28.16) and Ejgayehu Taye (31:28.31)
Irina Jepchumba Kimais from Kenya finished fourth with 31:32:19 ahead of Alicia Monson (31:32.29).
Tsegay and Olympic champion Sifan Hassan ran shoulder to shoulder in the final straight in a dramatic sprint. Hassan fell just a few metres before the finish-line.
Tsegay finished second to Hassan in the 1500 metres at the World Championships in Doha 2019. Tsegay became the fourth fastest woman in the 10000m in history with her world leading time of 29:29.73 at the Ethiopian Trials last May.
Gudaf Tsegay: "The 10000m race is not my usual event. I like the 1500 metres and 5000 metres much more, but now I feel very special as I have managed to add one more title at a different distance. It was a good race with an amazing finish. The 10000m is not an event where I have a lot of experience That is why it was not easy to win tonight. I was ready for very fast finish, because I was not focused on time today, but on the gold medal".
Sifan Hassan fell in the closing stages in the final straight while she was fighting for the title in a head-to-head battle with Tsegay. Hassan crossed the finish-line in 31:53.35 just eight hours after winning the 1500m heat during the morning session.
Sifan Hassan: "I am keeping my smile, but is really hard. I am very disappointed. This is sport. These things happen. I just had a bad moment. I felt really strong and I tried to push on the last lap. I don't think I am injured. My hand is OK, but knee needs ti be checked".
Mixed 4x400 relay final:
The US team formed by Justin Robinson, Rosey Effiong, Matthew Boling and Alexis Holmes won the mixed 4x400 relay improving their world record to 3:08.80 after Femke Bol fell a few metres before the finish line while she was appearing to be very close to anchoring her team to win.
Femke Bol: "I do not know what happened. It has never happened to me before. I cramped before the finish line. I was pushing.I was disappointed that my body did not have it to finish the race strongly".
Great Britain won the silver medal in a national record of 3:11.06. Czech Republic took third place in a national record of 3:11.98.
Men's 20 km walking race:
Two-time European champion Alvaro Martin from Spain won the men's 20 km walking race improving his PB by more than one minute to 1:17:32 in the inaugural competition of the World Championships in Budapest. Martin missed the championships record by 11 seconds. The 20 km walking race was held on Heroes' Square and was delayed by two hours due to rain.
Martin became the first European winner in 20 km walking race since Miguel Angel Lopez took the win in Beijing 2015.
Perseus Karlstrom won the silver medal improving the national record to 1:17:39 after winning two bronze medals in the 20 and 35 km at the World Championships in Eugene 2022. Caio Bonfim from Brazil also broke the 1:18 barrier to win the bronze medal in a national record of 1:17:47. Evan Dunfee from Canada finished fourth in a national record of 1:18:03.
Martin won two European gold medals in Berlin 2018 and Munich 2022, finished fourth at the Olympic Games in Tokyo and seventh at the World Championships in Eugene 2022.
Alvaro Martin: I was fourth at the last Olympic Games. I missed the bronze medal which motivated me to work hard. In Tokyo I felt that I could win a medal. Unfortunately it did not happen and that is why this gold medal is the next step towards the Olympic Games in Paris. I have one of the best coaches in the world José Antonio Carrillo, who is one of the best race walkers in the world. I had an amazing race today. I did not expect to finish so fast. I cannot express my feelings right now. It feels like a dream".
Christopher Linke from Germany crossed the finish-line in a national record of 1:18:12. Veli Marti Partanen improved the Finnish record to 1:18:22.
World champion Toshikazu Yamanishi from Japan finished 24th in 1h24:39. Olympic gold medallist Massimo Stano pulled out of the race at 16 km.
Olympic silver medallist Koki Ikeda took the lead in the early stages of the race, but he started to fade in the second half of the race. The Japanese walker reached the 10 km mark in 38:37 with a lead of 15 seconds over Salih Korkmaz from Turkey and Caio Bonfim.
Martin was part of a chasing group of ten walkers, who were 21 seconds behind Ikeda. The Spanish walker surged with 5 km to go with consecutive final kilometres of 3:48, 3:51, 3:51, 3:50 and 3:56 to set the second fastest time in the history of the World Championships.
Women's heptathlon:
Last year's world bronze medallst Anna Hall ended the first day as the overnight leader with 3998 points. Hall won the high jump with 1.83m and in the shot put with 14.54m and finished second in the 100 metres hurles in 12.97 and in the 200 metres in 23.56.
Katarina Johnson Thompson, world champion in Doha 2019, won the 200 metres in one of her favourite events to take the second place after four events with 3905 points. Johnson Thompson also clocked 13.50 in the 100 metres hurdles, cleared 1.86m in the high jump and threw 13.64m in the shot put. Chari Hawkins is ranked third with 3900 punts after 13.04 in the 100 metres hurdles, 1.83m in the high jump, 14.40m in the shot put and 24.38 in the 200 metres.
Men's 100 metres:
European 200 metres champion Zharnel Hughes won the first 100 metres heats in 10.00 ahead of Jamaica's Ryiem Forde (10.01).
World 200 metres champion Noah Lyles came back from a slow start to take the win in the second heat in 9.95 holding off African record holder Ferdinand Omanyala (9.97).
Dutchman Raphael Bouju took the edge in the third heat in 10.09 holding off Eugene Amo Dadzie from Great Britain (10.10) and Emmnuel Matadi from Liberia (10.13).
World under 20 champion Letsile Tebogo from Botswana took a close win in the 100m in 10.10 edging Australia's Rohan Browning and Reece Prescod.
Oblique Seville from Jamaica improved his PB to 9.86 to win the fifth heat in 9.86 ahead of reigning world champion Fred Kerley (9.99).
Oblique Seville: "I was very surprised. I never expected in the first round. Running that time gives me confidence for the next rounds".
Fred Kerley: "The first round was about taking it easy but I had to get through it after several false starts and I am glad I held it together. You have to keep the emotions calm You know you are ready to go. You just have to control your feelings".
Last year's World Championships finalist Abdul Hakim Sani Brown from Japan won the sixth heat in 10.07 ahead of Jamaican champion Rohan Watson (10.11) and Olympic champion Marcell Jacobs from Italy, who improved his seasonal best to 10.15.
Three-to world finalist Akani Simbine from South Africa took a narrow win in the seventh heat in 9.97 edging 2019 world champion Christian Coleman by one hundredth of a second.
Men's 1500 metres heats:
Olympic champion Jakob Ingebrigtsen won the first heat in 3:33.94 ahead of Olympic bronze medallistJosh Kerr from Great Britain (3:34.00).
Mario Garcia took the win in the second heat in a very tactical second heat in 3:46.77.
Niels Laros from the Netherlands, European under 20 champion in the 3000m and 5000 metres, won the third heat in 3:34.25 ahead of Mohamed Katir (3:34.34). Abel Kipsang claimed the win in the fourth heat in 3:34.08 ahead of Yared Nuguse (3:34.16).
Women's 1500 metres heats:
Sifan Hassan took the first place in the first place in the first heat in 4:02.92 beating Laura Muir (4:03.50).
Olympic champion and world record holder Faith Kipyegon won the second heat in 4:02.62 ahead of Diribe Welteji (4:02.72).
Faith Kipyegon: "It was a little good. I just wanted to qualify for the semifinals and enjoy it. Semifinals are sometimes slow, something fast. I am expecting great things from myself. It is about the medal and not the record. It is important to motivate the younger generation and women from all over the world".
Nelly Chepchirchir ran the fastest time in the heats with 4:00.87 ahead of Sinclaire Johnson (4'01"09).
Men's triple jump:
World under 20 champion Jaydon Hibbert led the qualifying round with 17.70m in the men's triple jump.
Women's long jump qualifying round:
Tara Davis Woodhall led the qualifying round with 6.87m ahead of Marta Koala (6.84m), Ivana Vuleta (6.82m), Ackelia Smith (6.78m), Jasmine Moore and Larissa Iapichino (6.73m).
Men's discus throw:
Daniel Stahl from Sweden and Mykolas Alekna were the only athletes to throw over the 66 metres with 66.25m and 66.04m respectively. Kristjan Ceh produced the third best throw of 65.95m.
-->