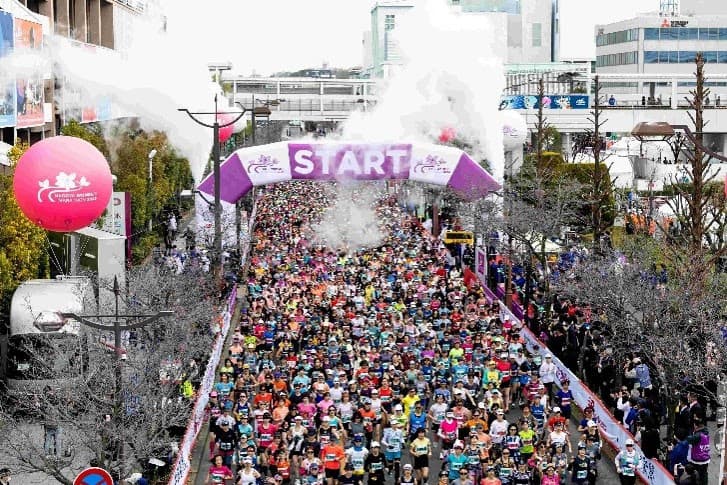 The Nagoya Women's Marathon, renowned as the "largest women's running festival in the world," has unveiled its race entry procedure for the 2024 edition. It offers an enticing accommodation package as an advance entry exclusively for runners residing outside Japan. Scheduled for Sunday, March 10, 2024, the event promises to be grander than ever. It is set to host 20,000 enthusiastic participants, including 3,500 international entrants. This initiative not only underscores the global appeal of the marathon but also seeks to cater to the unique needs of overseas athletes. This ensures they have a seamless experience from the starting line to the finish.

Launched in 2012, the Nagoya Women's Marathon is certified by Guinness World Records as the largest women's marathon in the world and is a World Athletics Platinum Label race. The 2024 race, to be held five months before the Paris 2024 Olympic Games, is expected to attract special attention and excitement from home and abroad for being the final qualifier for Japan's women's marathon team and an opportunity for athletes around the world to test their abilities and gain momentum before the Olympics.

All race participants who reach the finish line will receive a specially designed pendant from global luxury jeweler Tiffany & Co. as a memento of their achievement. The design of the pendant is different each year, and its unveiling ceremony the day before the race is one of the most popular stage programs at the Marathon EXPO.

One of the special attractions of marathon running is that as long as you are a runner who loves the sport, you can compete with the world's best athletes, including future Olympians, in the same competition under the same conditions. The Nagoya Women's Marathon 2024 welcomes race entries from women of all ages and levels, from fast runners who want to challenge themselves in a highly competitive race, to runners who are considering competing in a race for the first time in a while, to runners who want to experience what it is like to run an all-women road race (it's even better than you imagine!).

As an end to Covid-19 as a global health emergency was declared by the WHO, many tourists have been visiting Japan from abroad. Please come to Japan next spring and join the Nagoya Women's Marathon 2024, where you can challenge the 42.195 km with 20,000 other women runners supporting and cheering each other on.
Entry Period for the Nagoya Women's Marathon 2024
Race Entry & Accommodation Package (First-come, first-served.)
10 a.m. on Monday, August 14, 2023 – 5 p.m. on Sunday, August 27, 2023, Japan time
Race Entry only (A lottery will be held if capacity is exceeded.)
10 a.m. on Thursday, September 21, 2023 – 11:59 p.m. on Wednesday, September 27, 2023, Japan time
Entry Period for the Nagoya Women's Online Marathon 2024 (Virtual race/ First-come, first served)
10 a.m. on Friday, October 20, 2023 – 11:59 p.m. on Tuesday, October 31, 2023, Japan time
Event Period: 9:10 a.m. on Saturday, February 10, 2024 – 11:59 p.m. Sunday, March 31, 2024, Japan time
For more information about the race entry, please visit the race's official website and click the ENTRY banner.
https://womens-marathon.nagoya/en/
-->