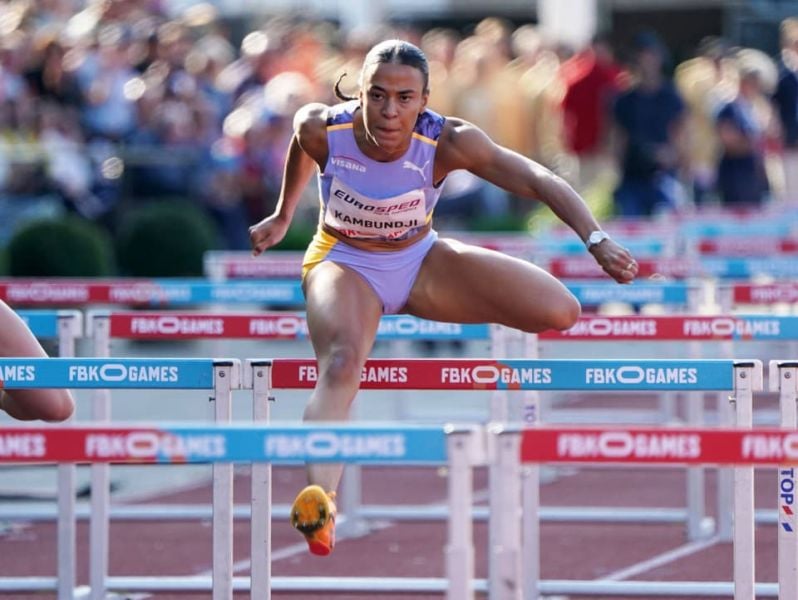 Ditaji Kambundji improved the Swiss record and the meeting record in the women's 100 metres hurdles twice in the same evening, clocking 12.51 in the heats and 12.47 in the final at the sixth edition of the Citius Meeting at the Wankdorf Stadium in Berne. Seven meeting records were set during an entertaining athletics meeting.
Kambundji took 15 hundredths of a second off the previous national record, that had been held by Lisa Ureech since 2011.
Kambundji set her previous PB of 12.68 when she won the European Under 23 Championships in Espoo three weeks ago. The 21-year-old hurdler moved to first place in the European seasonal list and to 11th place in the world seasonal list.
Jamaica's Amoi Brown improved her PB to 12.51 to finish second ahead of European champion Pia Szkriszowska, who set her seasonal best of 12.59, Nadine Visser (12.65) and Irish record holder Sarah Lavin (12"67). Brown had previously improved her lifetime best to 12.58 in the heats.
Ditaji's elder sister Mujinga Kambundji, who set the Swiss record in the 200 metres with 22.18 in last year's edition of the Citius meeting, finished third in the women's 100 metres in 11.15 behind Imani Lansiquot (11.06) and Oceanian record holder Zoe Hobbs (11.13).
Tyler Mason won his second 110 metres hurdles race this season on Swiss soil in a meeting record of 13.22 a few weeks after his victory in Lucerne. Orlando Bennett completed the Jamaican double in 13.27 ahead of Auriel Manga (13.49). Swiss record holder Jason Joseph fell after hitting the last hurdle.
This year's NCAA outdoor champion Emmanuel Bamidele won the men's 400 metres in 44.79 ahead of Jamaica's Rusheen McDonald (45.08) and Botswana's Collen Busang Kebinatshipi (45.19).
Meeting records were set at all three middle distance races. Abdelati El Guesse from Morocco won the men's 800 metres in 1:45.21 ahead of Noah Kibet (1:46.20).
Elzan Bibic set the national record in the men's 1500 metres with 3:34.20 beating last week's Swiss champion Tom Elmer (3:34.50).
Abbey Calldwell set the Australian record and the second fastest time in the world this year in the women's 1000 metres with 2:34.63. Caldwell's compatriot Linden Hall finished second improving her PB to 2:35.12 ahead of Revee Walcott Nolan (2:36.67 PB).
Laviai Nielsen from Great Britain set the meeting record to win the women's 400 metres with 50.83 ahead of British 400 metres hurdles specialist Jessie Knight (51.75).
World seasonal leader Jeswin Aldrin won the men's long jump with a meeting record of 8.22m ahead of Alejandro Parada (8.08m) and world bronze medallist and Swiss record holder Simon Ehammer (8.03m). Aldrin improved his PB to 8.42m earlier this year.
Swiss 100m and 200 metres champion William Reais won the 200 metres in 20.38 ahead of Ugandan record holder Tarsis Orogot, who clocked 20.42 in his first ever race on European soil.
Last week's Dutch champion Tasa Jiya won the women's 200 metres in 22.98 one week after beating Femke Bol over this distance at the Dutch Championships.
Agate De Sousa from Brazil won the women's long jump with 6.80m missing the meeting record by 1 cm.
Hungary's Hanga Klekner won the women's pole vault with 4.46m beating Norwegian record holder Lene Retzius on countback.
German champion Joshua Abuaku won the men's 400 metres hurdles in 48.98 beating Alaistair Chalmers (49.53).
-->