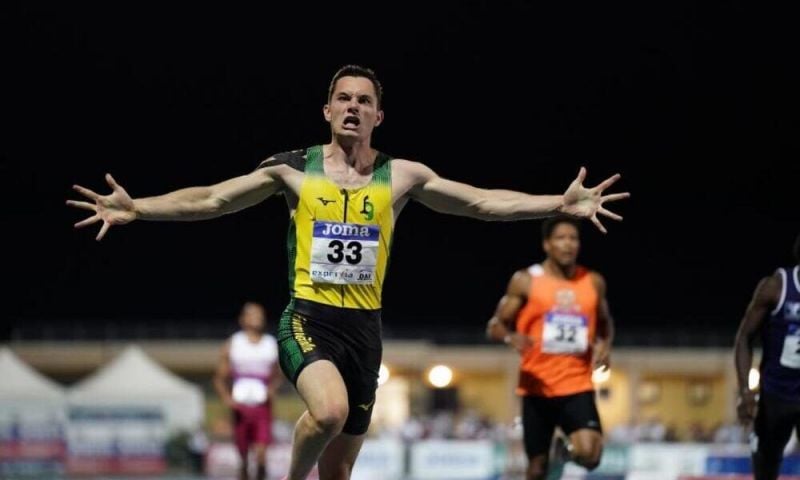 The Italian Athletics Championships took place from July 29 to 30 in Molfetta, showcasing an array of impressive performances. The event was marked by the breaking of national records and the display of world-class athleticism.
Ayomide Folorunso broke her own Italian record with 54.22 to win her fifth Italian title in the women's 400 metres hurdles at the National Championships in Molfetta. Rebecca Sartori improved her PB to 55.05 to finish second.
Folorunso set her previous national record with 54.34 in the semifinal of the World Championships in Eugene. This year she clocked her previous seasonal best of 54.44 in Banska Bystrika.
"I expected this record. My rivals are running very fast times and they are a motivation for me. There is still room for improvement. I am happy because my goal was to improve some technical details that did not work well at the start of the season", said Folorunso.
Leonardo Fabbri won his third Italian outdoor title in the men's shot put with a best mark of 21.80m. Fabbri backed up this result with two more throws of 21.63m and 21.67m. Fabbri's training partner Zane Weir set the qualifying standard for the Olympic Games in Paris with 21.69m in the sixth round.
"I am pleased that I managed to produce so many throws beyond the 21 metres barrier. These results show my consistency at high level. I have room for improvement and I aim at achieving the big throw when it matters most. I want to enjoy myself at the World Championships in Budapest. If I enjoy myself, I can perform well", said Leonardo Fabbri.
Simone Barontini improved his PB to 1:44.50 to win his fourth Italian outdoor title in the men's 800 metres. Catalin Tecuceanu finished second in 1:45.03 beating 20-year-old Francesco Pernici, who improved his PB to 1:45.23.
"I expected this time. I thought that Pernici would have run very fast at the front to achieve the qualifying standard for the World Championships. I have big expectations for the World Championships. The rivalry with Catalin Tecuceanu is a big motivation for me to continue improving", said Barontini.
Filippo Tortu won his first 200m Italian title with 20.14 setting the third fastest time in his career in the race dedicated to the memory of Italian sprint legend Pietro Mennea.
"I am very happy that I finally managed to run a time that had been within my reach for a long time. For many reasons I was not able to achieve this goal. It was a very competitive race", said Tortu.
Former European Under 23 champion Dalia Kaddari won the women's 200 metres in 22.90 after clocking 22.86 in the heats with great ease.
Roberta Bruni cleared 4.60m in her first attempt to win her fifth Italian outdoor title in the women's pole vault. Bruni made three attempts to improve her Italian record at 4.73m.
Andy Diaz won his first Italian title in the men's triple jump with 17.21m into a headwind of -1.0 m/s. Diaz won the Diamond League final in Zurich with 17.70m and broke the long standing Italian record held by his coach Fabrizio Donato when he jumped 17.75m ai the Golden Gala in Florence.
Italian record holder Daisy Osakue won her fourth consecutive national title in the women's discus throw with 63.25m, her fifth mark over the 63 metres barrier.
Sara Fantini has extended her unbeaten streak at Italian Championships winning her seventh consecutive title in the women's hammer throw with 71.02m.
European indoor champion Samuele Ceccarelli won the men's 100 metres in 10.30 edging Roberto Rigali by four hundredth of a second.
"I felt cramps at the end of the race. Fortunately it was not too serious. I am happy that I finished the race healthy. I felt more pressure than in other competitions in the past", said Ceccarelli.
Lorenzo Simonelli continued his great season by winning his first senior title in the men's 110 metres hurdles in 13.40 into a headwind of -1.3 m/s. Earlier this month Simonelli won the silver medal at the European Under 23 Championships in Espoo in 13.36 after improving his PB to 13.33 in the semifinal.
Lorenzo Naidon won the decathlon with 8090 points becoming the third Italian combined events specialist to break the 8000 points barrier.
Stefano Sottile cleared 2.28m in his third attempt to win his second national outdoor title in the men's high jump. Sottile made three attempts at 2.30m.
Italian indoor record holder Zaynab Dosso continued her come-back from injury by winning her fourth national outdoor title in the women's 100 metres in 11.28 into a headwind of -1.1 m/s.
Italian record holder Davide Re digged deep in the final 50 metres to win the men's 400 metres in 45.21 holding off 4x400 relay European under 23 champion Lorenzo Benati, who improved his PB to 45.39.
Eloisa Coiro won her third Italian title in the 800 metres with 2:00.43. Sintayehu Vissa won the women's 1500 metres in 4:06.85 beating Federica Del Buono (4:07.05). Pietro Arese won a tactical 1500 metres race in 3:46.07 beating Ossama Meslek (3:47.20).
Giada Carmassi edged European under 23 Elena Carraro by three thousandths of a second in the women's 100 metres hurdles in 13.14.
Nadia Battocletti won a tactical race in the women's 5000m clinching the third Italian outdoor title of her career in 16:08.50 one week after setting the Italian record over this distance at the London Diamond League.
Francesco Fortunato won the 10 km walking race in 39:50 in a race held in the centre of Molfetta. Fortunato, who grew up in Andria a few km from Molfetta, received a strong support from spectators along the course. The Italian walker won the 20 km at the European Race Walking Team Championships in Podebrady in his PB of 1:18.59 and the 10 km race in Madrid in 38:58.
Valentina Trapletti claimed the 10 km walking race in 44:27 coming close to her PB by two seconds. Trapletti finished eighth at the World Championships in Eugene and fifth at the European Championships in Munich in the 20 km last year.
Ottavia Cestonaro made the double winning both the women's triple jump with 13.98m and the long jump with 6.37m.
-->