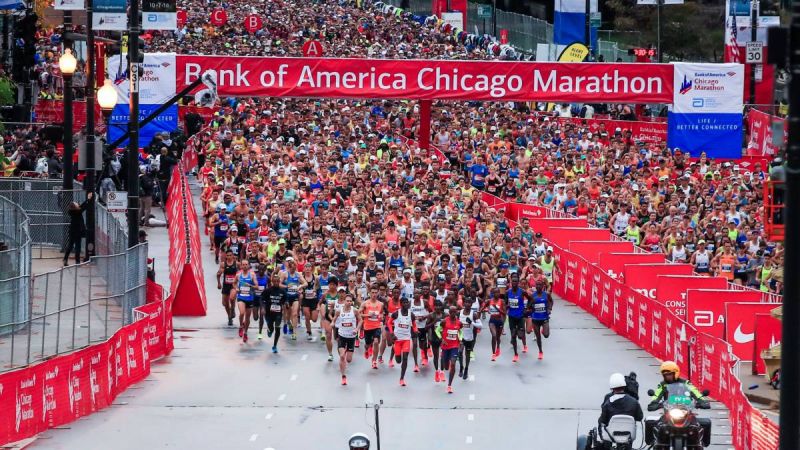 Bank of America Chicago Marathon organizers have announced the entrants in the elite field for the 8 October.
Kenyan Benson Kipruto will defend his title in the men's race. Last year, Kipruto won in 2:04:24, the fourth fastest time ever recorded in Chicago.
Kelvin Kiptum, the second-fastest man in history, will make his US marathon premiere in Chicago. Kiptum won this year's London Marathon in 2:01:25, just 16 seconds short of the world record. Ethiopia's Seifu Tura, runner-up last year and winner in Chicago in 2021, returns for a third straight time to try to reach the podium. The race will also feature Belgian Olympics bronze medallist Bashir Abdi, who won this year's Rotterdam Marathon.
The American men's team is led by Conner Mantz and 2017 Chicago champ Galen Rupp.
Other standout entries include Ethiopia's Dawit Wolde, Brazil's Daniel Do Nascimento, and Kenya's John Korir.
The women's race will feature defending champion Ruth Chepngetich taking on London Marathon champion Sifan Hassan and US record holder Emily Sisson. However, there is much more to it than that.
A former New York City Marathon and London Marathon winner, Joyciline Jepkosgei will run the Chicago Marathon for the first time. Genzebe Dibaba, an Ethiopian legend who has shattered several world records indoors and outdoors, will run with her. Last year, Dibaba clocked a stunning 2:18:05 in Amsterdam for her marathon debut.
There are also Olympic bronze medalist Molly Seidel, 2018 Boston Marathon champion Des Linden, 2021 Chicago runner-up Emma Bates, and 2020 US Olympic Trials winner Aliphine Tuliamuk in the elite field.
Men's elite field
Kelvin Kiptum KEN 2:01:25 (London, 2023)
Bashir Abdi BEL 2:03:36 (Rotterdam, 2021)
Benson Kipruto KEN 2:04:24 (Chicago, 2022)
Dawit Wolde ETH 2:04:27 (Rotterdam, 2021)
Seifu Tura ETH 2:04:29 (Milan, 2021)
Daniel Do Nascimento BRA 2:04:51 (Seoul, 2022)
John Korir KEN 2:05:01 (Chicago, 2022)
Galen Rupp USA 2:06:07 (Prague, 2018)
Huseydin Mohamed ETH 2:05:05 (Amsterdam, 2022)
Milkesa Mengesha ETH 2:05:29 (Valencia, 2022)
Conner Mantz USA 2:08:16 (Chicago, 2022)
Yuki Matsumura JPN 2:09:01 (Otsu, 2021)
Takashi Ichida JPN 2:09:15 (Oita, 2022)
Kei Katanishi JPN 2:09:27 (Otsu, 2021)
Masashi Nonaka JPN 2:09:47 (Osaka, 2023)
Matt McDonald USA 2:09:49 (Chicago, 2022)
Mick Iacofano USA 2:09:55 (Chandler, 2020)
Masaki Tuda JPN 2:10:40 (Oita, 2023)
Mizuki Higashi JPN 2:11:04 (Tokyo, 2023)
Colin Mickow USA 2:11:22 (Chandler, 2020)
Frank Lara USA 2:11:32 (Houston, 2022)
Dan Kremske USA 2:14:53 (Chicago 2019)
Daniel Mateiko KEN Debut
Wesley Kiptoo KEN Debut
Women's elite field
Ruth Chepngetich KEN 2:14:18 (Chicago, 2022)
Joyciline Jepkosgei KEN 2:17:43 (London, 2021)
Genzebe Dibaba ETH 2:18:05 (Amsterdam, 2022)
Sutume Kebede ETH 2:18:12 (Seoul, 2022)
Emily Sisson USA 2:18:29 (Chicago, 2022)
Sifan Hassan NED 2:18:33 (London, 2023)
Tigist Girma ETH 2:18:52 (Valencia, 2022)
Ababel Yesheneh Eth 2:20:51 (Chicago, 2019)
Des Linden USA 2:22:38 (Boston, 2011)
Emma Bates USA 2:23:18 (Eugene, 2022)
Aliphine Tuliamuk USA 2:24:37 (Boston, 2023)
Nell Rojas USA 2:24:51 (Boston, 2023)
Molly Seidel USA 2:24:42 (New York, 2021)
Dakotah Lindwurm USA 2:25:01 (Duluth, 2022)
Sara Vaughn USA 2:26:23 (Chicago, 2022)
Gabriella Rooker USA 2:27:38 (Duluth, 2023)
Diane Nukuri USA 2:27:50 (London, 2015)
Maggie Montoya USA 2:28:07 (Chicago, 2022)
Stacy Ndiwa KEN 2:31:53 (Istanbul, 2022)
-->