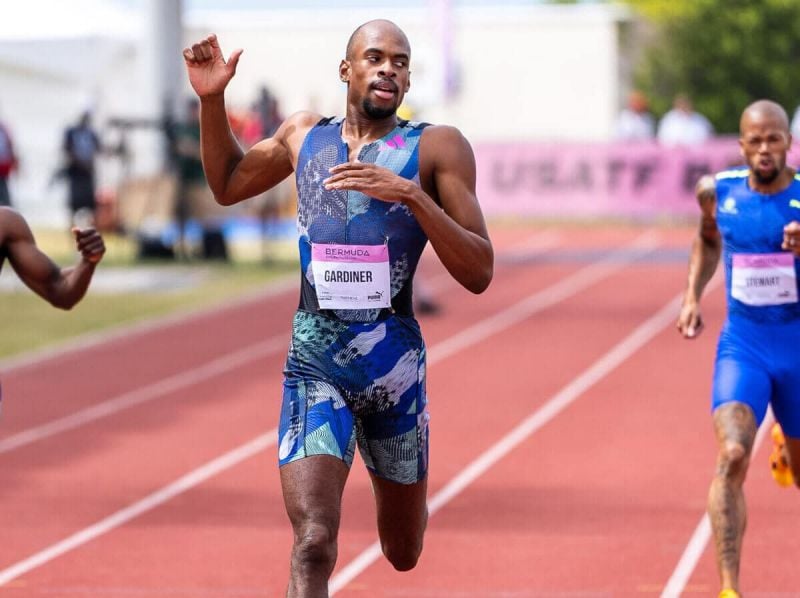 Olympic champion Steven Gardiner cruised through to a world seasonal lead of 43.74 in the men's 400 metres on Tuesday (18) at the Gyulai Istavn Memorila in Szekesfehrvar, Hungary. The Bahamian athlete has maintained his unbeaten streak with five consecutive wins. Gardiner clocked the second fastest time of his career after his PB of 43.48 when he won the world gold medal in Doha.
Gardiner improved the meeting record of 44.30 he set in 2015. He moved past Muzala Samukonga as the fastest 400 metres sprinter this season.
Steven Gardiner: "I think that is my old self again out there and I and I am happy it gives me more confidence to know that I can do anything. It's possible. I went out there and I did what I had to do and I surprised myself today".
Rusheen McDonald from Jamaica finished runner-up setting the second fastest time in his career with 44.03. Vernoon Norwood took third place with 44.63.
Women's 100 metres hurdles:
World record holder Tobi Amusan from Nigeria won her second consecutive 100 metres hurdles race in 12.35 following her win in Chorzow in a meeting record of 12.34.
Amusan held off US champion Nia Ali (12.41). Alaysha Johnson finished third in 12.50 ahead of Tia Jones (12.51) and Pia Skryszowska (12.65).
Tobi Amusan: "It is great to win a competition but the most important thing is to be in good shape at the World Championships. My progress is going well, and I am looking forward to coming back to Hungary and competing against the best athletes next month".
Women's 100 metres:
This year's NCAA 100 and 200 metres champion Julien Alfred from Santa Lucia won her first professional 100 metres race on the European circuit in 10.89 beating this year's US champion Sha'Carri Richardson, who lost her unbeaten streak this year finishing second in 10.97. Tamari Davis took third place in 11.02 ahead of Twanisha Terry (11.07). Alfred, who is still undefeated this year, was 0.08 off her PB she set in Texas last May. The Santa Lucian sprinter won multiple NCAA indoor and outdoor titles for the University of Texas over the past couple of years.
Julien Alfred: "A lot of people would say it is a surprise result, but I felt the power and I knew I could do it. I will run the 200 metres in Monaco on Friday. I could not be in any better shape one month before the World Championships".
Women's 200 metres:
World champion Shericka Jackson won for the second consecutive year in the women's 200 metres in Szekesfehrvar in 22.02 repeating the same time as in the 2022 edition.
Rhasidat Adeleke from Ireland finished second in 22.36 on her professional debut in the European circuit beating Anthonique Strachan from Bahamas (22.45).
Men's 200 metres:
World finalist Alexander Ogando from Dominican Republic broke under the 20 seconds barrier with 19.99 to beat world bronze medallist and this year's US champion Erriyon Knighton (20.05). Jamaica's Andrew Hudson finished third in 20.36.
Men's shot put:
Olympic champion Ryan Crouser threw 22.51m in the fourth round to win his fourth shot put competition on European soil in the past month. Crouser produced three more shots beyond 22.40m, which would have been enough to win the competition. Joe Kovacs, who was competing in front of his Hungarian family, took the early lead with 22.06m (his second best performance of the year) in the first round, but Crouser responded by throwing 22.42m in the second round.
Olympic bronze medallist Tom Walsh took third place with 21.85m.
Men's discus throw:
Olympic champion Daniel Stahl opened the competition with 68.30m in the first round and improved his best mark to 68.98m in his second attempt to take the win ahead of Andrius Gudzius (67.66m) and world champion Kristjan Ceh (67.60m). Stahl now leads 15-14 in his head-to-head clashes against Ceh.
Men's 110 metres hurdles:
This year's US champion Daniel Robert won a close win in the men's 110 metres in 13.12 holding off Olympic champion Hansle Parchment and Tyler Mason, who shared the same time of 13.14.
Women's 400 metres hurdles:
Jamaica's Andreanette Knight won the women's 400 metres hurdles improving her PB by 0.12 to 53.26. Knight, who recently finished second at this year's Jamaican Trials, led a Jamaican top four. Janieve Russell (national champion in Kingston) finished second in 53.72 ahead of Rushell Clayton (53.79) and Shiann Salmon (55.04). Italian record holder Ayomide Folorunso was the first non-Jamaican finisher in fifth place in 55.63.
Men's 100 metres:
Former world champion Yohan Blake won the men's 100 metres in 10.04 bouncing back the disappointment at the Jamaican Championships where he did not get through the first round. Ackeem Blake and this year's national champion Rohan Watson completed the Jamaican sweep finishing second in 10.09 and third in 10.10 respectively. Marvin Bracy Williams was the first US finisher in fourth place in 10.11.
Women's 400 metres:
World bronze medallist Sada Williams from Barbados won her second consecutive European 400 metres race in 50.36 following her victory in Lignano Sabbiadoro last Friday. Andrea Miklos from Hungary finished second in 50.80 ahead of Susanne Gogl Walli from Austria (50.87).
Men's long jump:
Tajay Gayle took the lead with a mark of 8.24m in the fourth round, but Olympic champion Miltiadis Tentoglou moved past the Jamaican jumper with a leap to 8.29m in the sixth round.
Women's long jump:
Former European under 20 champion Milica Gardasevic leapt to 6.80m in the sixth round to win the women's long jump ahead of world silver medallist Ese Brume from Nigeria (6.69m), Petra Banhidi Farkas from Hungary (6.66m) and Quanesha Burks from the United States (6.64m).
Gardasevic leapt to 6.71m in the second round. This mark would have been enough to win the competition, as Brume produced her best jump of 6.69m in the second attempt.
Men's hammer throw:
Olympic fourth placer Mykhaylo Kokhan from the Ukraine produced his best result in two years with 79.37m in the fifth round to win the men's hammer throw ahead of Olympic champion Wojciech Nowicki from Poland (77.89m). Kokhan threw beyond the 76 metres in all six of his attempts and backed up his winning mark with throws of 78.90m in the sixth round and 78.61m in the fourth round.
Kokhan has maintained his unbeaten streak this summer. The 22-year-old Ukrainian thrower had already won in Szekesfehrvar in 2021 with his PB of 80.78m.
Women's 1500 metres:
Nelly Chepchirchir from Kenya continued her consistent season by winning the women's 1500 metres in a meeting record of 4:00.18. Her compatriot Brenda Chebet finished second in 4:01.25 ahead of Uganda's Winnie Nanyondo (4:01.96). Chepchirchir recently improved her PBs to 1:58.23 in the 800 metres in Grosseto and 3:58.96 in the 1500 metres in Hengelo and won the Kenyan Trials in the 1500m in Nairobi 3:59.77 ahead of Brenda Chebet.
Men's 800 metres:
Olympic finalist Peter Bol from Australia took a close win in the men's 800 metres in 1:44.48 edging Gabriel Tual from France (1:44.55). Clayton Murphy finished third in 1:45.53. Joseph Deng, who improved Bol's Australian record with 1:43.99 in France earlier this month, finished seventh in 1:47.19.
Men's 3000 metres steeplechase:
Mohamed Tindouft from Morocco won a tactical race in men's 3000 metres steeplechase in 8:15.73 ahead of Ethiopia's Samuel Firewu (8:16.40) and Uganda's Leonard Chemutai (8:17.14). Tindouft ran 8:15.02 in the Chorzow Diamond League meeting last Sunday.
-->