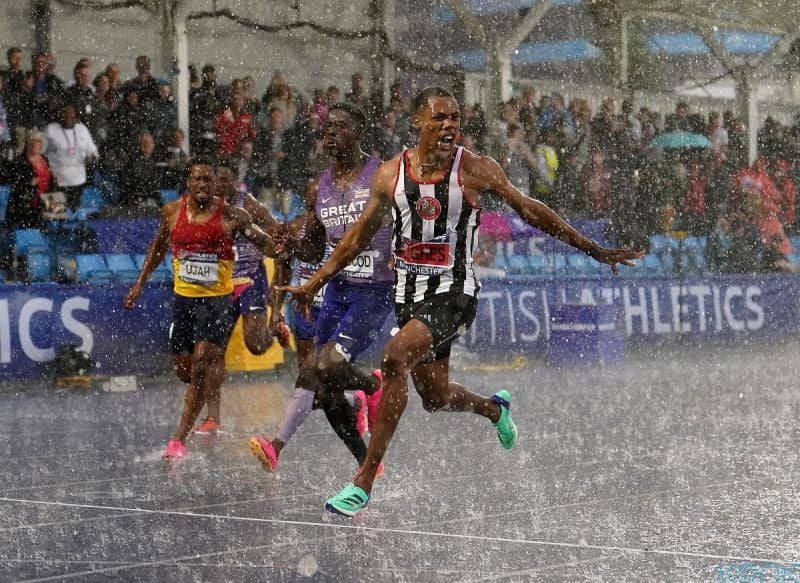 Dina Asher-Smith and Zharnel Hughes were crowned British 100m champions on Saturday (8).
The 2019 200m World Champion, Dina Asher-Smith, took the women's 100m title at the British Athletics Championships after Zharnel Hughes claimed men's 100m gold in pouring rain in Manchester.
Hughes, the world leader and British record holder in the 100m at 9.83 seconds, clocked 10.03, with Reece Prescod (10.14) second and Eugene Amo-Dadzie (10.18) third. Due to torrential rain, the women's race was delayed by 30 minutes.
"I came away with the win," he told BBC after his win in Manchester. "It means everything to me to be British champion.
"I worked for this and prepared for this. I train in these conditions, sometimes in Jamaica, but I am soaked - these conditions are the most awful ever."
Following the rain, Asher-Smith won easily in 11.06 ahead of Imani Lansiquot (11.26) and Bianca Williams (11.29).
"It has been a very British day, a very northern day," said Asher-Smith. "Welcome to England's north!
Women's 100m Final Video
British Athletics Championships 2023 Results
Women's 100m Final: wind +0.2
POS
NAME
RESULT
1
ASHER-SMITH Dina
Team: BLACKHEATH & BROMLEY HARR
GBR
11.06
2
LANSIQUOT Imani
Team: SUTTON & DISTRICT AC
GBR
11.26
3
WILLIAMS Bianca
Team: THAMES VALLEY HARRIERS
GBR
11.29
4
AWUAH Kristal
Team: HERNE HILL HARRIERS
GBR
11.54
5
HUNT Amy
Team: CHARNWOOD AC
GBR
11.67
6
WEDDERBURN-GOODISON Nia
Team: HARROW AC
GBR
11.67
REES Alisha
Team: EDINBURGH AC
GBR
DNF
TAGOE Annie
Team: THAMES VALLEY HARRIERS
GBR
DNF
Men's 100m Final: wind 0.0
POS
NAME
RESULT
1
HUGHES Zharnel
Team: SHAFTESBURY BARNET HARRIE
GBR
10.03
2
PRESCOD Reece
Team: ENFIELD & HARINGEY AC
GBR
10.14
3
AMO-DADZIE Eugene
Team: WOODFORD GREEN & ESSEX LA
GBR
10.18
4
AZU Jeremiah
Team: CARDIFF ATHLETICS
GBR
10.28
5
UJAH Cj
Team: ENFIELD & HARINGEY AC
GBR
10.31
6
WALSH Nicholas
Team: SALE HARRIERS MANCHESTER
GBR
10.37
7
BROMBY Oliver
Team: SOUTHAMPTON AC
GBR
10.38
8
AIKINES-ARYEETEY Harry
Team: SUTTON & DISTRICT AC
GBR
10.49
-->