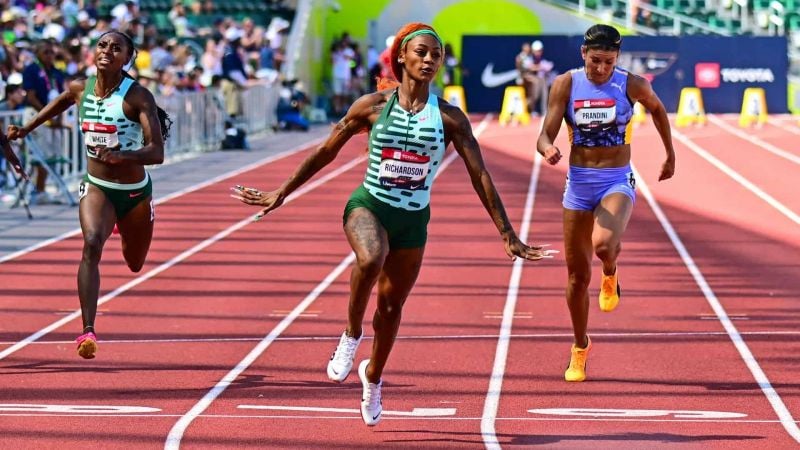 Sha'Carri Richardson won the women's 100m at Hayward Field in Eugene on Friday (7), while Cravont Charleston claimed the men's sprint title.
The USA Championships saw Richardson smash her personal best time and equal the meeting's record in the heats with an astonishing 10.71 seconds. In the semifinals she was also incredibly fast clocking 10.75 (0.1m/s).
Richardson put on a great show in the women's 100-meter final. When the camera centered on Richardson at the start line, she tore off her orange wig to expose her braids. It was well received by the crowd. Once the gun was fired off, Richardson blasted from the blocks before no one could catch her down and won in 10.82 (0.7m/s).
"Now, I stand here with you again and I'm ready, mentally, physically and emotionally," said the 23-year-old. "I'm here to say, 'I'm not back, I'm better,'" she added.
Watch Women's 100m Final:
Women's 100m Final Results: wind +0.7m/s
| POS | NAME | RESULT |
| --- | --- | --- |
| 1 | Sha'Carri Richardson | 10.82 |
| 2 | Brittany Brown | 10.90 PB |
| 3 | Tamari Davis | 10.99 |
| 4 | Tamara Clark | 11.03 11.026 |
| 5 | Melissa Jefferson | 11.03 SB 11.028 |
| 6 | Twanisha Terry | 11.05 =SB |
| 7 | Mia Brahe-Pedersen | 11.08 |
| 8 | Jacious Sears | 11.12 |
Men's 100m Final
A thrilling finish in the men's 100 saw Cravant Charleston edge 2019 world champion Christian Coleman by a fraction of a second. It was Charleston's first major final and he took advantage of it.
"To win, of course." That's the goal. Always to win." Charleston replied when asked what his goal is for his first world championship.
Only four days after recovering from Covid, double 200m world champion Noah Lyles finished third. He'll try a sprint double at the world championships in Budapest in August. As the defending world champion, he has already assured himself a spot in the 200m.
"I dreamed I could make that double," Lyles said.
Results: USATF Outdoor Championships
Men's 100m Final Video:
Men's 100m Final Results: wind +0.1
| POS | Name | Result |
| --- | --- | --- |
| 1 | Cravont Charleston | 9.95 |
| 2 | Christian Coleman | 9.96 |
| 3 | Noah Lyles | 10.00 |
| 4 | Brandon Carnes | 10.10 |
| 5 | JT Smith | 10.14 10.132 |
| 6 | Trayvon Bromell | 10.14 10.139 |
| 7 | Kendal Williams | 10.16 |
| 8 | Terrance Laird | 10.18 |
-->