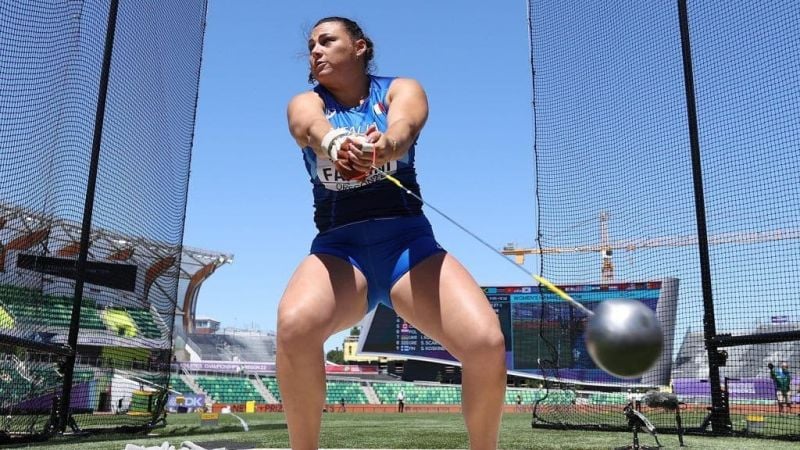 The Italian team has extended its lead to 34,5 points over two-time champions Poland in the First Division of the European Team Championships. Italy leads with a total of 293 points ahead of Poland (258,5 points), Germany (256,5 points) and Great Britain (243,5 points).
Three championships records were set by Italy's Alessandro Sibilio in the men's 400 metres hurdles with 48.14, Switzerland's Jason Joseph in the 110 metres hurdles with 13.12, Mohamed Katir in the men's 1500 metres with 3:36.95.
Men's 400 metres hurdles:
European under 23 champion Alessandro Sibilio won the men's 400 metres hurdles in 48.14 breaking Karsten Warholm's championship record. Sibilio's win increased the Italian lead to 19.5 points over Great Britain. Sibilio set the second fastest time of his career after his PB of 47.93 set in the semifinal of the Olympic Championships. Nick Smit followed in second place behind Sibilio in 48.95, but world under 20 champion Ismail Nezir won the B heat race in a European Under 23 record of 48.94 setting the second fastest overall time and earned 15 points for Turkey.
Alessandro Sibilio: "I was coming back from an injury, but I had to give 16 points to the team here and I did. The 400 metres hurdles is the best event in athletics right now, with two of the biggest stars, Karsten and Allison. I have to improve and try to stay with the best athletes. I have been through difficult moments, but I am dreaming of being the best. We have a great team captain, Olympic and world champion Gianmarco Tamberi. He is in the team supporting us".
Men's 110 metres hurdles:
European indoor champion Jason Joseph from Switzerland won the men's 110 metres hurdles in a championship record of 13.12. Joseph came close to his national record of 13.10 set the Golden Gala in Florence. Enrique Llopis from Spain finished second in 13.44 ahead of Hassan Fofana from Italy (13.47) and 2018 European champion Pascal Martinot Lagarde from France (13.58).
Jason Joseph: "I know that after the first day of competitions in the first division our team was not as good in the team standing as it could, but honestly I did not think about that going into the start blocks. Certainly I kept in mind that I could get 16 points. That is why I was focused on my own job. I was trying to do my PB, as track is really fast here. To be able to win with championships record is not bad achievement. On my way to the World Championships in Budapest I will try to go under 13 seconds. That is my main goal for current season".
Men's 1500 metres:
World 1500m bronze medallist Mohamed Katir from Spain won the men's 1500 metres setting a championships record of 3:36.95. Portugal's Isaac Nader finished second in 3:37.37 ahead of 18-year-old Dutch rising star Niels Laros (3:37.59). Pietro Arese overtook George Mills in the final stages to take fourth place in 3:38.13 holding off the British middle-distance runner by 0.04.
Men's discus throw:
Olympic champion Daniel Stahl threw 67.25m in the first round to claim 16 points for Sweden. It was the only valid throw for Stahl, who made five fouls. Hanrik Janssen took second place with 64.09m ahead of Robert Urbanek from Poland (61.09m).
Daniel Stahl: "That is very special competition in athletics where you firstly have to secure the maximum points for your team and only you can think about your own ambitions. Even if I have very tough competitions schedule, we planned to perform to do the best for our country".
Men's long jump:
Olympic and European champion Miltiadis Tentoglou from Greece won the men's long jump with 8.34m into a headwind of -1.3 m/s in the final round coming very close to his own championship record of 8.38m set in 2021.
Miltiadis Tentoglou: "It looks like my season is going great and my training never stops for any reason, but I am still not on the position to jump very far. Today I jumped even better than we expected. The European lead mark of 8.34m with negative wind costs a lot. If weather condition was better today, it was possible to attack even 8.50m. We are here to represent our country as a team. It's really special as you have to keep in your mind that you must do safe first jump and must be solid. Some athletes are doing better at the teams championships because they feel his incredible spirit. I can say the same about myself. I was very good today and I am proud of what I have done".
European under 18 champion Mattia Furlani continued his great season with a second place with 7.97m in the second round on his debut at these championships. The Italian 18-year-old jumper finished ahead of world bronze medallist Simon Ehammer from Switzerland (7.95m) and European silver medallist Thobias Montler from Sweden (7.82m).
Mattia Furlani: "I want to jump only in the long jump. I would like to stay focused on this competition and keep improving my technique. I was behind the greatest jumper in the world, so I can be happy about my attempts. It's the end of June and the top competitions are scheduled in August. My main goal is the European Under 20 Championships. The World Championships in Budapest would be a bonus. I want to repeat my results from Jerusalem. I thank my mother for her support.
Women's 100 metres hurdles:
European champion Pia Skrzyszowska won the 100 metres hurdles for the second consecutive edition at the European Team Championships on home soil in a European under 23 seasonal lead of 12.77.
Skrzyszowska started well from the blocks, but she was put under pressure by two-time European Indoor champion Nadine Visser from the Netherlands and Laeticia Bapté from France. Skrzyszowska held on in the final 30 metres to earn 16 points for Poland. Visser finished second in 12.82 holding off Bapté by just one hundredth of a second. European Indoor champion Reetta Hurske took fourth place in 13.09 ahead of Italy's Elisa Di Lazzaro (13.21). European indoor and outdoor bronze medallist Ditaji Kambundji was disqualified for a false start.
Pia Skrzyszowska: "That's my third race and it was the third false start. I just want to run after the first signal. I have to improve that and focus on the proper beginning. Situations like that could distract you and prevent you from getting a good score. I don't want to call that as an insufficiency but my time could be even better. The girls on the starting list had better results, but I have won again, so I am not afraid of them. It could not get better".
Tereza Errandonea from Spain won the 100 metres hurdles B race in 13.22. Belgian shot putter Jolien Boumkwo stepped in for injured Anne Zagré at the last moment. Boumkwo, who ran only one 60 metres hurdles race in 2010, finished last to claim a point for Belgium.
Women's pole vault:
European outdoor and indoor champion Wilma Murto earned 16 points for Finland with 4.71m. Murto needed three attempts to clear 4.50m before first-time clearances at 4.60m, 4.65m and 4.71m. The Finnish vaulter ended the competition with three failures at 4.76m, which would have equalled the European seasonal lead.
Tina Sutej had won the Second Division of the European Team Championships with 4.70m earlier this week.
Wilma Murto: "Tina Sutej are often head-to-head nowadays. The officials have told me that she already jumped 4.70m, so I have raised by 1 cm to get a win. It's fun, there's additional element. You don't only have to jump for yourself but especially for your team as well. Sixteen points were the other thing that pushed me to jump 4.71m today".
Angelica Moser from Switzerland cleared 4.60m in her second attempt to finish second on countback over Amalie Svabikova from Czech Republic.
Women's 400 metres hurdles:
Germany's Caroline Krafzik won the women's 400 metres hurdles A race in a seasonal best of 54.47. Ayomide Folorunso from Italy finished second improving her seasonal best to 54.79 ahead of Cathlijn Peeters from the Netherlands (54.97).
Women's 4x100 relay:
The Netherlands won the women's 4x100 relay in a European lead of 42.61. European 400 metres indoor silver medallist Lieke Klaver ran in the second leg. Ewa Swoboda anchored the Polish team to a second place in 42.97 ahead of Spain (43.13). Italy had some issues on the second changeover between Dalia Kaddari and Anna Bongiorni and finished sixth to earn five points. Finland and Great Britain were disqualified after changeover issues.
Men's 4x100 relay:
Jimmy Vicaut anchored France to win in the men's 4x100 heat B race ahead of Turkey (38.96). Germany won the 4x100 relay heat A race in 38.34 ahead of Great Britain (38.44). Filippo Tortu anchored Italy to third in 38.47.
Women's 800 metres:
World under 20 silver medallist Audrey Werro from Switzerland dipped under the 2 minutes barrier to win the women's 800 metres in 1:59.95. Switzerland scored a 800 metres double after Ramon Wipfli's surprising win in the men's two-lap race on Friday. Werro set a world under 20 record clocking 2:34.89 in the 1000 metres at the Nikaia meeting in Nice. European under 18, under 20 and under 23 champion Isabelle Boffey from Great Britain finished runner-up in 2:00.39.
Men's hammer throw:
Olympic and European champion Wojciech Nowicki from Poland came out on top with his third round effort of 79.61m. Nowicki produced four more valid throws of 77.53m, 77.68m, 78.21m and 79.28m. Thomas Mardal from Norway finished runner-up with 76.50m.
Women's triple jump:
In the women's triple jump Ottavia Cestonaro took the early lead with 14.03m and improved to 14.09m in the second round. European indoor champion Tugba Danismaz from Turkey leapt to a national record of 14.16m in the second round to take the win ahead of Cestonaro. Maja Askag from Sweden finished third with 13.88m.
-->