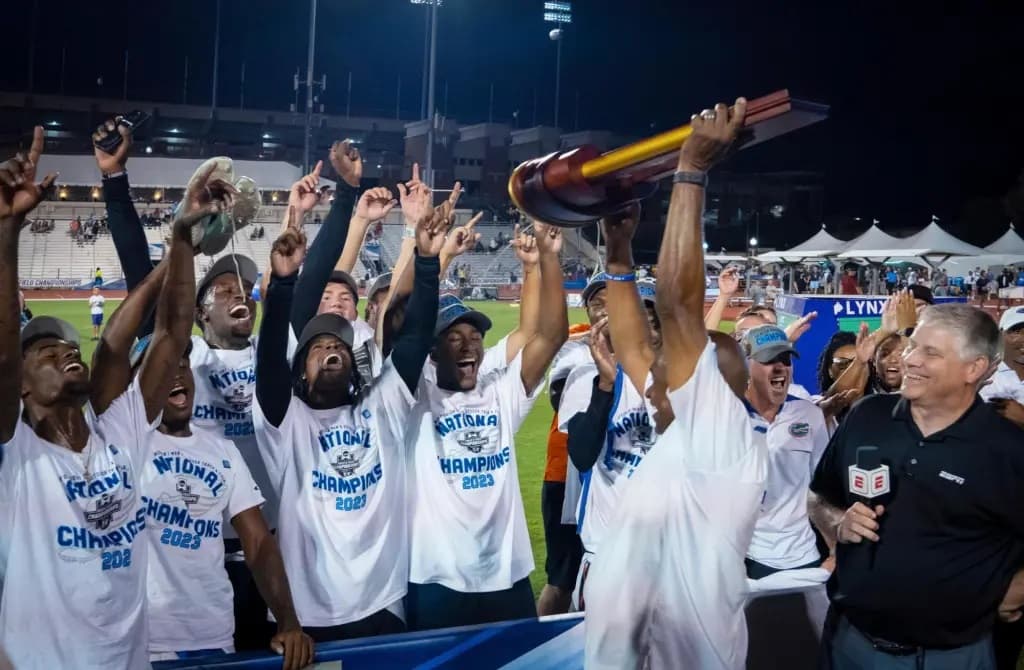 Austin, Texas - Friday, June 9 - Florida Gators win NCAA men's national crown!!!
The Florida men were five points behind Arkansas in the final event of the meet - the 4x400 relay.
NCAA Outdoor Championships RESULTS
Both teams had a quartet entered in the final and the stakes were very high: if the Gators won and the Razorbacks finished no worse than fourth, they would share the national title. In addition to a Florida win, anything else would result in another Gators championship.
To lift Arkansas off its heels, Florida broke its own collegiate record with a time of 2:57.74 at the climactic meet. Unfortunately for the Razorbacks, they finished eighth out of nine teams.
Final score: Florida 57, Arkansas 53.
In four of the past seven years, the Gators have won back-to-back titles.
Florida's men's track and field team won the NCAA Outdoor Championship for the sixth time in program history. This is the 11th National Championship for the men's team and the 14th overall for the Florida Gators track and field program. All 11 men's titles have come under Mike Holloway.
"I'm extremely proud of everybody. Everybody contributed. It was an amazing week. We trust each other, and we put a lot of faith in each other. At the end of the day, this is for the guys, and I'm blessed to be their coach." Said Florida Track and Field head coach Mike Holloway.
Watch Men's NCAA Outdoor Championships 2023 Videos and Highlights
-->