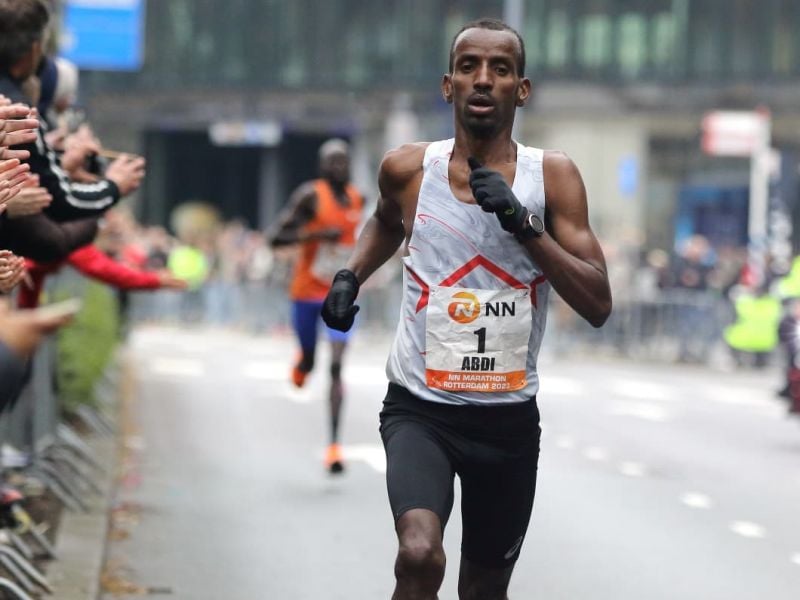 Olympic and bronze medallist Bashir Abdi from Belgium and Eunice Chumba took the honors at the NN Rotterdam Marathon, a World Athletics Gold Label race.
Abdi won the men's race in the Dutch port city for the second time setting the second fastest time of his career with 2:03:47. Abdi's winning time was just 11 seconds shy of the European and course record he set in 2021 when he won in the Dutch marathon in 2h03:36.
A large group ran steadily and went through the 10 km in 29:29 before reaching the halfway mark in 1:02:15. The leading pack featured Bashir Abdi, Timothy Kiplagat, Abdi Nageeye, and Ethiopian top runners Dawit Wolde and Chala Regasa.
They picked up the pace running the 5 km split between the 25 and 30 km in 14:38. The pack was whittled down to five runners. Abdi and Kiplagat pushed the pace breaking away from Wolde, Nageeye, and Regasa with 10 km to go.
They ran neck and neck until the 40 km mark when Abdi launched his attack, opening a gap over Kiplagat, who tried to close it. Abdi went on to cross the finish line at 2:03:47.
"I am very happy to win again in Rotterdam. The weather conditions were not ideal, and the pace changed quite a bit, but I ran my second fastest time ever", said Abdi.
Timothy Kiplagat finished just three seconds behind in a lifetime best of 2:03:50, improving his PB by 90 seconds.
Olympic silver medallist Abdi Nageeye completed the podium finishing third in 2:05:36, one year after setting the national record of 2:04:56 in this race.
Ethiopia's Dawit Wolde also broke the 2:06 barrier to finish fourth in 2:05:46 ahead of his compatriot Chala Regasa (2:06:11).
Former European marathon champion Koen Naert from Belgium finished sixth, improving his PB to 2:06:56 and setting the qualifying standard for the Olympic Games in Paris.
Eunice Chumba from Bahrain won the women's race in 2:20:31, missing her national record by 29 seconds.
The leading pack formed by Chumba, Kenya's Pascalia Jepkosgei, Ethiopia's Meseret Gebre, and Eritrea's Dolshi Tesfu went through the 10 km mark in 32:33. A trio formed by Chumba, Gebre, and Tesfu reached the halfway mark in 1:08:43, inside the pace to break the course record of 2:18:58, set by Ethiopia's Tiki Gelana in 2012.
Chumba and Tesfu ran together until the 35 km mark, which they reached in 1:55.50. Chumba broke away in the final stages before extending her lead over the rest of the field to win with a gap of over a minute over Tesfu, who crossed the finish line in 2:21:35. Chumba's compatriot Rose Chelimo, who won the world marathon title in London in 2017, placed third in 2:26:21.
Chumba finished seventh at the 2021 Olympic Games in Tokyo and third at the Seoul Marathon in a national record of 2:20:02 in 2022.
Fatima Azzahraa from Spain finished fourth in 2:26:44, followed closely by Poland's Alexandra Lisowska at the same time.
Tiki Gelana finished sixth in 2:27:19, setting her fastest time in eight years.
Rottredam Marathon 2023 All Results
TOP RESULTS MEN
1. Abdi Bashir (BEL) - 2:03:48
2. Thimothy Kiplagat (KEN) - 2:03:50
3. Abdi Nageeye - 2:05:32
4. Dawit Wolde (ETH) - 2:05:46
5. Chala Regasa (ETH) - 2:06:11
TOP RESULTS WOMEN
1. Eunice Chumba (UGA) - 2:20:31
2. Tesfu Teklegergish Dolshi (ERI) - 2:21:35
3. Rose Chelimo (UGA) - 2:26:21
4. Fatima Azzahraa Ouhaddou Nafie (ESP) - 2:26:44
5. Aleksandra Lisowska (POL) - 2:26:44