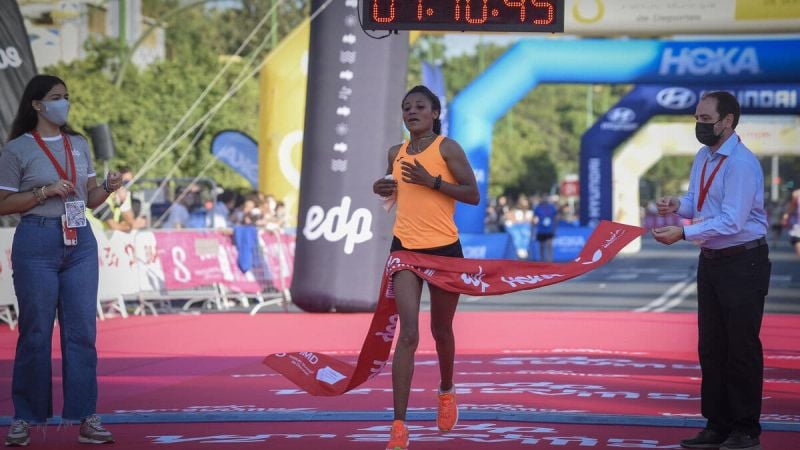 Another Ethiopian world-class runner could produce the headlines of the women's race at the Haspa Marathon Hamburg on 23rd April. A year ago Yalemzerf Yehualaw smashed the course record with a sensational time of 2:17:23 which was also an unofficial world debut record. This time youngster Tiruye Mesfin heads the women's start list with a world-class personal best of 2:18:47. With this time the 20 year-old is the fastest woman marathon runner ever entered into the race. Among a group of athletes with personal bests between 2:22 and 2:25 is Italy's Giovanna Epis, who might want to attack the Italian record on the fast Hamburg course.
Online registration for the 37th edition of the Haspa Marathon Hamburg is still possible at: www.haspa-marathon-hamburg.de
"After last year's sensational race by Yalemzerf Yehualaw we are now looking forward to welcoming another super fast Ethiopian woman to Hamburg. It seems Tiruye Mesfin could produce something special here as well," said chief organiser Frank Thaleiser.
At the age of just 20 Tiruye Mesfin ran one of the fastest marathon debuts ever in Valencia in early December last year. In an extraordinary strong field she was sixth with 2:18:47. With such a time she would have won most of all other international marathons. Additionally Tiruye Mesfin, who started competing internationally in autumn 2021, showed very promising form little over three weeks ago, when she was fourth in the Lisbon Half Marathon with a personal best of 66:31.
Tiruye Mesfin's strongest rival in Hamburg could well be a fellow-Ethiopian: Sintayehu Tilahun is still a newcomer to the international road running circuit as well. The Haspa Marathon Hamburg will be the third race over the classic distance for the 23 year-old. After a 2:45:06 debut win in a small Italian race near Udine in 2021 she ran the Milano Marathon a year ago, finishing second with a huge PB of 2:22:19.
It was in Valencia in December, when Giovanna Epis came agonizingly close to breaking the Italian marathon record. The 34 year-old improved to 2:23:54, missing the record of Valeria Straneo by just ten seconds. The Haspa Marathon Hamburg could be the race for Giovanna Epis to give it another try.
Stella Chesang will run her marathon debut in Hamburg on 23rd April. The multiple national record holder from Uganda has a half marathon PB of 68:11. The Commonwealth Games 10,000 m champion from 2018 has shown strong form recently, when she took tenth place at the World Cross Country Championships in Bathurst, Australia, in February. The Ugandan marathon record of 2:23:13 could be within reach for Stella Chesang.
-->