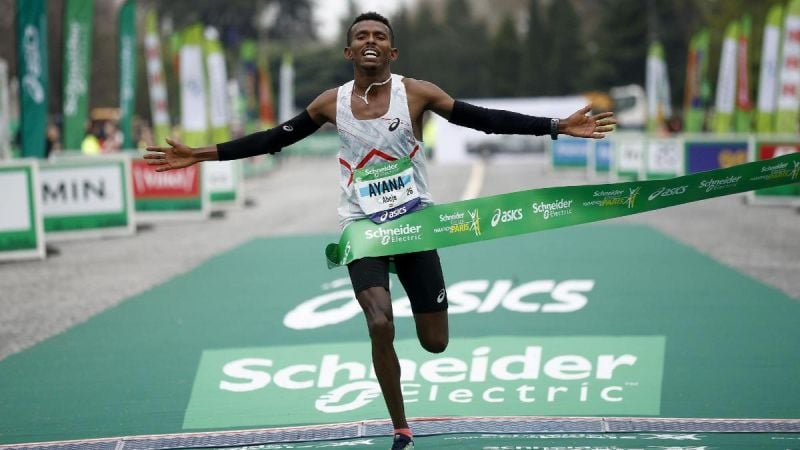 Ethiopia's Abeje Ayana won the Schneider Electric Marathon in Paris in 2:07:15 on his debut over the distance in wet and windy weather conditions. Ethiopia claimed the top spot for the ninth time in the history of the men's race at the Paris Marathon.
Ayana was running the first marathon of his career. The 20-year-old Ethiopian runner set a lifetime best of 59:39 in the half marathon In Poznan in 2021.
Ayana was in contention at 35 km in a four-men leading group featuring Guye Adola, Josphat Boit, and Adeledew Mamo.
Ayana broke away from Adola with 5 km to go opening a lead of 20 seconds over Adola. The young Ethiopian confidently held the lead until the end and broke the tape on Avenue Foch to become the third Ethiopian runner to win the Paris Marathon in the past four editions, following the wins of Abrha Milaw in 2019 and Deso Gelmisa in 2021. Adola, who won the Berlin Marathon in 2021, crossed the finish line in 2:07:35, beating Kenya's Josphat Boit by five seconds.
Helah Kiprop wins the women's race in the final sprint
Kenyan 37-year-old runner Helah Kiprop won the women's race in 2:23:19. Kiprop was lagging more than one minute behind the leading group at 25 km but fought back before holding off Ethiopia's Atalel Anmut to the finish line in a thrilling sprint. Anmut crossed the finish line at the same time in second place. Firkte Weruta completed the podium in third place with 2:23:22.
Kiprop won the Tokyo Marathon in 2016 in her lifetime best of 2:21:37 and the world silver medal in Beijing in 2015.
Kenya has won the women's race in the Paris Marathon eleven times and five of the past seven editions.
The 42.195 km course started from the Champs Elysées before heading through the Bois de Vincennes Park, along the Seine river, looping around the Bois de Boulogne to end in Avenue de Foch.
LEADING RESULTS MEN MARATHON
1. Abeye Ayana (ETH) - 2:07:15
2. Guye Adola (ETH) - 2:07:35
3. Josphat Boit (KEN) - 2:07:40
4. Elkanah Langat (KEN) - 2:08:24
5. Adeledelew Mamo (ETH) - 2:08:49
6. Leonard Korir (USA) - 2:09:32
7. Laban Korir (KEN) - 2:09:34
8. Samuel Tesfamariam (SWE) - 2:09:47
9. Mehdi Frere (FRA) - 2:11:05
10. Evans Sambu (KEN) - 2:12:25
LEADING RESULTS WOMEN MARATHON
1. Helah Kiprop (KEN) - 2:23:19
2. Atalel Anmut (ETH) - 2:23:19
3. Fikrte Wereta (ETH) - 2:23:22
4. Yeshi Chekole (ETH) - 2:23:29
5.Winfridah Moseti (KEN) - 2:23:38
6. Linet Masai (KEN) - 2:24:49
7. Judith Jerubet (KEN) - 2:25:54
8. Etagegne Woldu (ETH) - 2:26:00
9. Solange Jesus (POR) - 2:28:15
10. Ruth Chebitok (KEN) - 2:30:29
11. Lilia Fiskovici (ROM) - 2:34:44
-->