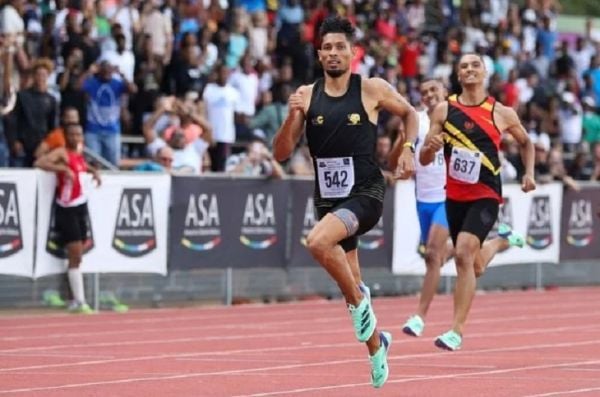 Olympic champion Wayde van Niekerk claimed the South African men's 400m national title on Saturday, 1 April, at the McArthur Stadium in Potchefstroom.
Van Niekerk easily won his heat on Thursday in 45.99. On Friday afternoon, the 400m world record holder won his semi-final heat very comfortably in 44.95.
In the men's 400m final on Saturday, Van Niekerk waited until the final 100m to make his move as he dashed past the World U20 champion Lythe Pillay and Isaac Gardeo to win the race with 44.17. Pilay was second in 44.80. Garedo Isaacs took the bronze in 45.47.
"I feel good. It was a great run, a great competition. Thank you to the crowd — they cheered us on, which became motivating. We are so focused on the race ahead, but it played a big role in crossing the finish line," the 30-year-old Van Niekerk told SuperSport.
Van Niekerk won his fifth SA national championship title in the 400m but his first since 2016. He has also won three national titles at 200m.
Men's 400m Final Results
| Place | Performance | Athlete | Team |
| --- | --- | --- | --- |
| 1 | 0:44.17 | VAN NIEKERK - WAYDE | BOLAND ATHLETICS |
| 2 | 0:44.80 | PILLAY - LYTHE | CENTRAL GAUTENG ATHLETICS |
| 3 | 0:45.15 | ISAACS - GARDEO | WESTERN PROVINCE ATHLETICS |
| 4 | 0:45.47 | NENE - ZAKITHI | KWA-ZULU NATAL ATHLETICS |
| 5 | 0:46.21 | SHEZI - TUMISANG | ATHLETICS GAUTENG NORTH |
| 6 | 0:46.40 | NZWANZWA - ANELE | ATHLETICS GAUTENG NORTH IND |
| 7 | 0:46.55 | SEMENYA - JOEL | ATHLETICS GAUTENG NORTH |
| 8 | 0:47.70 | GELDENHUYS - IVAN DANNY | ATHLETICS GAUTENG NORTH |
South African Athletics Championships 2023 Results
-->