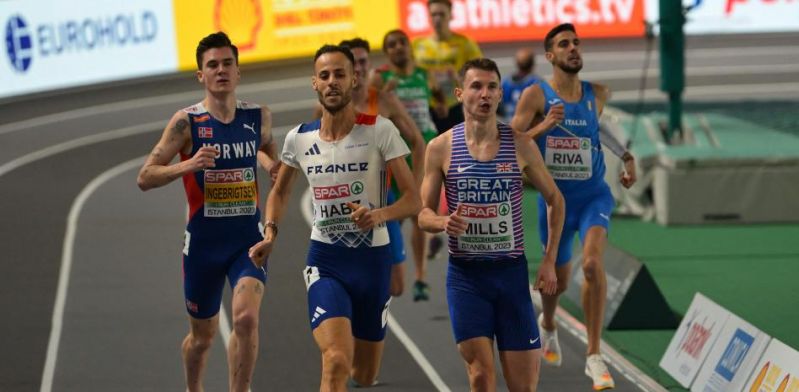 The 2023 European Athletics Indoor Championships kicked off on Thursday, March 2 Night in the Turkish capital.
Olympic 1500 meters gold medallist Jakob Ingebrigtsen from Norway got through the qualifying round with third place in his heat in 3:50.29 behind Hazzedine Habz (3:49.88) and George Mills (3:50.01).
Jakob Ingebrigtsen: "The race was an easy one. I wanted to save as much energy as I could. The pace was slow, and I believe I contributed to it. The goal is to defend both titles. We all feel with Turkish people because of the current circumstances due to the tragic earthquake that hit Turkey. At the same time, we are all grateful to get an opportunity to have Championships, considering all circumstances. It is important to be a part of this championship, and we hope to inspire all people to come, watch and cheer for us. Sport is a good thing in a difficult time. Hopefully, we can contribute and the situation gets better".
Women's qualifying round:
Yaroslava Mahuchik opened her qualifying round at 1.87m in the women's high jump. The Ukrainian jumper failed her first two attempts at 1.87m and passed to 1.91m. She cleared this height on her first attempt to secure her spot in Sunday morning's final.
Yuliya Levchenko had a clean sheet clearing all heights at 1.82m, 1.87m and 1.91 m at her first attempt. Kateryna Tabashnik also advanced with a second-time clearance at 1.91m. Marija Vukovic, who won the European silver medal in Munich, did not advance to the final after failing three attempts at 1.91m. World bronze medallist Elena Vallortigara cleared 1.82m in her second attempt but failed three attempts at 1.87 and did not reach the final.
Yaroslava Mahuchik: "This was the most nervous qualification of my life. I started with two faults, and I said to myself: 'Hey, you should start jumping properly. I am so sorry for my fans and my coach that it was nerve-wracking. Ukraine has a chance to score a medal sweep. Our motivation is very high, and we will want to win and show our best".
Men's triple jump qualifying round:
Olympic, world, and European champion Pedro Pablo Pichardo from Portugal improved his national indoor record to 17.48m in his first attempt.
Pedro Pablo Pichardo: "It was an excellent qualification for me. I jumped the national record and the qualifying round in the first round, which is always very good. I want to bring gold back home; that is the most important thing. I want to jump far, even set another record".
Men's shot put qualifying round:
Olympic finalist Zane Weir produced the best performance of the men's qualifying round in the men's shot put with a throw of 21.46m in the second round. Weir equaled his seasonal best set at the Italian Indoor Championships in Ancona.
Zane Weir: "I am grateful to have the chance to compete again in a high-level competition after the injury, which sidelined me from competitions for most of the outdoor season. I missed the energy of these competitions. I thank my coach Paolo Dal Soglio, who gave me a chance to be in top shape".
European outdoor champion Filip Mihaljevic from Croatia set the second-best performance with 21.20m. Italian indoor champions Leonardo Fabbri from Italy qualified with a throw of 21.17m in the round after two fouls in the first two rounds.
Women's shot put qualifying round:
European outdoor champion Jessica Schilder from the Netherlands produced the best qualifying round with 19.18m ahead of defending champion Auriol Dongmo from Portugal (18.51) and Fanny Roos from Sweden (18.35m).
Women's 800 meters:
European Indoor champion Keely Hodgkinson cruised to a comfortable win in her 800m heat in 2:01.67. Majtie Kolberg from Germany finished second in 2:01.94.
Keely Hodgkinson: "I am so happy with the race. Sometimes the pace was a bit harder than running what I am used to, so I am exhausted. It is extraordinary to defend my title here".
Men's 800 meters:
World silver medallist Amel Tuka from Bosnia and Herzegovina won the fourth heat in 1:47.22, setting the fastest time of the qualifying round. Guy Learmonth from Great Britain finished third in 1:47.51 to earn one of the fastest non-automatic qualifying times.
Italian indoor champion Catalin Tecuceanu won the first heat in 1:47.24 ahead of Spain's Adrien Ben (1:47.32).
Frenchman Benjamin Robert won the fifth heat in 1:47.92, holding off European outdoor finalist Simone Barontini, who also advanced to the semifinal with his second place in 1:47.94. Tibo De Smet from Belgium, who set the national record with 1:45.04 in Luxembourg last January, finished third in his heat in 1:48.43 and did not get through to the semifinal.
Saul Ordonez, who clocked 1:45.88 in Madrid, finished fourth in 1:51.12 in the second heat and did not reach the semifinal.
Women's 3000 meters:
Two-time European indoor medallist Konstanze Klosterhalfen from Germany won the first heat in 8:53.50 ahead of Finland's Camilla Richardson, who improved her PB to 8:53.60. Hanna Klein from Germany won the second heat in 8:59.28 ahead of European under 23 cross country champion Nadia Battocletti (8:59.65). Yasemin Can be advanced to the final in sixth place with 9:01.34.
-->