Vienna City Marathon Features Promising Mix for 40th Edition Race

Posted by:
Watch Athletics
Tuesday, 28 February 2023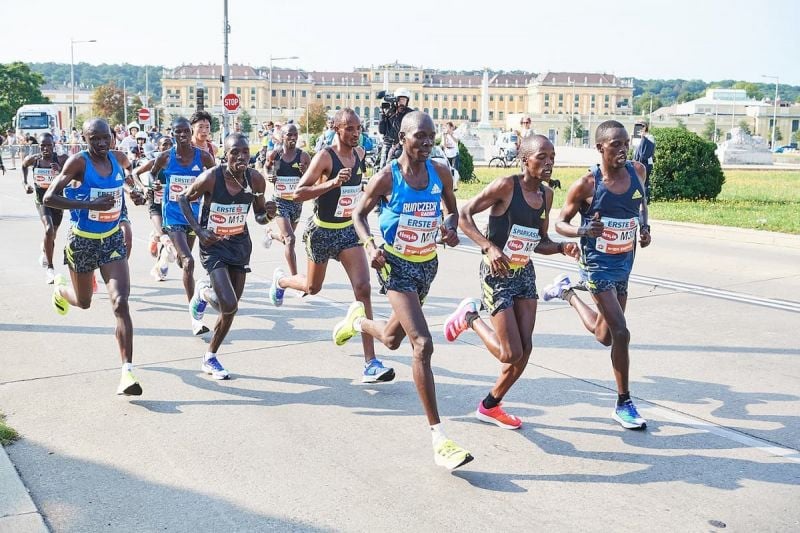 The men's elite race of the Vienna City Marathon promises to present an exciting mix of athletes with different time goals on 23rd April. While a group of Africans will aim to break the long-standing 2:05:41 course record for several other runners, the qualifying time for the World Championships this summer in Budapest is a primary goal. 2:09:40 is the standard for the global championships, and Norway's Sondre Moen will be among those targeting this mark in Vienna.
Organizers of Austria's biggest one-day sporting spectacle expect to register up to 35,000 entries for their event, including races at shorter distances parallel to the marathon. With such a figure, the 40th edition of the Vienna City Marathon (VCM) will almost reach the dimensions of pre-pandemic years. Entry for the VCM, which is a World Athletics Elite Label Road Race and the only one in Austria that features such a high standard is still possible at: www.vienna-marathon.com
There are hopes that the jubilee edition will be crowned by a course record. It was back in 2014 when Ethiopia's Getu Feleke clocked 2:05:41. An athlete who could be capable of such a performance is Samwel Mailu, who ran his debut in last year's Frankfurt Marathon. However, he was only entered into the race as a pacemaker. However, the Kenyan carried on after leading for 30k and managed a fine 2:07:19 debut. He was runner-up in warm weather conditions. While Mailu will run in Vienna for the first time, fellow Kenyan Charles Ndiema returns to the Vienna City Marathon. He finished fourth here a year ago when he clocked his PB of 2:08:12. At least two other athletes are expected to join a leading group that targets the course record: Kenya's Elvis Cheboi and Abe Gashahun of Ethiopia have run very fast half marathons of 59:14 and 59:46 respectively. While Cheboi will run his marathon debut in Vienna, Gashahun will be eager to improve his marathon PB of 2:09:25.
After a period with injuries and below-par performances, Sondre Moen intends to bounce back at the Vienna City Marathon. The main goal for the Norwegian record holder, who ran a European record of 2:05:48 when sensationally winning the Fukuoka Marathon in 2017, will be to qualify for the World Championships at the Vienna City Marathon. "I hope for a positive race in Vienna - physically as well as mentally, "said the 32-year-old Scandinavian. "I plan to run a controlled race with a negative split. Last year was one to forget because of injuries. Now I want to have a good race experience again."
Another non-African runner who opted for the Vienna City Marathon to achieve the 2:09:40 qualifying time for the World Championships is Ser-Od Bat-Ochir from Mongolia. While the 41-year-old multiple national record holder ran the Mongolian marathon record of 2:08:50 back in 2014 in Fukuoka, he broke 2:10 again in Otsu, Japan, two years ago, where he ran 2:09:26. Ser-Od Bat-Ochir, who lives in Japan with his family and is sponsored by the Shin Nihon Jusetsu company, has already participated at ten World Championships. He now wants to improve this record by qualifying for his eleventh start. Last year he finished 26th in Eugene. Ser-Od Bat-Ochir also has been an Olympic marathon runner five times, first competing at the Games in Athens in 2004. "I opted for Vienna because the race is known for producing fast times, and the level of the elite field will suit me," said the Mongolian.
Andreas Vojta could be among others who are expected to join Sondre Moen and Ser-Od Bat-Ochir in the chase for the World Championships qualifying time. There are high hopes in Vienna that the 33-year-old will establish himself as a top Austrian marathon runner on 23rd April. "I want to be 100 percent ready when I will be at the starting line. And I am looking for a time of 2:10," said Andreas Vojta. The former middle distance runner, who competed in the 1,500 m at the London 2012 Olympics and at two outdoor World Championships, also has an eye on the 2:09:40 standard. While he finished last year's Vienna City Marathon in 2:23:21 after running as a pacemaker, this will be his elite marathon debut.
-->