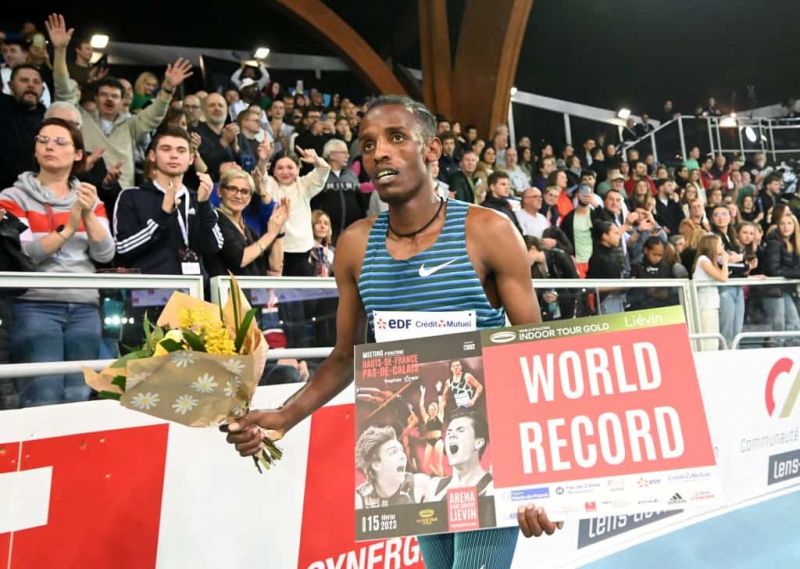 Lemecha Girma's world indoor record highlighted the Meeting Hauts de France Pas de Calais in the men's 3000 meters and six world-leading performances in front of a crowd of 5000 spectators.
Men's 3000 meters:
Lemecha Girma broke Daniel Komen's long-standing world indoor record in the men's 3000 meters, clocking 7:23.81 after a great head-to-head clash against world 1500m bronze medallist Mohamed Katir from Spain. Komen clocked 7:24.98 in Budapest in 1998. Girma set the 11th world record in the history of the Lièvin meeting.
Lemecha Girma: "I am so happy with the result. I was talking about this world record attempt for the past three days. My brother is my coach. He told me I had the record in me. Of course, I believed in him. I feel excellent in training. I am in the best shape ever. The crowd was supportive today, and the pacers and the wavelengths were perfect. It all clicked today. I have raced here several times at this meeting, and the atmosphere and the crowd never disappoint. I hope the record stays for a long time".
Katir also ran faster than the previous world record improving the European indoor history to 7:24.68. Adel Mechaal held the previous European time at 7:30.82 last year.
Mohamed Katir: "I feel lucky to run. I have been preparing for this competition for five months. I have been away from home for a long time to make this record that I have had in mind since 2021. I am thrilled to break it, and I am also pleased to do it in Europe and for me. It is incredible since the European record was set in the United States, and I think that the European record has to be set in Europe."
World 5000m silver medallist Jacob Krop from Kenya finished third with a lifetime best of 7:31.35.
Men's 3000m Results Lievin:
1. Lamecha GIRMA ETH 7:23.81 WR
2. Mohamed KATIR ESP 7:24.68 AR
3. KROP Jacob KEN 7:31.35 PB
4. BALEW Birhanu BRN 7:33.42
5. Grant FISHER USA 7:35.82 PB
6. BEKELE Telahun Haile ETH 7:37.96 PB
7. TEMOI Michael Kiplangat KEN 7:39.38
8. KEDDAR Salim ALG 7:45.94 PB
9. NDIKUMWENAYO Thierry BDI 7:48.38 PB
Men's 1500 meters:
Olympic champion Jakob Ingebrigtsen won the men's 1500 meters, setting a world-leading time of 3:32.40 and the third-fastest indoor time of his career.
Azeddine Habz from France finished second, improving his PB to 3:35.27 ahead of former 3000m European Indoor champion Adel Mechaal, who improved his seasonal best of 3:36.55, and Michal Rozmys from Poland (3:36.96).
Jakob Inbebrigrigtsen: "The first few laps felt good, and in line with my training sessions in the last weeks, but in the second half, I started to feel the training sessions I missed. I was ill for quite a few weeks. I was suffering a lot in the last few laps. My goal here was to test where I am, and it's still fun to race, even if I am not in top shape. My only indoor competition for this season is the European Championship in Istanbul, but I will have to run four races probably. It will be a busy week. If I come back to Liévin next year to run 3:30? That's not enough. I will go for 3:28".
Women's 1500 metres:
World 5000m champion Gudaf Tsegay from Ethiopia clocked a world leading time and the eighth best performance in history of 3:57.47 to win the women's 1500 metres on the track where she broke the world indoor record with 3:53.09 in 2021. Tsegay clinched her third consecutive win on the Liévin track.
Gudaf Tsegay: "My goal was to go under my world record, but I am happy with my performance. This is a sport. It does not always go as planned. Even if you run very fast in training, you don't always run as quickly as you want in a race. My only race left is Birmingham".
Ethiopia filled the top five spots. Hirut Meshesha finished second in 4:02.10, beating Olympic 800m fourth placer Freweyni Hailu (4:02.47) and Axumawit Embaye (4:06.15).
Women's 800 metres:
European indoor and outdoor champion Keely Hodgkinson from Great Britain improved her own world indoor leading time of 1:57.71. Hodgkinson won her second World Indoor Tour Gold race this year one week after finishing first in 1:57.87 in Torun.
Keely Hodgkinson: "Like everyone else, I had a good start and got well behind the pacer. My time after 400m was great—the fastest I have ever achieved. The pacer chopped me up. I had to keep going. A race win, but I was hoping for a better time, but the crowd was so nice. I enjoyed it. I like to think I can run much faster than this. The world record would be nice. I don't know if I can break it this season. There are few chances left, but breaking my British record would be nice. It's nice to be called a record holder. It's good to add this record to my collection, but the records are done to be broken. You will see me competing in Birmingham next and at the European Indoor Championships in Istanbul."
Reigning Commonwealth Games gold medallist Mary Moraa from Kenya finished a distant second in an indoor PB of 2:00.61 ahead of national indoor record holder Noelle Yarigo from Benin (2:01.47).
Women's pole vault:
Olympic and world champion Katie Moon won her back-to-back competition in this year's World Indoor Tour Gold, improving the world-leading mark to 4.83m. Moon had a clean sheet until 4.78m before clearing 4.83m in her second attempt.
World indoor bronze medallist Tina Sutej cleared 4.78m in her second attempt to place runner-up. Alysha Newman from Canada equaled her seasonal best with 4.71m to finish third.
Katie Moon: "I felt a bit tired. My legs just felt flat, but with a world leader, I feel ecstatic. I did the perfect number of jumps and did not take more because of the US Championships this weekend. I did everything on my first attempt, and I am thrilled with that."
Men's pole vault:
World record holder Armand Duplantis won the men's pole vault in Liévin for the third time in his career with 6.01m following his previous victories in 2020 and 2021. Duplantis had a clean sheet at 5.64m and 5.82m before clearing 5.91m and 6.01m in his second attempt.
Armand Duplantis: "This did not feel good. It did not go how I wanted, and I can't explain why. My body just did not respond how I wanted. I felt a bit flat. I feel upset and shifty about it because it is the second time I have had to leave this meeting earlier. I love this place, and it deserves a better bar. I promise I will deliver it before I am done. I started the competition with some bad jumps and never really came into the competition. It's not that I was tired or did hefty training sessions, but I went all over the place in my run-up. Now I need some recovery, but my goal is to break the world record this winter."
Claudio Stecchi equaled the Italian indoor record held by his coach Giuseppe Gibilisco by clearing 5.82m in his first attempt and set the qualifying standard for the European Indoor Championships in Istanbul. Stecchi failed three attempts at 5.91m. Double Commonwealth Games champion Kurtis Marshall from Australia cleared 5.82m in his second attempt to place third on countback.
Claudio Stecchi: "The atmosphere was great. There is a great pole vault tradition in France, and you feel it. I had never been here, but I only heard good things about this meeting. Before today I was not qualified for Istanbul and Budapest. I am now qualified for both events. I set a national record. I felt it was possible to go high. I have been out with injuries for two years, and I am glad to be back. At the European, I want to have fun, because that's what I missed when I was injured. I thank my coach Giuseppe Gibilisco."
Men's 60 metres hurdles:
World indoor record holder Grant Holloway won for the third time in his career in Liévin in the men's 60 metres hurdles in 7.39, beating Daniel Roberts, who improved his seasonal best to 7.43. Three-time world indoor medallist Pascal Martinot Lagarde took third place in 7.62 ahead of Jakub Szymanski from Poland (7.67). Holloway has extended his winning streak to 53 consecutive races in the 60 metres hurdles.
Grant Holloway: "I was looking forward to this meeting and enjoyed it. I can't tell you how many races in a row I have won. I came her to have fun. That's the most important thing. Daniel Roberts and I put up a good fight to the finish line. I am not afraid to be beaten. I will do my best every time I race. I can only lose, but that does not bother me at all. Now I will take a few days off and get ready to compete again in Birmingham for the World Indoor Tour. That will be my last competition of the indoor season. Breaking my world indoor record is possible. I think it is the same about the world record in the 110m hurdles."
Women's 400 metres:
European indoor champion Femke Bol from the Netherlands set the meeting record in the women's 400 metres with 50.20 to win her second consecutive race on French soil four days after clocking the fourth fastest time in history indoors with 49.96 in Metz. Anna Kielbasinska from Poland finished second with 51.20. Natalya Kacmarek from Poland won the B race in 50.90 ahead of European indoor and outdoor 4x400 record holder Lieke Klaver from the Netherlands (51.42).
Femke Bol: "My goal was to go out quicker and to die afterward, and I died, so it's good. That is a good race. Where I can be happy with that, but I hoped to run again at 49. This is the real world, not a dream world. At the National Champs, I will aim to run 49 seconds. The world record is also in my head. I think it's logical you are so close. It's still a bonus since it was never on my list of goals. It's the result of my hard work for summer."
Men's 400 metres:
Olympic 400m hurdles Karsten Warholm from Norway won his second men's 400 metres race of the 2023 indoor season, improving the meeting record to 45.56.
Isaiyah Boers from the Netherlands finished a distant 46.60.
Karsten Warholm: "I tried to break the world record. I failed, but it was still a good race, especially for the second of the season. I am consistent, which is nice. I need to find the right rhythm and faster times will come. I would not say no to the world record, but I will not chase it. My preparation for this indoor season was a bit different. I put in more hours of work in the gym, but also on the track, I feel good with that approach. The European Indoor Championships in Istanbul will be my big goal. I am honestly not sure if I am the big favorite. I am in good shape, but we will see what the other guys do. You never have any guarantees. I will have to fight for that medal."
Women's triple jump:
World finalist Liadagmis Povea from Cuba set the world indoor leading mark of 14.81m in the third round to win her second consecutive competition in the World Indoor Tour this season. Povea also produced two more valid jumps of 14.63m and 14.56m. Her compatriot Leyanis Hernandez placed second with her indoor PB of 14.65m ahead of European outdoor champion Maryna Beck Romanchuk (14.01m).
Men's long jump:
Olympic and European champion Miltiadis Tentoglou from Greece won the men's long jump setting the world-leading mark of 8.41m. Tentouglou showed his consistency by producing three more jumps of 8.32m, 8.34m and 8.37m, which would have earned him the win over Thomias Montler, who produced his best jump of 8.06m.
Miltiadis Tentoglou: "I wanted some good jumps and the world lead. That worked out and I decided to quit after four attempts. I got a DQ after the World Indoor Tour in Torun because of the spikes I wore. I am an athlete. I know which spikes I can wear. I know which spikes are safe for me. The people who decide don't know. Today I jumped with typical long jump spikes, and I jumped further than last week. I like and I feel safe in them. They are soft. I don't wear them to cheat. I can jump in any spike."
Men's 60 metres:
African 100 metres record holder Ferdinand Omanyala from Kenya won the men's 60 metres final in a Kenyan indoor record of 6.54, edging Olympic 100m Marcell Jacobs from Italy (6.57) and Arthur Cissé from Ivory Coast (6.59)-
Ferdinand Omanyala: "When I come to race, I don't look at my competitors. It feels great that I can compete with the best sprinters in the world and even beat them- I knew I had in me to break the national record, especially after the heats where I ran 6.58 with ease. I hate the 60m, but it's getting better. This means that 100m is improving. I am using the indoor season as training to test and improve my speed. Now we are going to the outdoor season. There is no time for a holiday in between. I will have my holiday after the outdoor season."
Marcell Jacobs: "I also learn from defeats. Tomorrow I will work on some aspects that did not work in Liévin. I want to focus on my next competition. I always enjoy competing in Liévin. There is always a good atmosphere. The track is fast and everyone wants to come here to compete."
Women's 3000 metres:
Ethiopia's Diribe Welteji won her second race of the season in the women's 3000 metres in 8:34.84, missing her recent PB by one second. Ethiopia claimed the top three, as world indoor champion Lemlem Hailu finished second in 8:35.15 ahead of Mizam Alem (8:39.03). Sarah Chelangat from Uganda placed fourth in 8:41.16 ahead of Ethiopia's Ayal Dagnachew (8:45.24). European under 23 gold medallist Nadia Battocletti from Italy finished sixth setting the qualifying round for the European Indoor Championships in Istanbul with 8:45.32.
Men's 800 metres:
Frenchman Benjamin Robert won his second consecutive 800 metres race on home soil in 1:46.78 just a few days after victory in Metz. Robert made his breakthrough last June when he won his first Diamond League race in 1:43.75.
Elliott Crestan finished second in 1:47.23 ahead of two-time world medallist Amel Tuka from Bosnia and Herzegovina (1:47.86).
Olympic 4x400 silver medallist Tony Van Diepen was faster than Robert in the B-race with 1:46.38.
-->