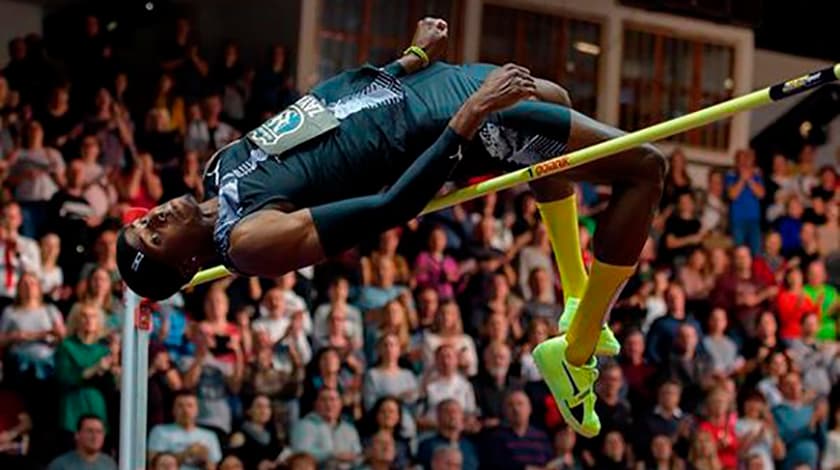 The North-Eastern Italian city of Udine hosted the fifth edition of the Udin High Jump Development. This unique indoor meeting remembers Italian high jumper Alessandro Talotti, who passed away in May 2021 at 40. Talotti placed fourth at the European Championships in Munich and twelfth in the Olympic final in Athens in 2004. He cleared his indoor PB of 2.32m in Glasgow in 2005 and won the European Cup in Florence with 2.30 in 2003. At the end of his career, he founded the Udin Jump Development meeting in his home city Udine with former high jumper Massimo Di Giorgio (European indoor bronze medallist in Budapest 1983) and high jump coach Mario Gasparetto, who was the coach of Talotti. Many past athletes, including high jump world record holder Javier Sotomayor, 2003 pole vault world champion Giuseppe Gibilisco and former 1500m Olympic champion Gabriella Dorio were among the guests at this edition of the meeting at the Pala Indoor Ovidio Bernes.
The women's field featured three of the top four athletes of last year's edition of the World Championships in Eugene: gold medallist Eleanor Patterson from Australia, bronze medallist Elena Vallortigara from Italy and fourth placer Iryna Gerashchenko from Ukraine.
Gerashchenko cleared 1.93m in her second attempt to win the women's competition beating Patterson on countback. The Ukrainian jumper produced a clean sheet up to 1.87m and cleared 1.90m and 1.93m on her second time asking.
Erin Shaw from Australia, born in 2004, equaled her indoor PB of 1.90m in her second attempt to place third. Shaw jumped the same height in Hustopece last Saturday.
Vallortigara had a clean sheet until 1.87m equalling her seasonal best set in Siena last week, but she failed three attempts at 1.90m.
Cuba's Louis Zayas won the men's high jump on countback with 2.24m on his second attempt beating world bronze medallist Andiy Protsenko, who needed three attempts to clear this height. Both Zayas and Protsenko made three unsuccessful attempts at 2.27m. Zayas won his second competition in a row after taking first place in Trinec with 2.26m on Tuesday.
Marco Fassinotti cleared 2.16m to place third before failing three attempts at 2.20m.
Javier Sotomayor, who wants to follow in the footsteps of his father, Javier Sotomayor, cleared 1.96m. Javier was born in 2007 and won the Spanish under 16 indoor championships in 2021.
-->