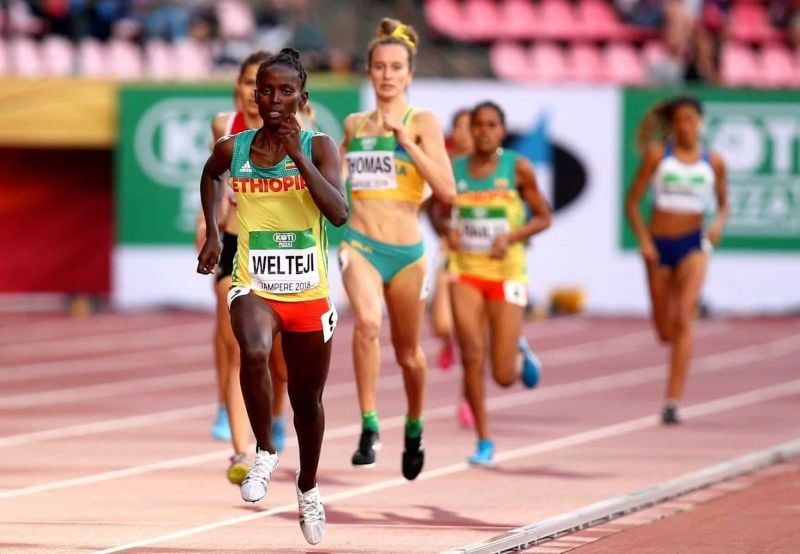 Ethiopian runner Diribe Welteji believed she had finished the 3000m race at the Meeting de l'Eure on Sunday (5), but in reality, she still had one lap remaining.
Welteji completely stopped and sat down on the track before discovering she had one more lap after one of the meet officials reminded her she had one whole lap to go. The Ethiopian returned to the race and still ran a 3000m World lead of 8:33.43.
The process of stopping and resuming cost Welteji about 10 seconds. If she did not make that mistake, she could have finished with a top-10 all-time result.
Welteji started her international career with a world under 20 gold medal in 800 meters in Tampere 2018 and went on to win under 20 silver in the 1500 meters in Nairobi 2021. Last July, she finished fourth in the 800 meters final at the World Championships in Eugene in 1:57.02.
Meeting de l'Eure Women's 3000m results
1. WELTEJI Diribe (Eth) - 8'33''44
2. ALEMAYEW Sembo (Eth)8'35''04
3. KLEIN Hanna (Ger) - 8'36''42
4. LUNA SAMBRAN Fedra Aldana (Arg) - 8'57''59
5. BORELLI Florencia (Arg) - 8'58''59
6. MARKOVC Amy Eloise (Gbr) - 9'00''16
7. MONONEN Ilona (Fin) - 9'24''88
MOUCHET Charlotte (Fra) - DNF
SELMAN Jenny (Gbr) - DNF
-->