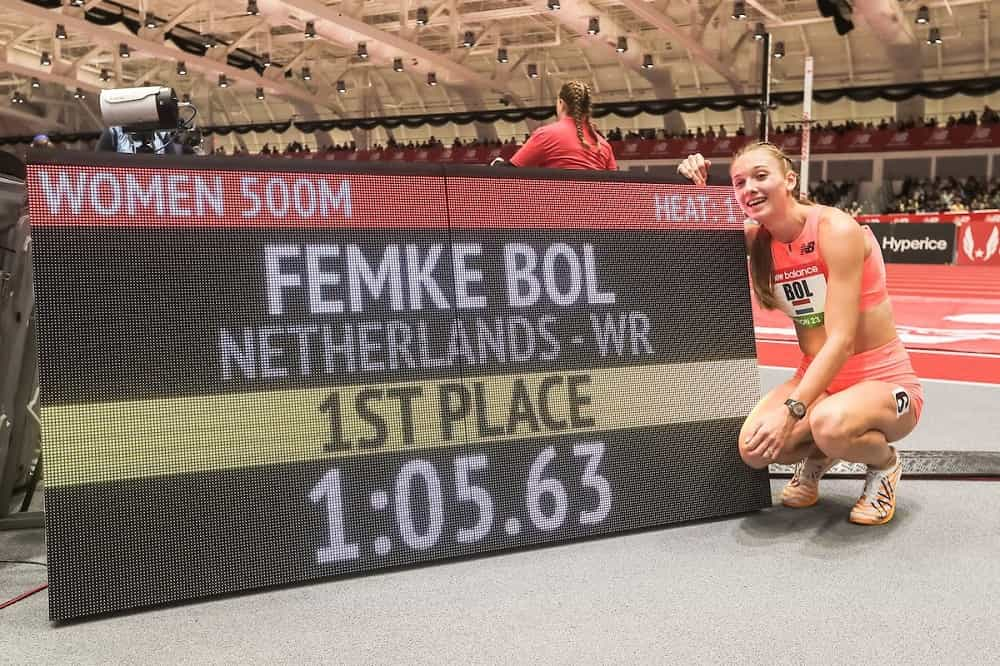 World 400 meters hurdles silver medallist Femke Bol broke Olesya Krasnomovets Forsheva's world indoor all-time best in a rare 500 meters with 1:05.63 at the New Balance Indoor Grand Prix in her opening competition of the indoor season at the sell-out new indoor facility. Krasnomovets clocked 1:06.31 on 7 January 2006. Bol becomes the first woman to run the 500 meters indoors under 1:06.
Bol set the second world record of her career after her 36.86 in the 300 meters hurdles in Hengelo last June. The Dutch athlete is coming off a very successful 2022 season in which she won two world silver medals in the 400 meters hurdles and in the 4x400 mixed relay in Eugene and three European gold medals in the 400 meters, the 400 meters hurdles, and in the 4x400 relay.
Femke Bol: "I thought I was behind the pace. I tried to push hard until the end. I enjoy indoor races. I hoped to get close to the world record, but I have never run the 500 meters. It's my first indoor race over this distance. You have no idea at the end. You train hard, but you don't know when you will start competing. I think it's even faster than we expected. I think running a bit longer is never a bad thing because I hope the 400m will feel a bit easier then. I wanted to go out fast and keep on going. It was amazing. I could hear the crowd in the last 100 meters, which helped me so much. It was fun to do 500 meters to start the season".
Leah Anderson finished second, setting a Jamaican indoor record with 1:08.34.
Men's 60 meters final:
Double 200 meters world champion Noah Lyles edged out Trayvon Bromell by two-thousandths of a second in a close photo-finish, improving his PB by 0.04 to 6.51. Benjamin Azamati from Ghana placed third in 6.62 to edge out Puerto Rican record holder Miles Lewis, who missed his national record by 0.02.
Lyles is running the 60 meters to improve his start as he bids to win the 100m and the 200 meters at the World Championships in Budapest. The US star is chasing Usain Bolt's 200 meters world record.
Noah Lyles: "I have been waiting for my PB for a long time. We are not just coming for the 200 meters world record. We are coming for all the world records. I have got a PB that is close to 6.40. In the next meeting, I feel I can get below that."
Men's 60 meters hurdles:
World indoor champion and record holder Grant Hollway won the men's 60 meters hurdles for the second consecutive edition of the New Balance Indoor Grand Prix, setting two world seasonal best times with 7.39 in the heats and 7.38 in the final. Holloway extended his nine-year winning streak in the 60 meters hurdles that date back to 2014 when he was 16 years old.
Grant Holloway: "The streak is for you guys (referring to the media). My job is to come out here and do what I do best. I want to execute at the highest level. I made some technical errors that I could clean up, but it was my second race of the season. I am excited about what will happen in two weeks. It's a new year, so the record is O-0, and the main goal is to get to the World Championships in Budapest".
Daniel Roberts finished runner-up in 7.46, edging NACAC Championships gold medallist Freddie Crittenden (7.55), and 2021 NCAA champion Robert Dunning (7.61). World Championships silver medallist Trey Cunningham, who won the world outdoor silver medal behind Holloway, placed fifth in 7.67.
Women's 60 meters:
World Championships 100m finalist Aleia Hobbs stormed to 7.02m to win the women's 60 meters final after clocking 7.08 in the heats. With this performance, Hobbs backed up her recent PB of 6.98 set in Fayetteville last week. Hobbs has become the third fastest US sprinter in history over this distance, behind Gail Devers and Marion Jones.
Aleia Hobbs: "It did not feel fast, but as my coach said, if it feels easy, then that's when you know you are running fast. We had different blocks, so I was a little nervous about that, but I could make it work. The most important is to stay healthy."
World indoor silver medallist Mikiah Brooks placed second in 7.10 ahead of Celera Barnes (7.21), Kaya White (7.22), and 2015 world under 18 champion Candace Hill (7.23).
The much-anticipated showdown between Sydney McLaughlin and Shericka Jackson did not materialize as both failed to advance to the final. World 400m hurdles champion and record holder Sydney McLaughlin finished fifth in the first heat in 7.33 in her first-ever race over this distance. Brisco won the second heat in 7.15, beating White (7.21). World 200 meters champion Shericka Jackson placed fifth in the second heat in 7.34.
Women's 300 meters:
Olympic 200 meters bronze medallist Gabby Thomas won the women's 300m at the New Balance Indoor Grand Prix for the sixth time in her career, setting a world-leading mark in 36:31 ahead of Anna Kielbasinska, who improved her PB to 36.41, Lynna Irby (36.62) and Jenna Prandini (38.16).
Women's pole vault:
Bridget Williams, who finished seventh at the World Championships in Eugene last summer, improved her PB to 4.77m in her third attempt to win the women's pole vault. Williams tried three shots at the world-leading height of 4.83m.
Gabriela Leon finished runner-up with 4.55, beating 2016 Olympic champion Katerina Stefanidi on countback. Stefanidi missed three attempts at 4.63m. Olympic and world outdoor champion Katie Moon had to settle for fourth place with 4.45m.
Women's 60 meters hurdles:
World indoor silver medallist Devynne Charlton improved her seasonal best to 7.87 to win the women's 60 meters hurdles in 7.87 ahead of former world indoor finalist Sharicka Nelvis (7.93). Australian heptathlete Celeste Mucci improved her PB to 7.95 to hold off former world outdoor champion Danielle Williams (7.97).
Women's 3000 meters:
Two-time European outdoor champion Laura Muir made a winning start to her indoor season in the women's 3000 meters in 8:40.34. British athletes filled the top four positions. Melissa Courtney Bryant finished second in 8:41.91 ahead of Katie Snowden and Hannah Nuttall, who improved their PBs to 8:47.41 and 8:47.72, respectively.
Men's 3000 meters:
The top eight athletes improved their PBs. Woody Kincaid followed his new US indoor 5000 meters record last week with a win in the World Indoor Tour gold meeting in Boston in the men's 3000 meters in 7:40.71. US Christian Noble finished second in 7:42.55, beating James West from Great Britain (7:42.89) and Morgan Beadlscomb (7:42.90).
Women's mile:
Last year's NACAC Championships gold medallist Heather Maclean held off Canada's Lucia Stafford to take a close win in the women's mile in 4:23.42. Maclean went through at 1500 meters split in a world-leading time of 4:06.07. Stafford finished second, improving her PB to 4:23.52. Esther Guerrero improved the Spanish record to a leading European time of 4:24.92 to place third.
Men's 800 meters:
Mariano Garcia took his second consecutive win in the men's 800 meters at the New Balance Indoor Grand Prix in a seasonal best of 1:45.26. Last year Garcia won at this meeting in 1:45.12 and went on to win the world indoor title in Belgrade and the European outdoor gold medal in Munich. Isiah Jewett placed second, improving his PB to 1:45.75. Double European bronze medallist Mark English took third place in 1:46.57, edging world indoor bronze medallist Bryce Hoppel by 0.01.
Women's 800 meters:
World indoor champion Ajée Wilson won the women's 800 meters in 2:00.45, extending her winning streak that dates back to the World Indoor Championships in Birmingham in March 2018.
Men's mile:
Neil Gourley from Great Britain took a narrow win over long-time leader Samuel Tanner from New Zealand by just 0.01 in a thrilling final sprint in a world-leading time of 3:52.84. Gourley's performance ranks third among British indoor performances. US middle-distance runner Sam Prakel took third place in 3:53.58.
Men's 400 meters:
Noah Williams clinched a narrow win in the men's 400 meters in 45.88, edging world indoor champion Jereem Richards, who shared the same time.
Men's high jump:
Commonwealth Games bronze medallist Tejasvin Shankar had a clean sheet of up to 2.26m to win the men's high jump ahead of former world champion Donald Thomas from the Bahamas (2.23m).