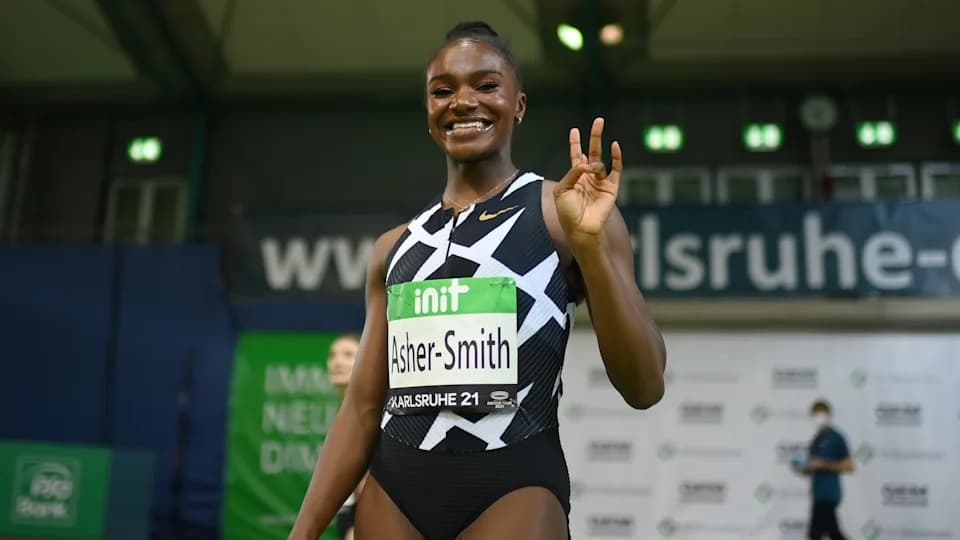 The World Indoor Tour Gold kicked off in a sold-out Messe Halle 3 in Karlsruhe with seven world-leading performances and a new meeting record in the women's 60 metres.

Women's 60 metres:

Dina Asher-Smith broke the British 60 metres record with 7.04 equalling the long-standing meeting record held by Irina Privalova since 1996. Asher-Smith had previously improved her PB by 0.01 in the heats with 7.07. The British 27-year-old sprinter won the 60m in Karlsruhe for the third time in her career after claiming victories in 2015 and 2021.

Dina Asher-Smith: "I always love racing here. I am so happy to come away with a PB and a national record. I have had a good winter, so I have been excited to get back out there. The crowd helped me 100%. The last time I came here, it was in the mid of Covid and there was no crowd, so thank you to Germany for making this an incredible meeting."

Former European indoor champion Ewa Swoboda placed second in 7.09, repeating the time she clocked in the heats earlier in the meeting. World Indoor champion Mujinga Kambundji opened her season with third place in 7.11 after clocking 7.15 in the heats. Darryl Neita placed fourth in 7.16.
Malaika Mihambo tested her speed by clocking 7.43 ahead of her seasonal debut in the long jump in Dusseldorf.
Women's 3000 metres:
World Indoor champion Lemlem Hailu from Ethiopia claimed an all-Ethiopian race in the women's 3000 metres in a world-leading time of 8:37.55, holding off world 3000m steeplechase silver medallist Weruha Getachew (8:37.98) and Dawit Seyaum (8:39.20). Steeplechase specialist Zerfe Wondemagegn placed fifth in 8:42.90. Marta Perez from Spain was the top European athlete in sixth place with 8:44.91.
Women's 800 metres:
World Championships finalist Anita Horvat from Slovenia edged out world indoor silver medallist Freweyni Hailu by 0.02 from Ethiopia in 2:00.44 in a very close finish. Both Horvat and Hailu improved their indoor PBs. Hailu followed the pacemaker, who went through halfway in 57.70. Hailu led through the 600m mark, but Horvat clawed back the deficit and drew level with Hailu on the home straight to take a very narrow win. Lore Hoffman from Switzerland came through to place third in 2:01.40.
Men's 1500 metres:
George Mills from Great Britain won the men's 1500 metres setting the world seasonal lead and his PB with 3:35.88. Isaac Nader from Portugal placed second in 3:37.29 ahead of Federico Riva from Italy, who narrowly missed the national record with 3:37.36.
George Mills: "I felt excellent today. I have had a good last two or three months of training since I returned from the off-season. It was nice to put the hard work into place today and show what I can do on the track. For the last ten weeks, I have based myself in Dullstrom (South Africa) for some nice weather and a bit of altitude. I will probably run a couple of more times in Europe this winter season and hope to qualify for the European Indoors, although the British team is super strong".
Men's 3000 metres:
Seventeen-year-old Abdisa Fayisa from Ethiopia won the men's 3000 metres in a world-leading time and a world indoor age 17 best of 7:40.35 (10th fastest under 20 time in history) ahead of Robin Hendrix from Belgium, who set a leading European time improving his PB by six seconds with 7:40.53, Adisu Girma from Ethiopia placed third in 7:41.53 ahead of Mohamed Abdilaahi from Germany (7:41.88). Hendrix launched his kick with 200 metres, but Fayisa reduced the deficit and caught Hendrick just before the finish line taking the win.
Men's pole vault:
KC Lightfoot had a clean sheet clearing all heights up to 5.83m to win his first World Indoor Tour competition in the men's pole vault ahead of Australia's Kurtis Marshall and Greece's Emmanouil Karalis on countback. Karalis improved his overall PB and the leading European mark.
KC Lightfoot: "I jumped more than I wanted to, considering I am planning to jump in two days. Overall it was a good experience again. I am glad to come back out here, and I will hopefully keep coming back to Karlsruhe every year. It's always nice when the others are jumping well. One person who jumps well leads another to do well and so on. I have three more European competitions; then I will return to the United States before the US Championships in the middle of February."
Women's triple jump:
Olympic and world finalist Liadagmis Povea from Cuba won the women's triple jump setting the world-leading mark and her indoor PB with 14.64m. Povea consolidated her lead with a second-best mark of 14.52m. Her compatriot Leyanis Perez Hernandez completed the Cuban double by finishing second with 14.45m beating European, outdoor champion Maryna Beck Romanchuk from Ukraine (14.41m).
Men's 60 metres hurdles final:
European Under 23 silver medallist, Enrique Llopis from Spain, clinched a very narrow win in the men's 60 metres hurdles in 7.57, holding off his compatriot Asler Martinez by two-thousandths of a second. Jakub Szymanski from Poland placed third in 7.60. last year's NCAA Outdoor Championships second placer Eric Edwards placed fourth in 7.63. Just Kwaou Mathey from France finished fifth in 7.65. Earlier in the evening, Szymanski and Kwaou Mathay clocked their PBs of 7.57 to win their respective heats.
Enrique Llopis: "I did not know I had won the race. I thought my friend Asler Martinez was the winner, although we shared the same time. Two days ago, I clocked 7.55 and 7.57 today, so that's consistent".
Women's long jump:
World indoor champion and European outdoor gold medallist Ivana Vuleta opened her indoor season with a win in the women's long jump with a world-leading mark of 6.76m in the opening round. Vuleta jumped off a short approach. Agata de Sousa placed runner-up with 6.66m ahead of German Championships second placer Maryse Luzolo (6.62m).
Ivana Vuleta: "When you win, you have to be satisfied, at least with the place. This was my first competition this season and I jumped out of the short approach. I was focusing on some technical details since it is the end of January, and I have plenty of time for the European Indoor Championships to work on speed and a longer approach. I hope to reach 7 metres in this indoor season. I am happy to be here after four years, and I want to thank everyone for the great atmosphere".
Women's shot put:
Auriol Dongmo from Portugal scored the second win of her career at the INIT Indoor meeting in Karlsruhe with her seasonal best of 18.90m in the fourth round. Dongmo set the meeting record with 19.65m in 2021. Reigning Commonwealth Games champion Sarah Mitton from Canada placed second with 18.88m ahead of Danniel Thomas Dodd from Germany (18.77m) and Jessica Schilder from the Netherlands (18.76m). World champion Chase Ealey had to settle for sixth place with 18.61m.
Sarah Mitton: "The competition was okay. I felt like I was a little off my aim tonight. The fifth attempt was about 19 metres. It was at least over the line, which I would have been happy with. I threw 18.90m a week ago. I was calm and I plan to bring it back down again".
Men's 400 metres:
World indoor Championships fourth placer Benjamin Lobo Vedel won the men's 400 metres in 46.45 ahead of reigning European Indoor champion Oscar Husillos from Spain (46.63) and Alexander Doom from the Netherlands (46.68).
-->