Leanne Pompeani and Jack Rayner win Australian 10,000m titles at Zatopek:10

Posted by:
Watch Athletics
Thursday, 15 December 2022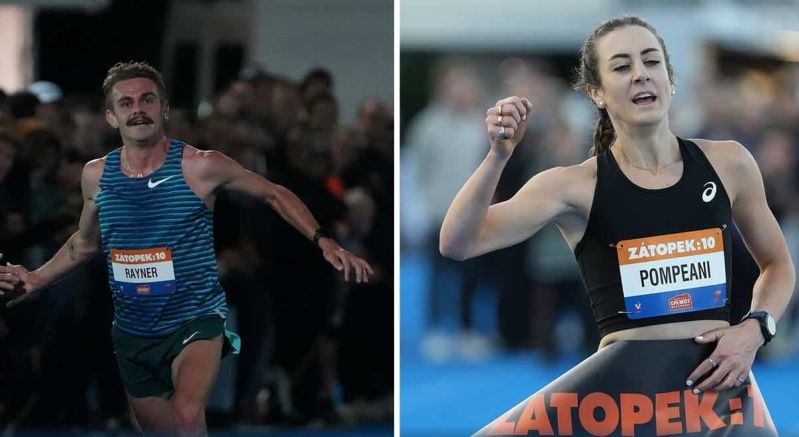 Leanne Pompeani and Jack Rayner won Australian 10,000m championships at the 62nd edition of Zatopek:10 on Thursday night. Amy Bunnage clocked a new Australian Under 18 record in the 3000m.
Canberra's Leanne Pompeani (ACT, Des Proctor) dominated the women's 10,000m race to win her first Australian national title with a finishing time of 32:20.35.
"This is my first open national title and it feels good to do that at Zatopek at a big event," Pompeani said. "It's one I'll remember. I wasn't planning on taking the lead that early but things just happen and it's got to be someone so I thought why not give it a try."
After a relatively slow first half of the race, Pompeani surged in the lead with 10 laps remaining, with Olympians Rose Davies (NSW, Scott Westcott) and Izzi Batt-Doyle (SA, Nic Bideau) chasing. Eventually, the defending champion,Davies, and Batt-Doyle could not keep up with the race leader as Pompeani powered home to the most significant victory of her career.
"It's definitely a lot of pressure (running with Davies). I know she's been training so well, so I didn't know what she would do tonight but it did feel like she was biding her time. She probably has more of a kick than me so I knew I just had to keep this pace honest," she said.
Batt-Doyle took silver, with back-to-back champion Davies claiming bronze.
In the men's race, Jack Rayner (VIC, Nic Bideau) successfully defended Australian 10,000m title with a prevalent exhibit in the final kilometers.
"I always love Zatopek. I've missed out on a couple of years due to injuries but I think that was my seventh time doing it. I've grown up doing it since I was 18 or 19 but I've gotten better each year, some years not so good, but it's nice to get my stride going now," Rayner said.
The win concludes an incredible year for the Australian record holder in the road 10k (27:43) and 10,000m on the track (27:15.22).
"It's been my best year without a doubt. I've run PB's and two Australian records. I'm over the moon and hopefully I can keep the ball rolling next year into World Cross Country and World Champs," Rayner said. "I knew I had never reached my potential on the track but it didn't always translate to racing," he added.
Andre Waring (VIC, Steve Dineen) and Jack Bruce (QLD, Collis Birmingham) took send and third place in the men's 10,000m, respectively.
In the women's U18 3000m race Amy Bunnage (VIC, Tim O'Shaughnessy) set a new Australian U18 record of 9:00.60, breaking Eloise Wellings' record from 1999 by nearly two seconds.
See the complete 2022 Zatopek:10 Results.
-->