Valencia Marathon 2022 Men's and Women's Elite Field

Posted by:
Watch Athletics
Thursday, 01 December 2022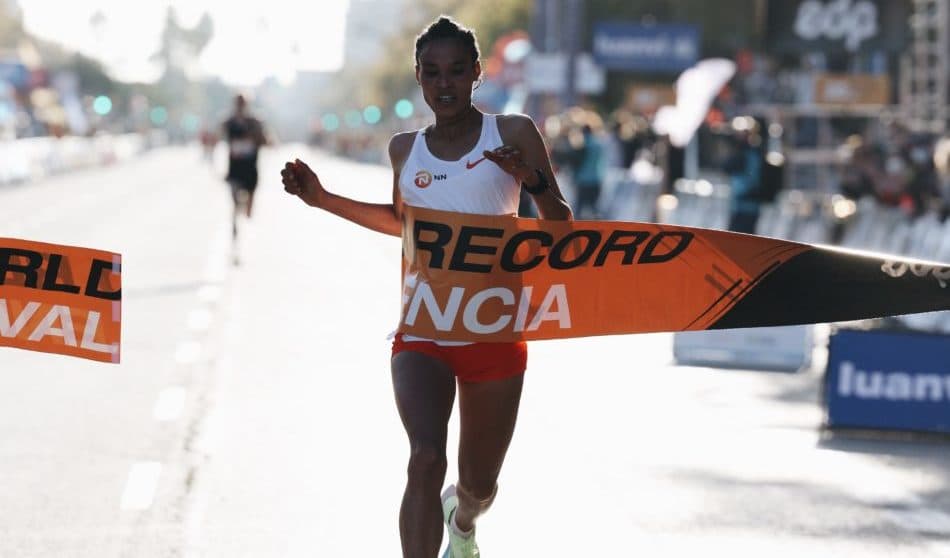 Valencia Marathon 2022, a World Marathon Majors road race, men's and women's elite fields.
The 2022 edition of the Valencia Marathon takes place on Sunday, December 4, at 8:15 Central European Time (GMT +1).
Ethiopia's World Champion, Tamirat Tola, will be one of the big names on the elite list for the 2022 Valencia Marathon.
Letesenbet Gidey (ETH), the World record holder over the 5000m and half marathon, will make her marathon debut.
Below are the final men's and women's elite runners' entries.
Men's Elite Field
Getaneh Molla (Ethiopia) - 2h03:34
Tamirat Tola (Ethiopia) - 2h03:39
Dawit Wolde (Ethiopia) - 2h04:27
Jonathan Korir (Kenya) - 2h04:32
Hiskel Tewelde (Eritrea) - 2h04:35
Chalu Deso (Ethiopia) - 2h04:53
Gabriel Geay (Tanzania) - 2h04:55
Workineh Tadesse (Ethiopia) - 2h05:09
Goitom Kifle (Eritrea) - 2h05:28
Lencho Tesfaye (Ethiopia) - 2h06:18
Geoffrey Kirui (Kenya) - 2h06:27
Amanal Petros (Germany) - 2h06:27
Shumi Dechasa (Bahrein) - 2h06:43
Samuel Tsegay (Sweden) - 2h06:53
Simon Kipkosgei (Kenya) - 2h07:07
Ronald Korir (Kenya) - 2h07:29
Bethwell Kipkemboi Ruto (Kenia) - 2h07:41
Isaac Mpofu (Zimbabwe) - 2h07:56
Zane Robertson (New Zealand) - 2h08:19
Mehdi Frére (France) - 2h08:55
Christian Pacheco (Peru) - 2h09:31
Ian Butler (Estados Unidos) - 2h09:45
Paulo Paula (Brazil) - 2h09:51
Alexander Mutiso (Kenya) - Debut
Philemon Kiplimo (Kenya) - Debut
Kelvin Kiputo (Kenya) - Debut
Milkesa Mengesha (Ethiopia) - Debut
Zerei Kbrom Mezngi (Norway) - Debut
Women's Elite Field
Sutume Kebede (Ethiopia) - 2h18:12
Tiki Gelana (Ethiopia) - 2h18:58
Etagegne Woldu (Ethiopia) - 2h20:16
Amane B. Shankule (Ethiopia) - 2h20:48
Tadelech Bekele (Ethiopia) - 2h21:40
Monicah Ngige (Kenya) - 2h22:13
Biruktayit Eshetu (Ethiopia) - 2h22:40
Meseret Gebre (Ethiopia) - 2h23:11
Adawork Aberta (Ethiopia) - 2h23:39
Majida Maayouf (Morocco) - 2h24:09
Sinead Diver (Australia) - 2h24:11
Fancy Chemutai (Kenya) - 2h24:27
Letesenbet Gidey (Ethiopia) - Debut
Sheila Chepkirui (Kenya) - Debut
-->