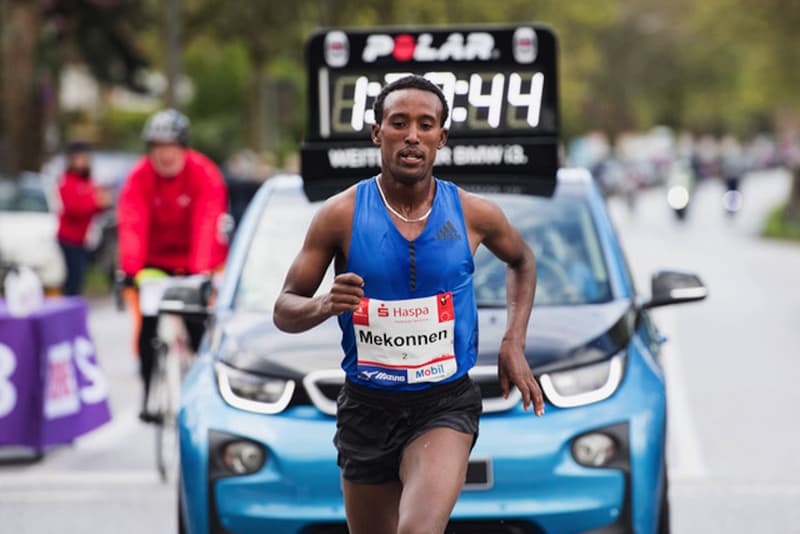 With the strongest field in its history the GENERALI MUNICH MARATHON will take place on Sunday. The unofficial world junior record holder Tsegaye Mekonnen and fellow Ethiopian Mare Dibaba, who was the marathon World Champion in 2015, head the start lists. Their personal bests of 2:04:32 and 2:19:52 respectively make them the fastest runners ever entered in the traditional Bavarian race. For the first time in over 20 years an international elite field was assembled for the 36th edition of the GENERALI MUNICH MARATHON. Organisers hope that both course records will fall on Sunday.
A total of around 18,500 runners are expected total part. About 5,000 of them will run the classic distance which starts and finishes inside the Olympic Stadium. The GENERALI MUNICH MARATHON is an Elite Label Road Race of the international athletics federation, World Athletics. The race will start at 9.00 am on Sunday and a live stream is available at: www.generalimuenchenmarathon.de
50 years after winning the Olympia marathon gold medal in Munich Frank Shorter is back in the city as a guest of honor. "I am very happy to have the opportunity to be back in Munich - the city where I was born in 1947 and where I celebrated my biggest career win in 1972," said 74 year-old Frank Shorter.
"We are looking forward to the strongest elite line-up in our history. With the former World Champion Mare Dibaba and the runner who holds the unofficial world junior record, Tsegaye Mekonnen, we managed to get two big names to Munich for the return of the elite fields. Since weather predictions are favourable we hope that both course records will be broken on Sunday," said Race Director Gernot Weigl.
Tsegaye Mekonnen caused a major upset when he took the Dubai Marathon in 2014 aged just 19 years old. His time of 2:04:32 still stands as the unofficial world junior record (World Athletics does not ratify junior records in the marathon). In 2017 Mekonnen also won the Hamburg Marathon. Now 27 years old the Ethiopian has not competed over the classic distance since 2018 and now intends to come back with a strong performance in Munich. "I had injury problems and then the pandemic played its part as well, so I did not run a marathon for three years. Now my training has gone well and I intend to run a 2:06 on Sunday," said Tsegaye Mekonnen.
Two other runners are on the start list with personal bests of sub 2:10 and below the 2:09:46 course record: Ethiopia's Mengistu Zelalem has a PB of 2:08:48 while Kenya's Edwin Kimaiyo is in a similar range with 2:09:12. Current a half marathon split time of around 64:00 is targeted for the first group.
A big improvement of the course record seems possible for the women in Munich. Germany's Susanne Hahn established the current mark of 2:32:11 ten years ago. Mara Dibaba heads the women's field with a world-class personal best of 2:19:52. Besides the World Champion of 2015 and Olympic bronze medallist from 2016 there are two fellow-Ethiopians who have run under 2:25: Atsede Bayisa has a fine personal best of 2:22:03 and Aberu Zennebe has a PB of 2:24:30. "I have prepared for three months and my goal is to run a personal best", said Aberu Zennebe. A winning time of sub 2:25 might well be within reach on Sunday since it is planned that the first group reaches the half way mark in around 71:30. There are eight athletes on the start list who have run under 2:30.
Elite runners with personal bests:
Men:
Tsegaye Mekonnen ETH 2:04:32
Mengistu Zelalem ETH 2:08:48
Edwin Kimaiyo KEN 2:09:12
Meshack Koech KEN 2:10:17
Emmanuel Sikuku KEN 2:11:05
Ngonidzashe Ncube ZIM 2:11:46
Justus Kangogo KEN 2:13:34
Berhane Tesfay ERI 2:14:42
Vincent Kiprotich KEN Debüt
Philimon Kipchumba KEN Debüt
Rodgers Keror KEN Debüt
Sebastian Hendel GER Debüt
Women:
Mare Dibaba ETH 2:19:52
Atsede Bayisa ETH 2:22:03
Aberu Zennebe ETH 2:24:30
Agnes Keino KEN 2:25:08
Viola Yator KEN 2:26:51
Mercy Kwambai KEN 2:27:32
Souad Kambouchia MAR 2:27:49
Helen Jepkurgat KEN 2:29:10
Caroline Nahimana BUR 2:30:09
More information about the GENERALI MUNICH MARATHON and online entry is available at: www.generalimuenchenmarathon.de
-->