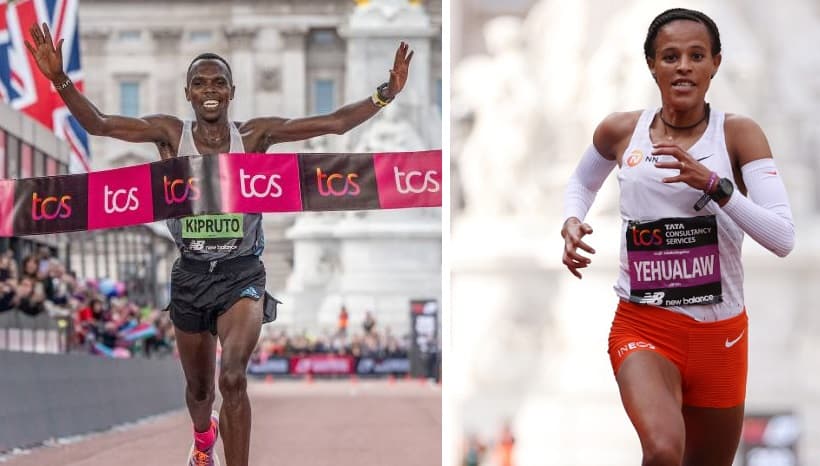 Ethiopia's Yalemzerf Yehualaw won the women's race at the TCS London Marathon in just her second race over this distance crossing the finish-line just three seconds outside her personal best in 2:17.26. The 23-year-old Ethiopian runner won her second marathon race in her career following her triumph in Hamburg in 2:17:23 on her debut over the 42 km distance last April.
Yehualaw set the third fastest time in the history of the London Marathon despite a heavy fall at 32 km. The Ethiopian athlete has become the youngest ever winner in the history of the London Marathon.
Kenya's Joyciline Jepkosgei finished second in 2:18:07, missing her PB by 24 seconds. Jepkosgei won last year's edition of the London Marathon in a lifetime best of 2:17:43.
Alemu Megertu from Ethiopia crossed the finish line in 2:18:32 ahead of world silver medallist and this year's Paris Marathon winner Judith Korir (2:18:43). Joan Melly Chelimo, a Romanian athlete of Kenyan origin who won the Seoul Marathon, and third Ethiopia's Ashete Bekere also dipped under the 2:20 barrier clocking 2:19:27 and 2:19:30 respectively. The top four finishers broke the 2:19 barrier. For the first time in history, six women ran in 2:19:30 or faster.
Mary Ngugi crossed the finish line in seventh place in 2:20:22. Japan's Ai Hosoda was the first non-African finisher in eighth place, improving her PB from 2:24:26 to 2:21:42. Rose Harvey was the top-British runner in 2:27:59.
The lead pack of eight women, including Yehualaw, defending champion Joyciline Jepkosgei, Hiwot Gebrekidan, Sutume Asefa Kebede, Joan Melly Chelimo, Ashete Kebede, Judith Jeptum, and Alemu Megertu went through the first 5 km in 16:01 before reaching the 10 km in 32:18. They were running at a 2:16:15 pace, inside the women-only world record of 2:17:01 set by Mary Keitany in London in 2017. The pace started to drop. The 20th mile of 5:38 was the slowest of the race.
The top eight reached 15 km in 48:51 and 21 km in 1:08:46.
Hiwot Gebrekidan could not keep up with the pace set by the leading group, which was reduced to seven women, who passed the 25 km in 1:21:29. Sutume Asefa Kebede pushed the pace in the second half of the race.
Yehualaw tripped and fell with 10 km to go. She hurt her hip and knee and fell 20 meters behind the leading group, but she got back on her feet and caught up with the leading pack. Melly, Ashete Bekere, and Kebede lost ground on the leading pack.
Judith Korir started to push the pace. By 35 km, the leading pack was whittled down to four women: Jepkosgei, Judith Jeptum, Alemu Megertu, and Yehualaw. They went through at 35 km in 1:54:30. They were running at a pace just outside 2:18.
Yehualaw started to push her pace and clocked a split of 4:43 on the 24th mile (the fastest split in women's marathon history) to increase her lead over Jepkosgei, Megertu, and Jeptum.
Yehualaw continued her surge in the race's final stages and crossed the finish line in 2:17:26 with a lead of 41 seconds over Jepkosgei.
Yalemzerf Yehualaw: "I am so happy to win here in London. I have worked very hard to prepare for this race, and to take this win is amazing. When I fell, I hurt my hip and knee. I knew it was fast-paced, and I was aware we were on record-breaking world time at one point, but I just focused on running as fast as I could. I had a dream to be a professional athlete and run in these races. London people were shouting a lot, and it inspired me. I am thinking of the longer plan I have that I would like to break the world record".
Kipruto wins his first World Marathon Major race
Kenya's Amos Kipruto won the men's race crossing the finish line in 2:04:39. Kipruto scored the second consecutive Kenyan win in a World Marathon Majors race one week after Eliud Kipchoge's triumph in Berlin in a world record of 2:01:09.
The leading group formed by seven athletes went through the 5 km in 14:45, 10 km in 29:26, and 15 km in 44:20, inside a projected sub-2:05 time. Former 5000m and 10000m world record holder Kenenisa Bekele was in contention in the lead pack alongside Amos Kipruto, Olympic bronze medallist Bashir Abdi and last year's London Marathon winner Sisay Lemma. They went through the 25 km mark in 1:13:41, setting a pace just outside 2:04. Seven men were still in contention. Bekele started to drop back.
Kipruto pulled away from the rest of the field with 5 km to go. The Kenyan runner covered the 25th mile split In 4:21 and went on to win in 2:04:39 with a margin of more than half a minute over Ethiopia's Leul Gebresilase, who crossed the finish line in 2:05:12, beating European record holder Bashir Abdi by seven seconds. Kinde Atanaw from Ethiopia finished fourth in 2:05:27 ahead of Bekele, who ran 2:05:53 clocking his fastest time since Berlin 2019 when he became the second fastest runner in history with 2:01:41. Bekele is the first 40-year-old to run a marathon faster than 2:06.
Kipruto achieved his first World Marathon Majors win after finishing third in Tokyo in 2:06:33 and second in Berlin in 2:06:23 in 2018, and in Tokyo in 2:03:13 behind world record holder Eliud Kipchoge in 2022. He also won the world bronze medal in Doha 2019.
Amos Kipruto: "I was ready to run faster. I have been trying to get on the podium. This was the day. This is a learning process. I know the way I am, and everything went well. This is my London debut, and it's a wonderful day. I decided to break away because I was confident as my training went well. I knew when I had to go".
Weynay Ghebrsilasie finished ninth and first among the British runners improving his PB to 2:11:57.
Marcel Hug and Catherine Debrunner scored an all-Swiss sweep of the wheelchair titles. Hug defended his 2021 London Marathon title, clocking 1:24:38 beating US Daniel Romanchuk. David Weir from Great Britain finished third in his 23rd consecutive appearance at the London Marathon. Debrunner won her first London marathon in 1:38:24.
More than 40,000 runners took part at the 2022 TCS London Maraton.
-->